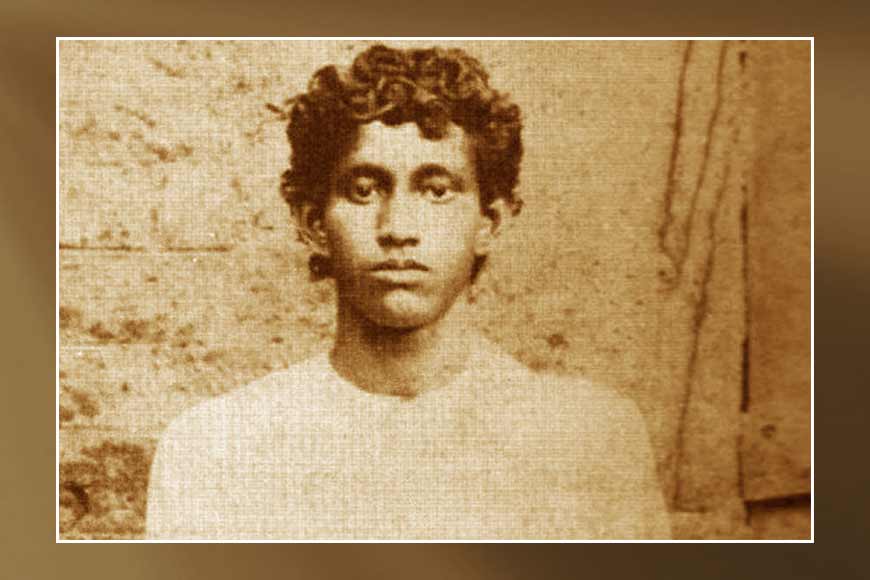 Today we live in an independent India. Independent from foreign rule, oppression, and exploitation. We owe our Independence to many freedom fighters, the youngest one of them was Khudiram Bose. Very little information on Bose is available, it is known to most that Khudiram was executed by the British due to his role in the Muzaffarpur Conspiracy Case along with Prafulla Chaki. Hemchandra (Das) Kanungo, another prominent personality linked to the Indian freedom struggle, became associated with Khudiram Bose. Hemchandra had closely observed Khudiram Bose, about which he wrote in his book "Banglay Biplab Procheshta" published in 1928.
Hemchandra Kanungo first met Khudiram on one of Medinipur's quiet roads. Khudiram was then with a few boys. He came towards Hemchandra Kanungo, stopped the bike he was riding, and very simply asked for a revolver. Bose was fourteen at that time. Kanungo realized that the news that he possessed a revolver or the fact that lessons are given on how revolvers are to be used seemed to have spread among people, especially the youngsters. As usual, Hemchandra scolded Bose. Yet Bose was unperturbed by it and kept asking for a revolver. Hemchandra asked him the reason for such a demand, to which Bose replied he wanted to kill a "British". Bose wanted to take revenge on the British for continuously torturing their subjects.
Later Hemchandra got to know about Khudiram Bose from Satyen Bose. Satyen Bose was Khudiram's mentor. Under him, Khudiram used to do some work. Kanungo noticed that Khudiram was strictly against any kind of oppression of others and outrightly discouraged such acts. Khudiram used to actively participate in revolts. He was arrested while he was distributing anti-British pamphlets. The constable was bluffed into releasing him.

Khudiram Bose had an obsession with guns as claimed by Kanungo. He went to great lengths to get a revolver, yet he was not given one fearing that he might misuse it. On 30th April 1908, in the Muzaffarpur case, Khudiram Bose and Prafulla Chaki mistook Misses and Miss Kennedy's horse carriage for Mr. Kingsford's and threw a bomb that killed them. Things did not go according to plan. Before attempting to kill Mr. Kingsford, both Bose and Chaki were given one revolver each. Yet Bose stole an extra revolver as he was aware of the place where revolvers were kept. Bose was caught the next day at a railway station where he was having food with both his hands and the two revolvers were hanging from his two pockets of thin cloth. The police were skeptical about Prafulla Chaki as well, so they reported him as well. When Chaki was about to be caught, he committed suicide.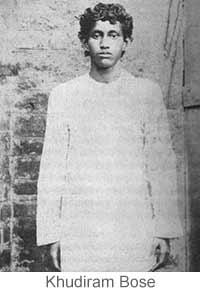 Khudiram almost confessed in front of the magistrate of the sessions court, but later he corrected it and gave a different statement. His confession had no one else's name other than Prafulla's, he did not say anything about the secret committee. Khudiram called Prafulla as Dinesh, maybe Prafulla had introduced himself as Dinesh. He met Dinesh in Howrah Station and Bose had expressed his aim to kill a British person after they met at the Swadeshi Movement. Accordingly, Dinesh supplied bombs to him and helped him till they reached Muzaffarpur. The day before throwing the bombs, miss and misses Kennedy had taken the same looking horse carriage as that of Mr. Kingsford and went to his Bungalow at the same time when he went from the club to his Bungalow every day. It is why they mistook the Kennedys to be Mr. Kingsford.
Secondly, Khudiram tried to blame Prafulla, as he knew about Prafulla's suicide. Hence, he thought that putting most of the blame on Prafulla would cut him a bit of slack. Though it cannot be said for sure that he said those things to save himself, as many lawyers requested him to say such things. It is shameful that no lawyer went to defend Khudiram from West Bengal, Kolkata or Medinipur, instead lawyers went from Rongpur.
Hemchandra admired Khudiram's spontaneity. Another admiring feature of Khudiram was his "tenacity of purpose." Once he fixated on a goal, no matter how tough the task was, even at the cost of his life he would complete the task. He would never leave any task incomplete.
As Hemchandra said, "Khudiram was not a legend, neither an incarnation of God as a man. He was a simple boy, just like many other Bengali boys. He faced many hardships in his life, yet he did not break in the face of those hardships, rather he made it his weapon and fixed his motto to render justice without depending on anyone else. He was a self-made person. He dared to get justice by his own means."
Source: Banglay Biplab Procheshta by Hemchandra Kanungo