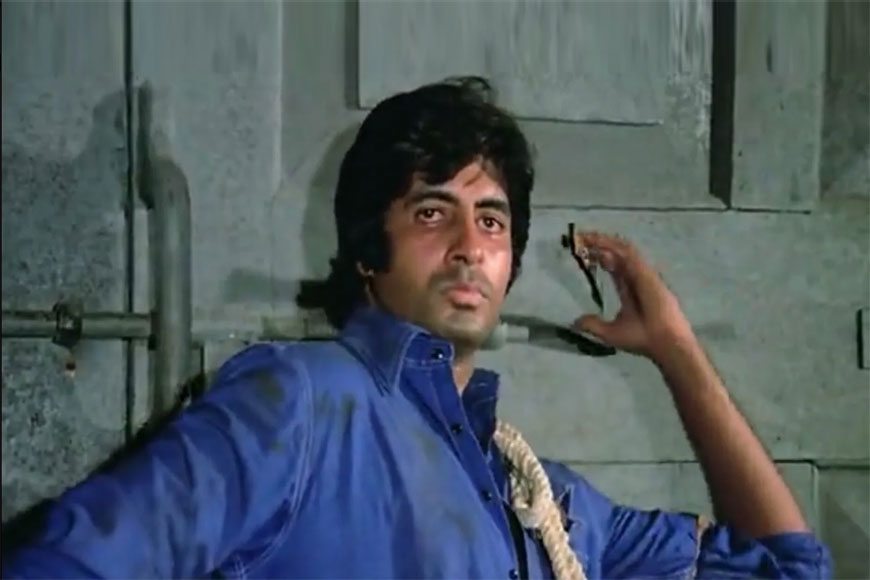 Shahenshah Amitabh Bachchan completed his 80th year of existence on October 11 this year. As Mumbai's tinsel town went into celebration mode, Amitabh retrospectives were screened in theatres around the country. Kolkata has joined the bandwagon with a screening of eight of Bachchan's most popular films as part of the week-long 28th Kolkata International Film Festival (KIFF).
Known as 'Banglar jamaibabu' (Bengal's son-in-law, thanks to Bengali wife Jaya Bachchan née Bhaduri), Bachchan has been a fixture at all KIFF inaugurations for a good many years, though Covid kept him away from the last two. But he and his wife are back this year, which will no doubt delight his countless fans and admirers in the city.
The eight films will be screened through the week at more than one venue. That apart, Gaganendra Pradarshashala and Nazrul Tirtha will host special exhibitions on Bachchan as well as the retrospective.
In an astounding career spanning over five decades, Bachchan has featured in countless superhits. At 80, far from losing his shine and deep, distinctive baritone, he seems to have caught a second wind and become even more energetic than before, despite two bouts of Covid. No fewer than seven of his new releases have hit theatres this year, with several more scheduled for 2023.
Declared Superstar of the Millennium in 2000 at the Filmfare Awards and Actor of the Century at the 2001 Alexandria International Film Festival in Egypt, Bachchan's filmography includes well over 200 films, and his uncontested hold over the Hindi film industry in the 1970s and 80s compelled even a persona as eminent as French director and film critic Francois Truffaut to declare him a "one-man film industry".
The Indian Government honoured him with a Padma Shri in 1984, a Padma Bhushan in 2001, and a Padma Vibhushan in 2015. He also received the Dadasaheb Phalke Award in 2019, and the Knight of the Legion of Honour, France's highest civilian award, from the French Government in 2007.

KIFF 2o22 will open with Hrishikesh Mukherjee's Abhiman (1973), starring the then newly married Mr and Mrs Bachchan. The complete screening schedule is as below:
Abhimaan
Hrishikesh Mukherjee
December 15, 5.00 pm, Netaji Indoor Stadium (inaugural film)
Black
Sanjay Leela Bhansali
December 17, 4.00 pm, Rabindra Sadan
Shakti
Ramesh Sippy
December 17, 6.30 pm, Chalachitra Satabarshiki Bhavan (Tollygunge)
Deewar
Yash Chopra
December 19, 6.30 pm, Chalachitra Satabarshiki Bhavan (Tollygunge)
Kala Patthar
Yash Chopra
December 19, 4.00 pm, Rabindra Sadan
Anand
Hrishikesh Mukherjee
December 20, 6.30 pm, Sisir Mancha
Silsila
Yash Chopra
December 21, 6.30 pm, Chalachitra Satabarshiki Bhavan (Tollygunge)
Bemisal
Hrishikesh Mukherjee
December 22, 6.30 pm, Sisir Mancha
Incidentally, the KIFF inauguration will also see Shahrukh Khan, Kumar Sanu, Sourav Ganguly, Rani Mukherjee, Arijit Singh, Shatrughan Sinha and a host of other stars besides the Bachchans.
The slogan for the festival's 28th edition is 'meet the world at the world of cinema', in keeping with which, the Nandan complex and Nazrul Tirtha will screen some of the immortal works of Jean-Luc Godard. And the centenaries of such legends as Dilip KUmar, Bharati Debi, Hrishikesh Mukherjee, Asit Sen, Alain Resnais, Paolo Pasolini, Michael Cacoyannis and K Asif will be commemorated through special screenings at various venues.
Yet another section has been set aside for the legends we lost this year, ranging from filmmaker Tarun Majumdar, actor Pradip Mukherjee and santoor maestro Pandit Shivkumar Sharma to Angela Lansbury, one of the last survivors of Hollywood's golden era.