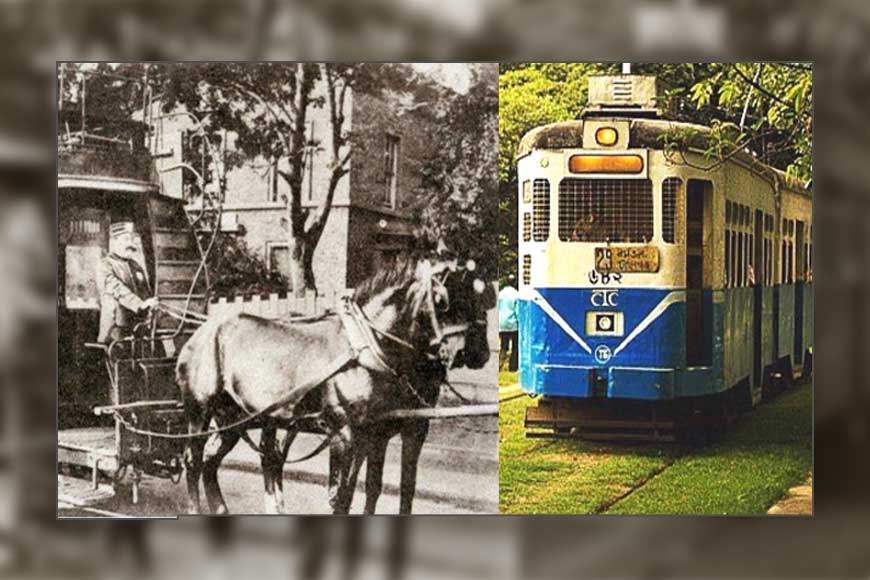 That tram ride down the lush greens of the Maidan, or one down Rashbehari Avenue, might have been a romantic revisit for many of us, but it carries a sense of pride too. For Kolkata is among the very few cities of the world where trams still run and have been running for more than a century! The first horse-drawn trams in India ran for 2.4 miles (3.9 km) between Sealdah and Armenian Ghat Street on 24 February 1873. The service was discontinued. Later the Calcutta Tramway Company was formed and registered in London on 22 December 1880. Metre-gauge horse-drawn tram tracks were laid from Sealdah to Armenian Ghat via Bowbazar Street, Dalhousie Square and Strand Road. The route was inaugurated by the Viceroy Lord Ripon on 1 November 1880. In 1882, steam locomotives were deployed experimentally to haul tram cars. By the end of the century, the company owned 166 tram cars, 1,000 horses, seven steam locomotives and 19 miles of track.
Last week, Calcutta Tramways celebrated 120 years of Electric Trams. In 1900, the electrification of the tramway and conversion of its tracks to 4 ft 8 1⁄2 in began. The first electric tramcar in India ran from Esplanade to Kidderpore on 27 March 1902, with service from Esplanade to Kalighat introduced on 14 June that year. The Kalighat line was extended to Tollygunge, the Esplanade line to Belgachia (via Bidhan Sarani, Shyambazar), and the Esplanade to Sealdah route (via Binay Badal Dinesh Bag, Rajib Gandhi Sarani and present-day Mahatma Gandhi Road) opened the following year. In 1904, the Esplanade to Bagbazar route through College Street opened. In June 1905, the Howrah Station to Bandhaghat route opened and the electrification project was completed. In 1906, the Bowbazar Junction to Binay Badal Dinesh Bag and the Ahiritola Junction to Hatibagan Junction routes opened.
Two years later, lines to Shibpur via G.T. Road were laid and the Esplanade to Sealdah station (via Moula Ali Junction), Moulali Junction to Nonapukur, Wattganj Junction to Jatin Das Park Junction (via Alipur) and Mominpur Junction to Behala routes opened. The Sealdah Station to Rajabazar route opened in 1910. In 1915, the Mirzapur Junction to Bowbazar Junction and Sealdah Station to Lebutala Junction routes opened. Five years later, the Strand Road Junction to High Court route opened. In 1923, the S. C. Mallik Square Junction to Park Circus started. The Kalighat to Ballygunge route opened in 1928. In 1930, the Park Circus line was extended to Gariahat Junction. The Rajabazar line was extended to Galiff Street in 1941. In February 1943, the Calcutta and Howrah sections were connected by the new Howrah Bridge. With this extension, total track length reached 42.0 miles (67.59 km).
Even though trams lost relevance in modern Kolkata, yet they are making a comeback because of their zero pollution quotient and with the city ranking among the top 10 polluted cities of the world, Kolkata's romance with Trams should be right back on track.