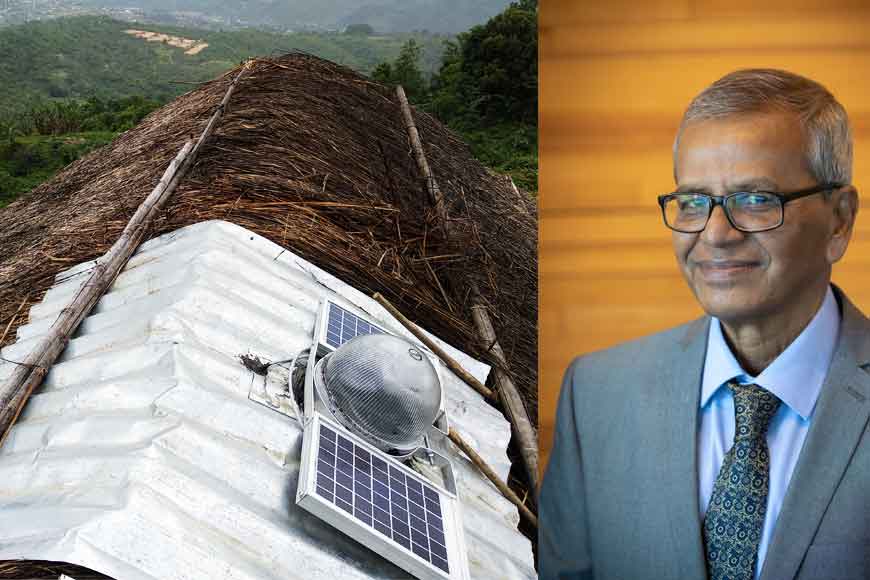 In his 35-year-career scientist S.P. Gon Chaudhuri has done path-breaking projects in the solar power renewable energy electrification projects across rural India. From the first floating solar plant of India to Janta solar ATMs in rural India that run on solar power, S.P. Gon Chaudhuri is rightly known as the Solar Man of Kolkata. He has immense contribution in electrifying a major part of Bengal's Sunderbans. Apart from electrifying individual rural homes in this delta region, he also designed the first solar housing complex in Kolkata. An electrical engineer of Jadavpur University, he did his higher studies in Edinburgh.
Until the '90s, the Sunderbans of Bengal had no electricity because of its remote location. In 1994 scientist Gon Chaudhuri brought electricity to the Sagar Island through a mini-grid project. It was the first time that any village in the whole of Asia was electrified in this way. Today lakhs of households in Sunderbans depend on solar power. Next he brought in the concept of micro solar domes and has till date set up 10,000 such domes successfully in more than 11 states with large tribal population. After the recent cyclone Fani, many such domes were distributed across Orissa. To cater to the needs of safe and potable water in rural schools, Gon Chaudhuri's solar water purifiers are a big hit. The system needs no electricity from outside to run and comes at a much lower cost. His innovations are 'people' friendly.
Take for example the ATMs. Most women in rural India have no idea how to use ATMs as they are illiterate. To help them the scientist has made these Janta Solar ATMs biometric friendly and hence easy to use. Scientist Gon Chaudhuri now teaches at IIT Kharagpur but is absolutely dedicated to make India as per Paris convention a nation that can rely on renewable energy resources, which is indeed the need of the hour.