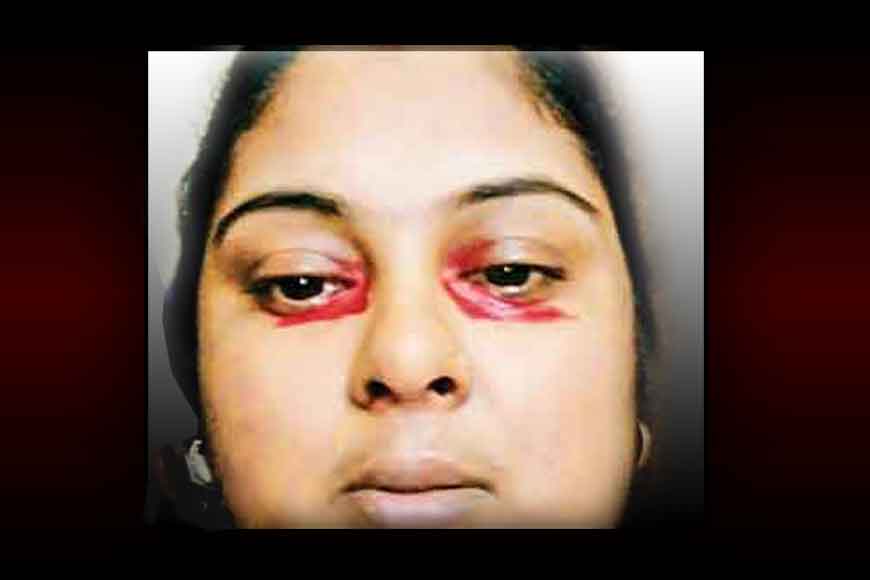 The extraordinary medical condition of Sushmita Bandopadhyay might remind you of a haunting scene from a Hollywood movie. As soon as the sun sets, you find blood flowing tirelessly from her eyes. Her children would be traumatized looking at the changing face of their mother every evening. Her nose, lips, cheeks and legs would also bleed profusely. Even her family would be scared of this sight and avoid her. The fear of death would chase her.
However, Sushmita has recovered from this blood drenched rare condition with the help of Institute of Psychiatry of SSKM. The 1.5 centimeter blood clots around her eyes are now gone. She no more sheds tears of blood. According to her husband, a few years ago, a mango had fallen on her wife's head that led to an indomitable pain in her head and then bleeding.Her blood pressure would shoot up at times and she would become unconscious. It was in 2017 that Sushmita visited a local neurologist. But medicines did not work. Then she was referred to the Institute of Psychiatry under the local neurologist's guidance. She went through a thorough check up by the team of doctors and was diagnosed with Psychogenic Perpura, a rare disease, triggered by suppressed tension and stress.
Sushmita had a son who died young. This had caused immense agony within her. She would bleed so much that her pillows would be covered with blood. But why would the bleeding start only in the evening? The doctors have said that it is just a matter of coincidence. Some are struck by depression in the daytime while some suffer from it at night. In the last few months, she would often bleed during day time. Sushmita has been going through this torture of bleeding for fourteen months. But for the last five months,thanks to medication and counselling by doctors of SSKM, she does not bleed anymore. Sushmita has finally been saved from the cursed hands of mental ill health.