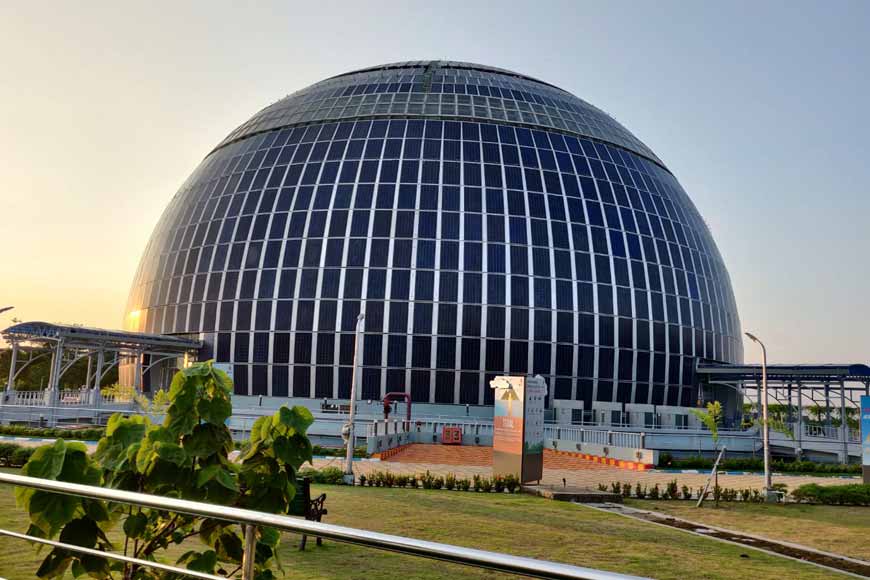 An extravagant three-storied dome shaped museum-cum-hall and auditorium, which has been under construction since February 2017, is likely to be completed by the year-end. Situated in Eco Park, Newtown adjacent to the herbal garden, the project is a joint effort by West Bengal State Electricity Distribution Company Limited (WBSEDCL) and Housing Infrastructure Development Corporation (HIDCO). Furthermore, a design consultant has been approached by HIDCO to design the interior levels of the solar dome.

According to sources, the solar dome is a 27-meter high and 45-meter diameter truncated geodetic spherical dome with about 2000 solar panels on the exterior which will supposedly generate 180 KW of solar energy to sustain itself throughout the day. It will also have multiple floors, connected with a spiral ramp for visitors to go upstairs and a central lift for visitors to come downstairs. The solar dome will host multiple exhibits, theatrical shows, and hi-tech displays of international standard, and there will be provisions for a laser show, overhead aquarium, and a food court on the upper levels.
Though the project is likely to be completed by year-end, officials report that only about 10 percent of the work is left, and they are planning to open at least the first floor to visitors in the upcoming months.