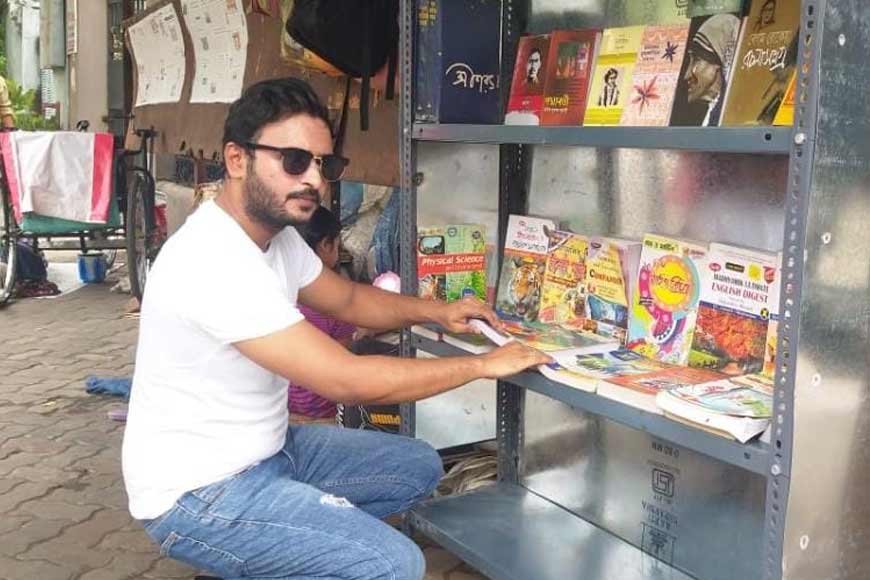 Tauseef Rahman has set a new standard for love and humanity. This 29-year-old resident of Alimuddin Street, is often seen distributing sanitary pads, building toilets under canals, providing daily meals to those who cannot afford even the basic food. Or he is seen installing fridges on streets in summer to help tired passers by evade heat stroke and remain hydrated, he even opened a library at a bus stop for the underprivileged children who can never lay their hands on story books. Tauseef has indeed made the popular term 'Not all heroes wear Capes' true to the core.
● Tell us about your childhood
I was born at 30 Alimuddin Street and did my schooling at St. Mary's, Ripon Street. I did my BCom next. Since childhood I was very much into cricket, so I did not concentrate much on my studies. I played professional cricket for Bengal and played in the Dilip Trophy also. But in 2007 I met with an accident, and I had a major fracture on my right leg, so after that I couldn't pass my medical test. It was a major setback for me at that time.
● Which was the first incident that triggered you to be a social worker?
Initially I was into family business, but I was never interested, and I wanted to do something out of the box. That's when I started with this small-time social work. I met many people on the streets who I realised needed help and support. I started with the ragpickers of Rajabazar and then when I spoke with these people, especially the women, I found there was a problem with the toilets. There was no bathroom under the canals, and it was a major issue. So I somehow managed to build 70 toilets for women, and ended up building 300 toilets. My work was recognised and I won the national 'Asli Hero Award' from HDFC in 2016 and 2017.
● How much support did you get from your family, friends and neighbours?
I started my social work after I lost my mother in 2013. I lost my father in 2010 and I went to attend the Anna Hazara movement in Delhi. I came back and all these got triggered and I started working with small-time NGOs like the Tiljala Shed which especially works with a huge number of ragpickers. There I started schools and libraries for their children. But for all this, I got immense support from my family, and they always trusted me because I was not a young boy who went clubbing around the city, spending money here and there, and buying cars. I had a lavish life given by my parents, but due to my goodwill, people believed in my intentions of doing good work and I did as much as I could do all by myself.
● What are the difficulties you came across?
Difficulties are always there when you have a unique kind of perception. Before you can start your work, which needs immediate attention you need to go through a whole lot of procedures for taking permissions that delay the work and affect the zeal too. But slowly when people started to know that I was doing things for the betterment of society, I was able to work smoothly with my projects.
● What gave you the idea of installing a fridge in your locality?
I have been installing a pitcher for the past five years, but I realized when we are thinking of doing something for the poor, our attitude turns different as if we are treating these people like third-class citizens. We always think of donating them things that we reject ourselves. This triggered a thought and I asked myself why not give cold water from the fridge by installing it in the locality itself. Within two hours the fridge was installed, and I supplied the electricity from my house. People of the locality who cannot afford a fridge and passers-by felt relief to get cold water from the fridge in the heat wave that struck Kolkata. It will remain there for the entire summer.

● After the success of installing the fridge, how did this idea of creating a library at bus stops come to your mind?
Before Covid 19, when I was visiting international destinations like Zurich, I saw beside the bus stop there was a telephone booth but it was an artificial telephone booth which had books in it. A kind of library. I found that very interesting and from there the idea of creating a small library in my city at bus stops struck. Reading is a culture in Bengal and if they can spend some time reading while waiting for buses or cabs, it is only going to enhance their knowledge and they will be spending quality time. Even for children who cannot afford to buy story books.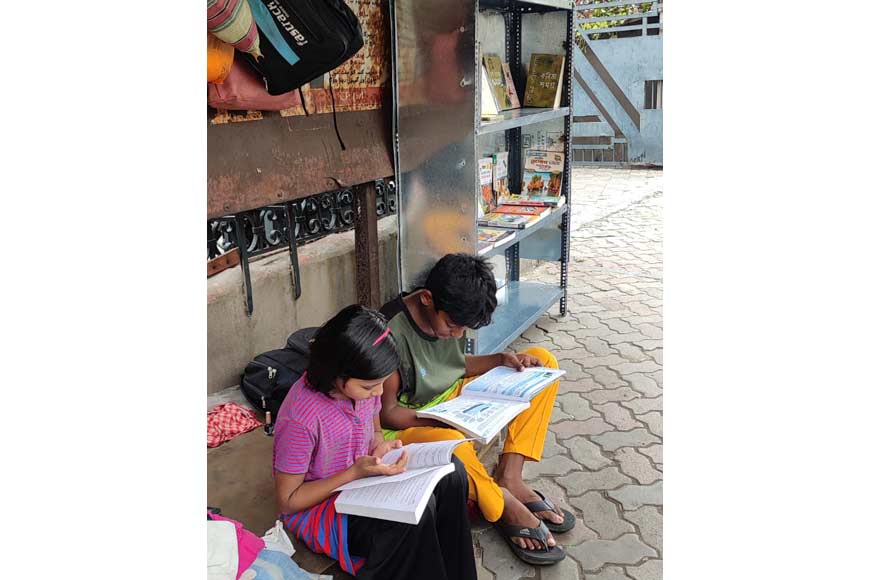 ● Don't you fear that books might get stolen from these open racks?
I feel humanity still exists strongly among the people of Kolkata. When I was installing the fridge, many laughed at my back but when it gained popularity, they realized their mistake. Moreover, a family is staying next to the shelf and the woman who lives there with her two children promised me that she would take responsibility for those books. It is their support which gives me the confidence to move forward with more unique ideas.
● What is your appeal to the people of Kolkata?
I just want to give a simple message to the people of Kolkata to remain as passionate as they are. Kolkata has always treated everyone equally when it comes to anything, including religious matters. My ardent request would be to keep the culture intact and come forward to help the needy and the poorer section of the society. I don't want monetary help from anyone but yes books can be donated at their own free will.