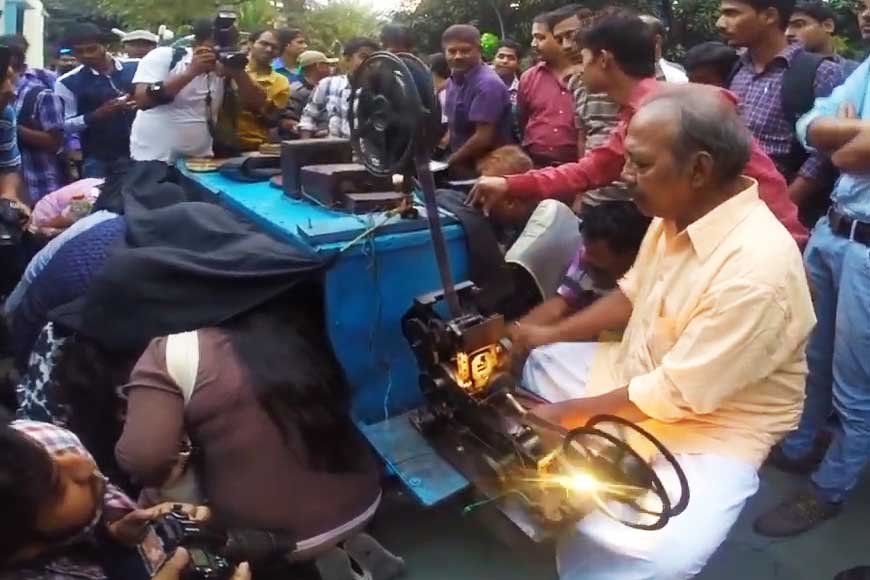 Dreams have only one owner at a time That's why dreamers are lonely – Erma Bombeck
This is so true for sexagenarian bioscope-wallah Mohammad Salim, who has been hawking celluloid dreams to Calcuttans on streets for almost half-a-century. Age is catching up with him and now it is a pain pushing the cart carrying the hand-cranked film projector that recreated many stories not so long ago. But now he can read the telltale signs writ large all over. Single screen theatres and cinema halls in the metros are increasingly making way for multiplexes and mushrooming of smart phone users have already pushed the bioscope-wallahs to the periphery and beyond. And now, India's last bioscope-wallah, Mohammad Salim is all set to hang up his boots, albeit reluctantly, with a heavy heart.
But life was very different in those days when Salim had ventured into this trade in his teens. His father was a much sought-after bioscope-wallah. Salim reminisces how he was mesmerized to watch his father putting up a show. Every day, as his father took out his cart, children from all directions would rush in droves. They would patiently queue up in front of the cart for their turn to peer at the cylindrical holes and watch those five-minute flicks Salim loved the adulation, the magic that his father created and decided to be part of the show.
He often accompanied his father to the wholesale market at Murgihata to buy rejected film prints at a throwaway price. His father would then cut and edit film scenes to compose a short feature. And hey pronto! The century-old projector and the blue bioscope cart would be ready for its long sojourn in the narrow lanes and by-lanes of the city. Once the cart stopped, the Japanese projector would be set up and his father would begin the show that comprised of discarded film scraps, mostly trailers and snippets of songs.
Prince Salim (Dilip Kumar) wooing Anarkali or Shammi Kapoor gyrating to a superhit song, Dev Anand lip-synching a Kishore Kumar hit, Dharmendra bashing up screen baddies like Jeevan, Shetty, Ajit or Pran, Jeetendra or Rajesh Khanna wooing heroines with songs and dances, were lapped up by the audience who often clapped and cheered to watch the matinee idols up close.
After his father, Salim took up the helm and kept the tradition alive. He too, tasted success during his long career as a bioscope-wallah, travelling with his cine shows with his hand-held projector. Salim did his best to change with the times and he would improvise and innovate his shows by incorporating MP3 sounds with the 5-7 minute-long films he screened. But the novelty wore off gradually. And now with the onslaught of smart phones, children no longer look forward to the five-minute flicks that Salim offers. Easy access to smart phones has opened up a whole new world of entertainment for all.
Salim and his cinema on wheels were featured in American filmmaker Tim Sternberg's 14-minute short film Salim Baba, nominated for an Oscar in 2008. Since then, he has been felicitated at several state events and invited to television shows and high-profile parties. The state government honored him at the 21st Kolkata International Film Festival as India's last bioscope-wallah. A couple of foreign visitors offered to buy his vintage projector for a princely amount but Salim refused. He considers the projector his progeny. Now old and infirm, Salim still takes out the cart and walks slowly through dingy lanes, because he knows, the show must go on.