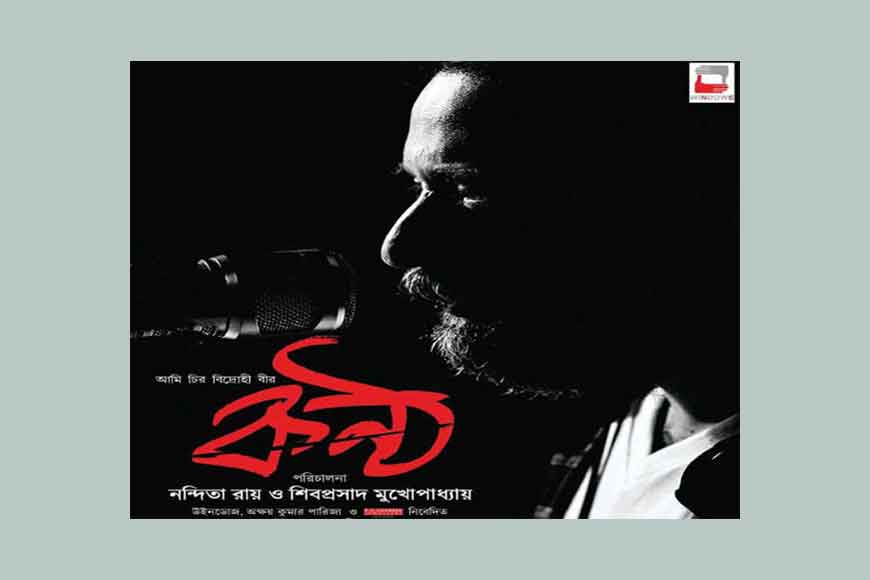 A movie opens with the lines: 'Many relationships have been destroyed because words were not spoken, many people moved away because silence reigned.' The same movie ends with poet Kazi Nazrul Islam's revolutionary lines: 'Ami bhogobaan bukey enke debo podocchinho' (the courage to even challenge one's destiny), and that too spoken through the oesophageal voice. Well, such a movie is nothing short of a masterpiece. Shiboprasad Mukherjee and Nandita Roy's Konttho literally unnerved me in the first half with the tale of a popular radio jockey diagnosed with laryngeal cancer where his life cam be saved only through a laryngectomy (removing the voice box).
And this is again a man who has a happy family, a loving son, a wife who had been a friend before marriage. Such a news not only comes as a blow to RJ Arjun's family, it also hits the audience on the face with the unpredictable and sudden jolts that life comes up with, it brings you face to face with reality and prepares you for any struggle. That's where Konttho surpasses 'just a tale.' It turns a real-life story in the guise of a movie.
But the directors not only touch you with a soulful family drama, they also end in warmth and hope. Yes, hope, the word that seems to be missing so much these days, a positive feeling whose absence make the masses frustrated. Konttho holds on to that hope. Arjun goes through a difficult operation, he is alive, but loses his voice, his wife Pritha fights the demons of a frustrated Arjun, who cannot speak and his colleagues all join hands to support the man. Needless to say there is a way, a hope at the end of every jolt. And Arjun finds that hope through his speech therapist based in Dhaka, played by Jaya Ahsan. Even the scientific way of how a patient without a larynx speaks has been explained in very easy terms in the movie so that even a lay person understands a world of medical knowhow by simple means.
And the other feather to Konttho is undoubtedly the superb acting of Shiboprasad. He has proved he is not just a director, he is also a powerful actor who can express the feelings of a radio jockey who has lost his voice through subtle nuances and even through silence. The varied emotions that cross his life come out through the actor's facial expressions. Take a bow. Also his wife Pritha, played by Paoli Dam is outstanding. With almost a no make-up face, she speaks through her eyes. Jaya Ahsan however seems a bit out of the way, may be because of her diction. She looks pretty artificial while explaining how things work for a patient and even when she is speaking to her daughter. Biplab Dasgupta, Chitra Sen, Koneenica and others have done justice to their roles. Anupam Ray's songs along with Sahana Bajpaie's playback goes very well with the cityscape. And one must mention the role of Satyajit Ray's Bhooter Raja as RJ Arjun gives his laryngeal voice to the character at his son's school play. In one word you leave the hall with a feeling of triumph and realise nothing can stop you from reaching your goal. Hope is the last word. Konttho celebrates that hope.