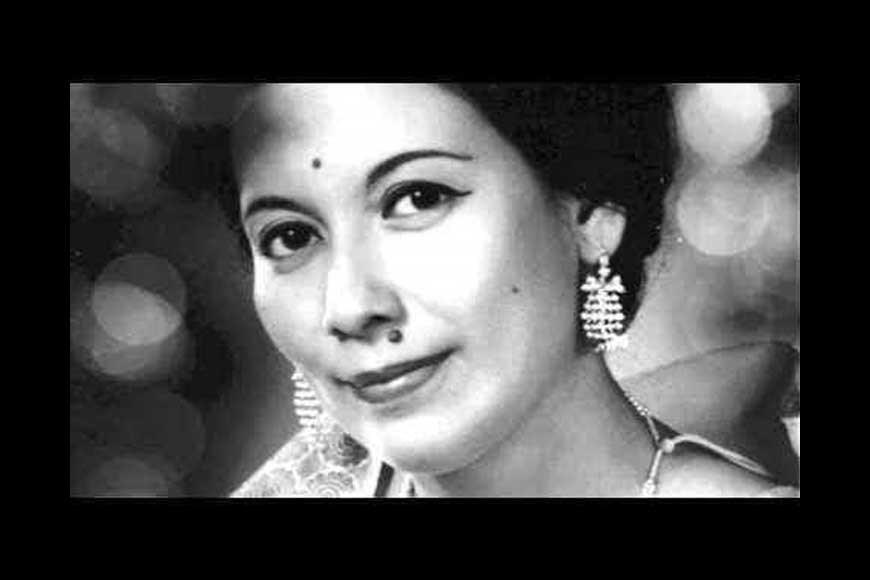 She was not just a superb singer, but also a great human being. I am lucky to have her as my sister-in-law. Krishna Chattopadhyay was a soft-spoken person and never used a bad word. I am lucky to have Krishna di as my family member and she loved me a lot. Between 1963-2005, I was very close to her and she became my elder sister, rather than just sister-in-law. She has always stood by me, in times of both happiness and sorrow.
I met her first in 1962, when she came to sing at a relative's place. This was just after my marriage. Her beauty was stunning, it reflected an inner peace and harmony, that will attract anyone with its sublime style. I was also floored. Because she was slim then, she wore a long blouse with a Dhakai saree. I have heard my husband's cousin brother Ratan da fell in love with Krishna di after hearing her song. Ratan da had a different lifestyle, brought up in a very 'English' way. The family always communicated in English. And Ratanda's mother and my mother-in-law even smoked cigarettes. So, you know how very Shahebi the family was!
But Ratan da was mad to marry Krishna di and she laid down two conditions for marriage. She will not change her surname and her own father Haren Chattopadhyay who was also a famous musician will stay with her. Ratan da was ready to accept all conditions. In 1963 thy were married at Merlin Park and from that day onwards she became my great friend and confidante. Despite being a famous Chartered Accountant and owner of Ray&Ray and later Homeopathic chain King Co (family business), Ratan da and Krishna di came from completely different backgrounds. Yet Ratan da never interfered in her world of music, rather he respected that world.
They had a very happy married life. We were often invited over lunch and dinner and she was so affectionate that despite having a busy life as a singer, Krishna di went to the Landsdowne Market to get Hilsa for me. She knew I love having Hilsa eggs. Whenever Krishna di had any function, she asked me to choose the saree she would wear. Wherever I have gone across the world, everyone spoke highly of her songs and often gave me more respect and time as I was Krishna di's sister in law.
I am still at a loss for words, as such a great human being and singer lost her voice in her later age. I still cannot fathom the pain that brought to her and us. Ratan da took utmost care. I myself was going through a terrible phase of my life then, and I used to go to their house often just to find peace. Wish Krishna di could talk then, but she couldn't, just a sound used to come out from her voice. But she showed through her eyes that she is still with me and they supported me during my deepest times of despair when almost the rest of the family had abandoned me.
No wonder on her birth anniversary I remember singer and a great human being Krishna Chattopadhyay once more.