Kumar Sanu is back with a soulful Pujo Album Kheyali Din. Exclusive GB interview with composer Kinjal Chatterjee, who has composed for Kumar Sanu's pujo song album. The other co-composers of this album are Shovan and Ankan.
• The name Kumar Sanu needs no introduction. How did you come across this project?
That's what I am yet to soak in!! It all started with a Bengali music reality show where I was a part of the mentor's panel. Kumar Sanu was one of the judges in the show where I along with my co-mentors got to meet him. Sanu Da, as we fondly call him, is a man with a big heart and it was one fine day and one magical question that he asked which led to this day of me sitting in this comfy sofa and sharing my experience.
• What was that magical question?
I clearly remember that the topic of discussion was revolving around 'pujor gaan.' He was quite moved by the fact that the cultural lineage, the fondness that pujor gaan used to hold in the lives of the Bengalis has somehow faded. There is hardly something positive to look upto when we think of pujor gaan. Sanu Da was contemplating to come up with a Durga Pujo song album. His statement which left me zapped was "Pujor gaaner sur dibi?- tahole ami gaibo! (Will you compose some good non-filmy songs this pujo for me? - then I will sing!). The rest is history...
• Tell us a little bit more about this album
This Pujo album is titled 'Kheyali Din' where you get to listen to six unique Bengali songs. Shovan, Ankan and me have composed 2 songs each. There are breath-taking singles and duet numbers that Sanu Da has sung along with Mousumi. Shovan and Ankan have done a commendable job. You guys must listen to the songs. The lyrics are brilliantly penned by Debarshree, my childhood friend SamB, and Smt. Reshmi Chakraborty.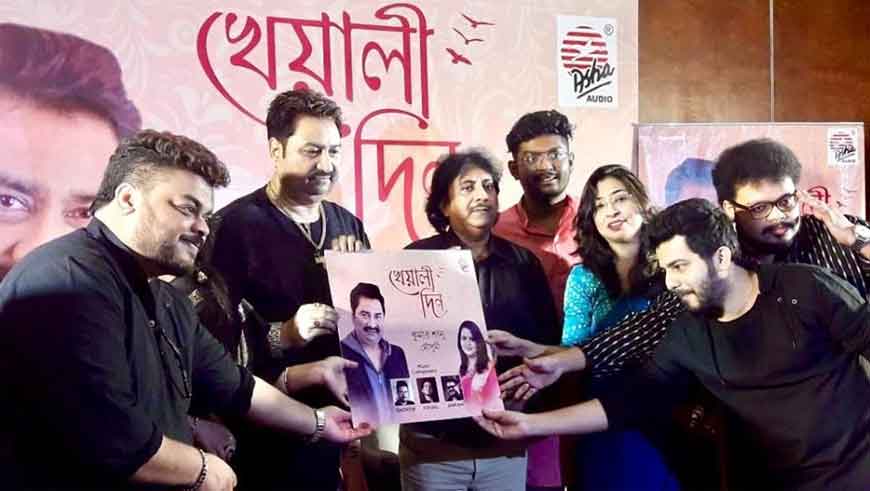 • What is special about these songs?
The songs are all smeared with various shades of love. The tunes will linger on your senses and with Kumar Sanu lending his voice - you are sure to dive deep into the romantic flavour of the 90's.
• You must be excited! How much do you think the audience will accept the album?
Well, it was like a dream and we all have tried to put our best foot forward and are hopeful that people will like it. Please do listen to our songs and if you think we have lived up to our expectations, please share a word about this album. We are thankful to Asha Audio too for releasing this. You can check YouTube and buy the album to keep this Pujo gift with you or spread it among your loved ones.
• How was the experience as a composer, though not the first time for you..
The fun, excitement, anxiety and fulfilment of creating something from scratch is always challenging and I love to take challenges in life. Composing songs for Kumar Sanu was really special and the way he helped me to take my creative inputs to the next level - translating my vision into perfect harmony can only be done by a musical artist of his calibre.
• How success feels as 'Nodi Bhora Dheu' has got so much appreciation?
Well, I feel blessed, thankful to God. This song will always be special for me as the blend of Baul and EDM with the nocturnal vein of the song was something ... I just can't put my experience into words.. (throws his fist in the air.... lays back in the sofa with his face reflecting something overwhelming).. He gathers up his voice, takes control of his emotions and pat comes the statement, I must say that without my childhood buddy, SamB, things wouldn't have been like this. Merging our creative inputs, thoughts gets easy whenever I have him as my support in any creative endeavour.
• Any upcoming projects?
Brainstorming a lot of ideas and musical plans. As soon as something really good materialises will drop a hint. Let's value the meaning of surprises!!