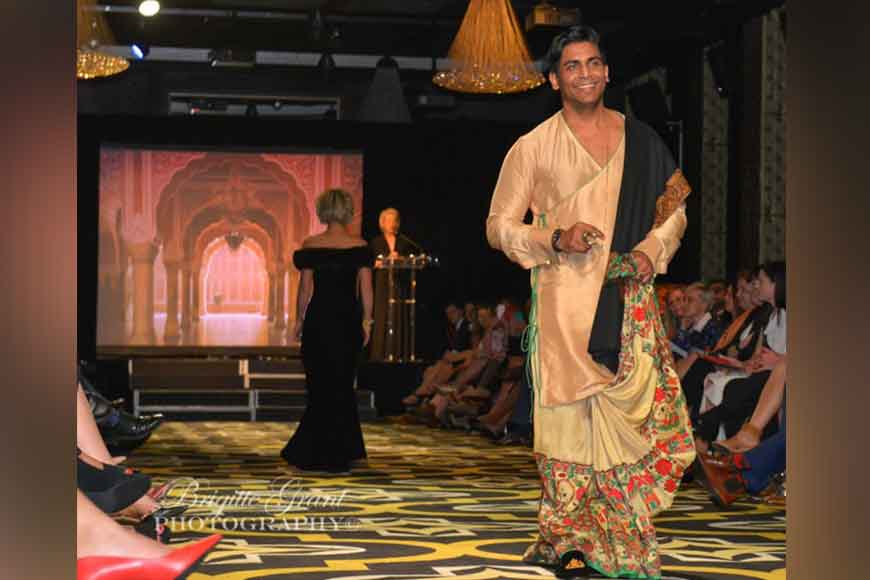 Indranil Halder, Ambassador of Fashion of Multicultural Australia, FOMA wore a traditional Bengali, hand-loomed and hand-painted silk dhoti on the catwalk at the recent 'Dress for Success Sydney' fashion extravaganza as a show of Bengal's heritage, grandeur and sophistication. For the first time in the history of Sydney's catwalk, traditional Indian attire was worn alongside Western couture
A dhoti is so much more than 'just' a dhoti. Like most clothing, it has a story to tell, depicts a way of life, represents social history and fashion history, reflects heritage and beliefs, and most importantly, it narrates a personal story about the wearer.
The history of Calcutta (Kolkata) and Laksmikanta-style is as intricately woven as the silk used for traditional dhotis.Before Calcutta became the vibrant city we know today, it was a dense jungle, an area of wasteland. A young warrior and scholar, and descendant of one of the five original Indian Sanskrit scholars who had travelled to Bengal to improve the social conditions in the 10th century, Laksmikanta Gangopadhya toiled for fifty years for clearing the land to make it habitable. When he was through, he invited thousands of people from different caste, creed and profession to settle in the area. In 1698, a treaty was signed between the major landowner, Sabarna Roy Choudray and the East India Company. The Treaty precipitated the making of vast fortunes for the British Raj that helped build the British Empire across the globe.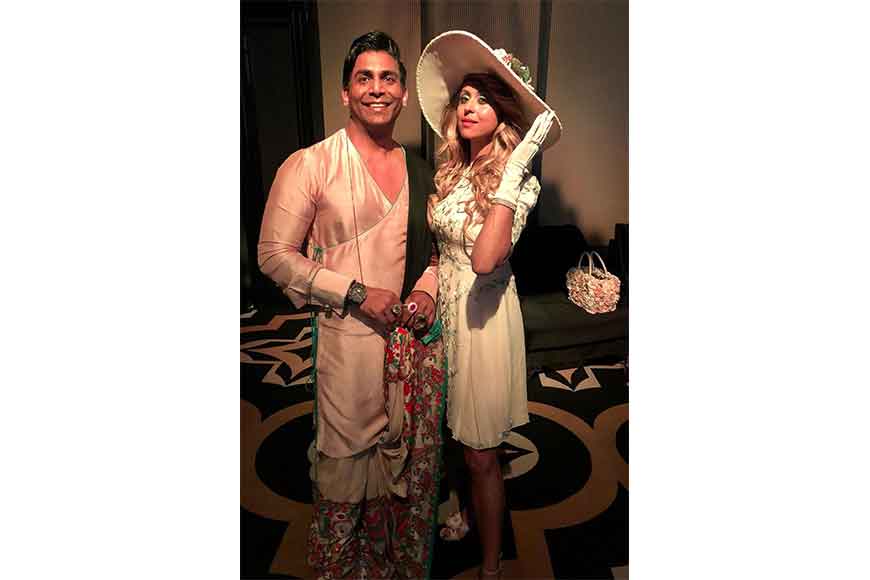 Indranil Halder with Simran Gulati
Calcutta became an exotic and bustling port and was the centre for trade and commerce of India. Jute, silk and muslin, spices, jewels, tea and sugar were exported to England, Europe, America, and even Australia. Merchants arrived and settled in Calcutta because of its booming commerce. Indian zamindars (land-owning families) did business and socialised with French, English and Portuguese men and women, among other nationalities. Lavish parties were held in grand palaces and sumptuous hotels, especially during the nineteenth century, during the height of colonialism.
Wealthy Indian men and women continued to wear traditional dhotis and sarees, although elements of western fashion gently inspired subtle twists to Bengali clothing. Ironically, most English men and women rigidly clung to western attire, albeit using lighter fabrics.Today, traditional dhotis continue to tell a story, especially when they are worn outside of their country of origin.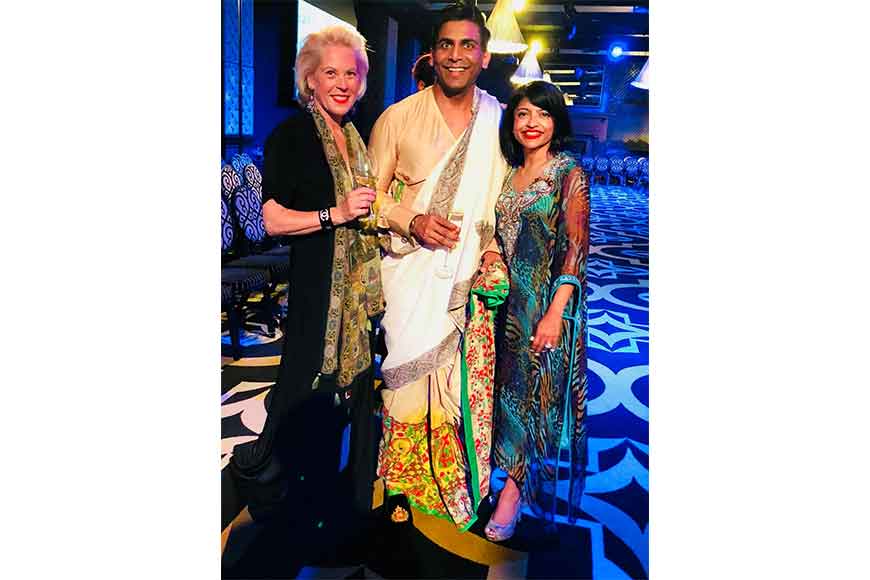 Fashion has an important role to play in promoting cultural heritage. The textiles, designs, colours, patterns, types of garments, accessories, all come together to share unique stories of people and their culture. Providing a platform for cultural expression through fashion promotes respect for diversity, and in another way, promotes respect for fashion itself.