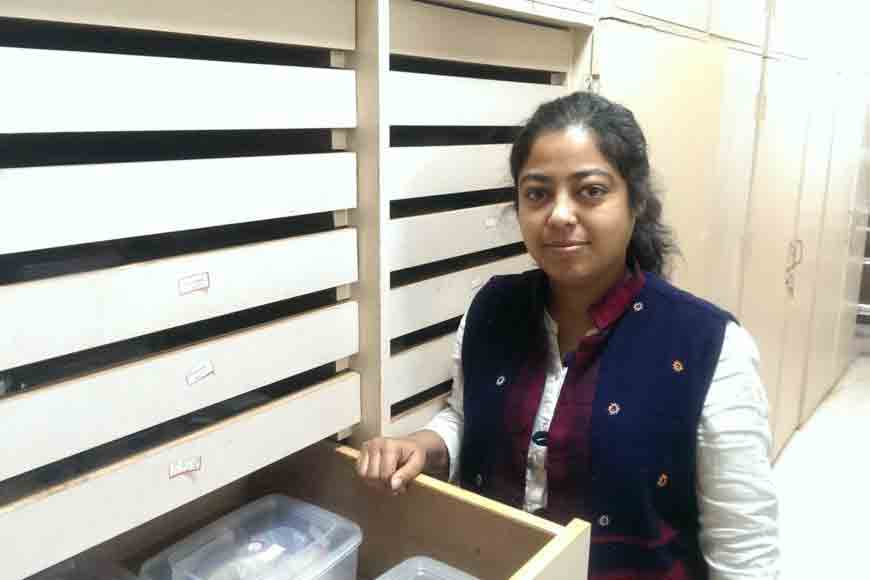 Palaeobiology? Devapriya Chattopadhyay often encounters this question and finds it quite amusing because Paleobiology is, after all a growing and comparatively new discipline. Devapriya patiently explains this is a field of study which combines methods and findings of the natural science biology with that of earth science paleontology.
What lured her to take up this subject? Her connect with the natural world. Hailing from Darjeeling district, Devapriya spent her early years in the lap of nature. Her father was a college lecturer and an amateur painter. She would accompany him to the forests nearby and virgin spots he chose for his outdoor study and landscape paintings. She loved observing nature from close quarters and it became her favourite pastime.
When she was in Class VIII, Devapriya did her first piece of research for a school project on the formation of coal, petroleum and natural gas. She was thrilled. After completing Class XII, she told her parents she wanted to study geology. Though the choice of her subject was unusual, her parents gave their consent. Devapriya went on to do her BSc in Kolkata's Jadavpur University and MSc in IIT Bombay. While in IIT, she went to Kutch for the first time for a geology project. "Working on my own there, the independence and the sheer joy of finding new things and making sense out of it – that changed everything… I was all set. I knew this is something I want to do for the rest of my life."
She went on to do her PhD at University of Michigan, where she conducted most of her research at the university's Museum of Natural History. After a brief stint in the oil industry, she landed a position at the University of West Georgia. A year later, the homeland beckonedand she joined Indian Institute of Science Education and Research (IISER), Kolkata. That was seven years ago.
Studying India makes a lot of sense for palaeobiologists like Devapriya because the Indian subcontinent traveled a long way from Antarctica (polar climate) to its current position (tropical climate). So, there are many questions that can only be answered with the help of fossils found here. Moreover, IISER was new at the time and Devapriya was eager to bring back all her experience and start something new in India. She was especially enthusiastic about strengthening the quantitative aspects of palaeobiology in the country. Within seven years she was heading successful research projects.
As a woman does she find travelling extensively a problem? She rubbishes the idea and says the only time she is made aware of her gender, is when she travels alone on research. There are remote places, where there are no hotels and she needs to put up in dharamshalas (rest houses). It is then that she dreads the barrage of questions she faces and their reaction. Men still cannot digest that women travel alone and they can take care of themselves. In most cases, she is either denied a room because they cannot take her responsibility, or become overprotective – something that she absolutely detests. Locals go out of their way to ask questions like whether her family approves of her travels or her husband consents to her job etc.
Devapriya is married and has a daughter who goes to IISER Kolkata's creche while she is at work. For a couple of weeks every year, she leads a team of palaeobiologists through remote Kutch region looking for fossils. The team tries to create the biosphere, the surface and atmosphere of the earth occupied by living organisms that existed before with the help of fossil records. During these tours, her baby primarily stays with her father and her grannies. But she confesses, it's not so simple. "Motherhood changes everything and only those who are really passionate and determined, can make a comeback in the professional world without giving up anything or neglecting responsibilities. Devapriya has shown that with grit and determination, one can actually follow one's dreams.