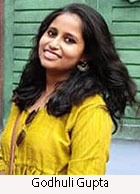 Godhuli Gupta completed her undergraduate degree in Applied Art from College of Art and Design, Burdwan. Born and brought up in Hooghly district of Bengal, Godhuli works with Inner Circle Advertising India Pvt. Ltd. in Kolkata as an art director.
The project- #Goviraltostopthevirus is an initiative to let people take part in a positive task.
In this poster, sparks of light have replaced the dreaded look of the virus. Gupta has conveyed the message of outspreading hope to break the chain of Covid-19.
Be an optimist. Stay home and save lives.

Story Tag:
#Goviraltostopthevirus poster challenge