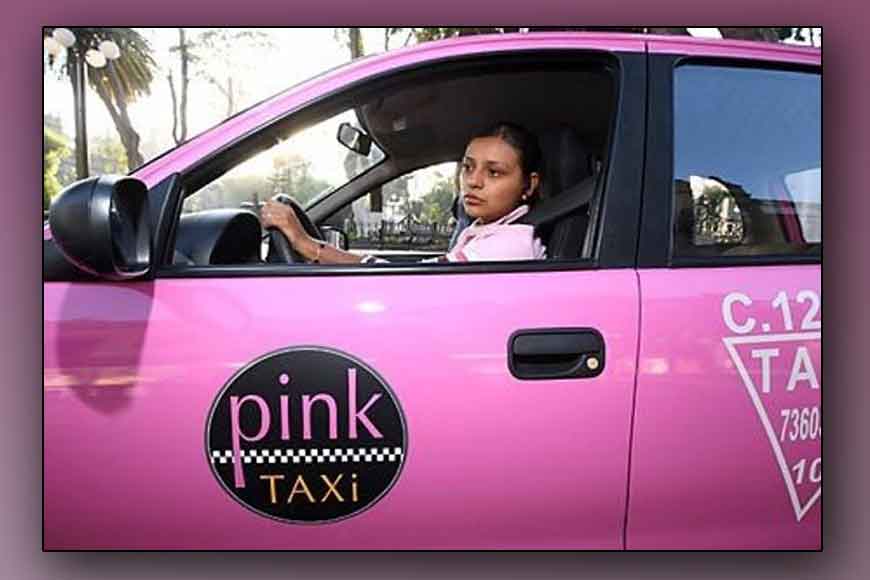 Gone are the days when women would stay within the inner sanctum of the house and stare at the world through a window pane under a veil. Times have changed and women have made their mark in every field and have taken up every challenging job. Safety is of utmost importance and greatest concern for women when it comes to travelling alone. Our jobs expect us to work till wee hours of the night but even today, the roads or mediums of transport are not safe enough for a single woman travelling alone. Even if we opt for cabs, nobody can ensure our safety. Molestations in cabs are quite common. As they say, it always has to be 'she for she' when it comes to evolution. In terms of safety too, women have extended hands of support to ensure safety for each other.
Considering safety of women passengers, Kolkata is introducing female-friendly 'Pink Taxi,' for women passengers and also old men. Apart from these, the choice of passengers will solely lie on the discretion of the woman driver. Under the instruction of Chief Minister Mamata Banerjee, the State Transport Office has come up with this special taxi project under the Gatidhara scheme, much to the relief of women commuters of the city. At least 50 Pink Taxis will be launched in the city this current financial year. The numbers might increase if there are suitable applicants.
Pink cabs are pretty common in other countries but in India, Pink App cab is only available in Bangalore. The number of women in workplace is increasing at par with men. Especially, in the field of information technology, women are working in various shifts. The city is coming up with pink cabs keeping the safety in mind. In Kolkata recently, there have been many complaints about taxis and app cabs. In many cases, women passengers travelling alone have been subjected to various harassments. Pink cabs might help the city to do away with such crimes and enable women to travel in a safe environment. Simultaneously, this attempt will also help women drivers to earn.
According to Gatidhara project, women applicants will have to be around 20 to 45 years for purchasing the pink cab. In case of Scheduled Castes and Tribes, there will be an additional discount of five years on the upper age limit. The State Government will give subsidy of one lakh rupees for the purpose of buying this taxi. The female operated cab will feature a combination of pink and any other colour. Women will be able to run App cabs with pink cars.