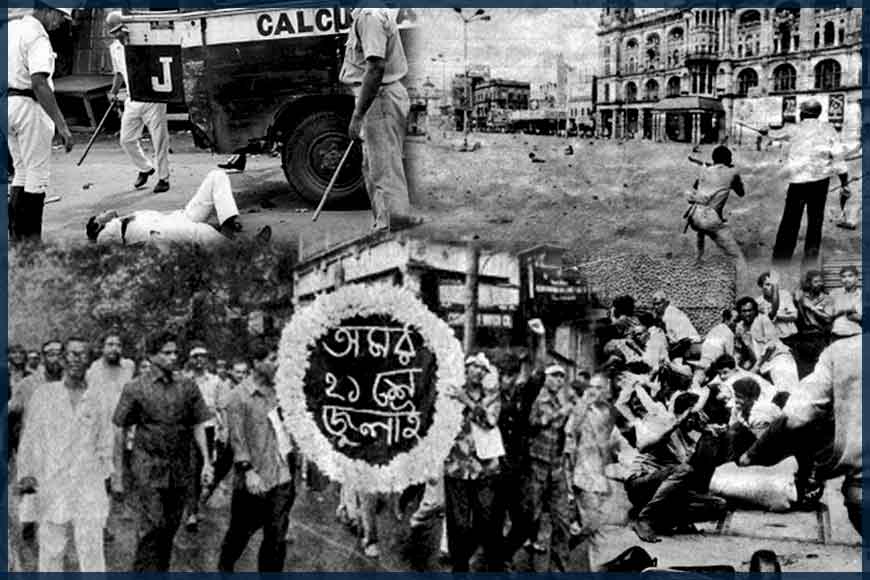 Thirteen bloodied bodies lay on Kolkata's busy intersection in broad daylight, shot not in the British era, but on the fateful day of 21st July 1993. Bengal could never forget that day, which literally changed the fate of Bengal politics and brought to the forefront our present Chief Minister Mamata Banerjee. No wonder, every year she celebrates 21st July as Sahid Divas with greatest reverence, remembering the sacrifice of part workers who were shot by the police.
Mamata Banerjee was then the State President of Youth Congress of West Bengal. She had organized Writers Chalo Abhijaan, marching to the seat of power held by the then Left rule. The march was to demand that voters' identity card be made the only valid document for verifying voters. In those days rampant 'scientific rigging' was the order of the day, by which it was alleged that the Left government manipulated election results.
The party workers of Youth Congress gathered at five points of Kolkata and started marching towards their Writers Building. It was a peaceful march along Brabourne Road till they were stopped by Kolkata Police. The supporters were beaten up mercilessly, then the police fired multiple rounds of teargas shells, but the Youth Congress supporters were simply indomitable and invincible. They kept walking ahead. Mamata Banerjee, like a true leader, made an attempt to pacify the supporters seeing the police atrocity. For she knew the police would do anything to stop them.
And she was correct. Eyewitness reports say the police did not even spare anyone, not even Mamata Banerjee herself, who was also left injured. Section 144 was imposed. It was as if a battle was being fought. The police went berserk, opened fire and ended up killing 13 hapless party workers at the rally and leaving hundreds injured. What was worse that the bullets mostly hit the heads and chests of people! This barbaric act of violence still haunts the people of Bengal. Specially when it came down in a democracy and not in pre-independent India!
Later, as we all know Mamata Banerjee left Congress and formed All India Trinamool Congress in 1998. But she always remembers her comrades of July 21 and dedicates the day to the families of those who died. Today again Shahid Divas or Martyr's Day is being observed around the place where the shooting took place.