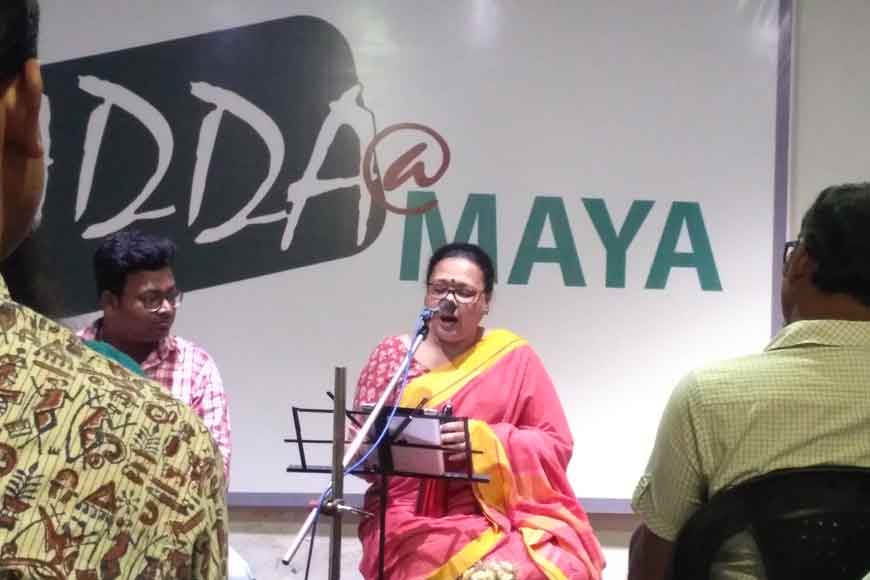 The connection between music and poetry is eternal making the creators timeless. Bengali music has often been adapted from various poems. When it comes to Lopamudra Mitra's music, the songs that come to our mind are 'Dhadina natina' or 'Aye aye ke jabi' or even 'Lilabali.' Little do we know that Lopamudra had also lent her unconventional voice to the poems of legendary Bengali poets. The 29th Maya Adda at MAYA Art Space, that started off to give residents of Kolkata a peek into the city's constructive adda culture, enabled the audience to explore a different side of Lopamudra's musical journey.
Lopamudra Mitra was trained in Rabindra Sangeet from the Gitabitan Cultural Institute. But she always suffered from the eternal quest for singing something different which would not conform to any particular structure. She was thus attached with 'Class Theatre' under the able guidance of her mentor, Samir Chatterjee, who in later years, transformed the poems into songs and incorporated tunes where Lopamudra would lend her magical voice. She spoke about the journey of poetry into songs and how it made an everlasting impact on her soul.
At the adda she also sang some of her popular numbers including 'Akash eto nil kyno..megh eto shundor kyno..prithibita bhalo kyno..pochondo hoina' which was a song she originally sang in a theatre production of class act 'Jwala'. The play was written by Ritwik Ghatak which revolves around deceased souls sharing their pain and agony. She also sang 'Pith pichhe achhe dewal..haath pete achhe bhikiri' by poet Subhash Mukhopadhyay. The other rendition of Subhash Mukhopadhyay's poem 'Lok ta janloina' truly touched our hearts. The song has a narrative where humans are unable to touch their own souls as they spend their lives running after money and materialistic pleasures. Next came 'Michutaan' by Nirendranath Chakraborty which talks about the lives of common man who constantly have to balance family and work.
But her personal favourite was was Shakti Chattopadhyay's 'Tomar amar moddhe chilo neel hurricane.' The singer's voice offered a whole new dimension to Joy Goswami's 'Prakton' where a woman is seen reminiscing her ex-husband. Lopamudra spoke about her nostalgia related to Joy Goswami's 'Benimadhob' and said, "For me, Benimadhob is my metaphor of music." The evening ended with Sunil Gangopadhyay's 'Shakota dulche'. It was truly a mesmerizing evening at MAYA that truly blended life's struggles and exciting musical notes to a new high!