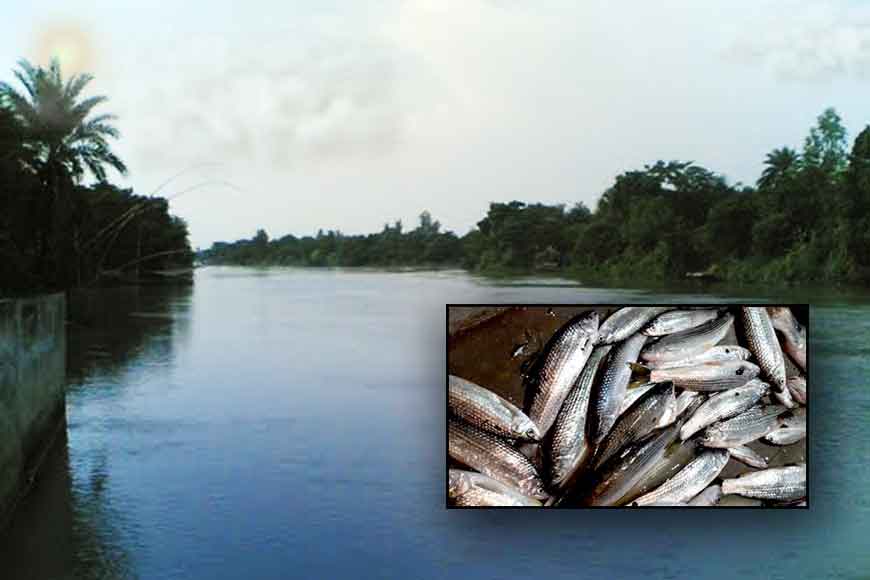 Atreyi is an ancient river which has its origin in Siliguri, near Baikuntha Forest and flows through the Dinajpur District. This river even finds mention in Mahabharata. If Teesta river is famous for Berolish fish, Atreyi deserves a special mention when it comes to Raikher fish. Today, Atreyi river has almost dried up due to various reasons like pollution and construction of dams. These have caused this trans boundary river to die slowly. The river has lost its capacity to sustain life. Consequently, Raikher Fish species is slowly perishing.
However, some fishermen of the region refused to give up and let the pride of Atreyi vanish. They relentlessly carried on katha cultivation in water which has resulted in the revival of Raikher Fish, much to the delight of the inhabitants of Balurghat and its adjoining areas.
Atreyi river has decreased in depth drastically. The fishermen have come up with an innovative concept of cultivation of Raikher Fish by creating a structure of bamboo(kathachash) in the river. But due to lack of water, Raikher fish cannot be cultivated in this method everywhere. Hence prices of this fish are high. A kilogram of gigantic sized Raikher can fetch up to Rs 500 while the smaller ones are sold at Rs 400 per kg.
Because of the decrease of navigability of the river for the last few years, Atreyi's precious possession is on the verge of extinction. According to the fishermen of that area, a school of tiny Raikher fish used to come to Atreyi fiver from the marshy areas of Bangladesh. These would grow during the month of October to December. A lot has changed now. Atreyi river has lost its charm and lacks depth today which has resulted to the depletion of Raikhar fish. Last year, the district areas did not receive adequate rainfall which further resulted to the threat. But locals are making several attempts to bring back the lost glory of Atreyi river. Now only time will say if these efforts will be successful or not!