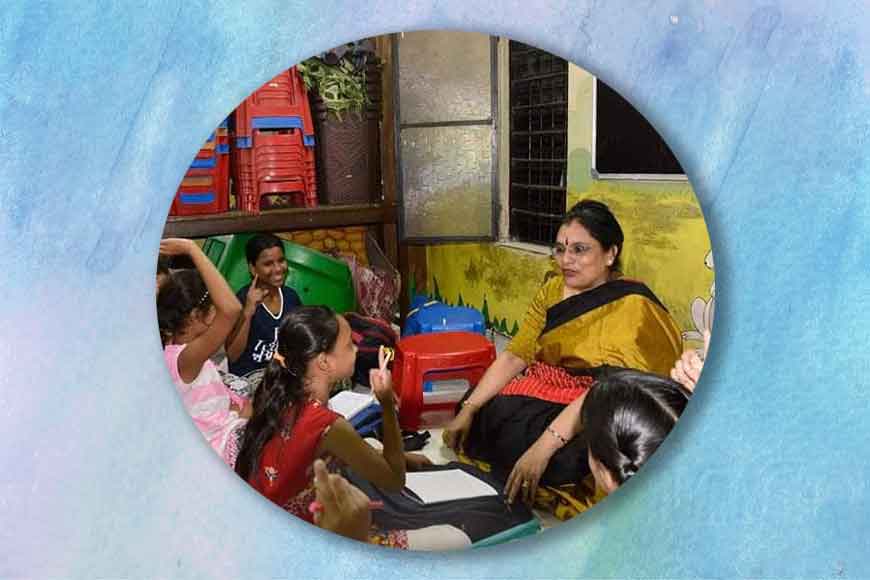 This is a story of hope and undaunted courage. Losing a son to death for a mother, is probably the worst nightmare that can descend on us. While some succumb to it, some take it as a life changing lesson. Just like Shimanti Das did. Das, a former teacher-in-charge of St Francis Xavier School lost her 15-year-old son to cancer. She was struck by grief, but to keep the memories of her lost son alive, she did the unthinkable. Shimanti went ahead and founded Joyjeet Memorial School to give a new lease of life to the underprivileged children.
Since last sixteen years she has been touching the lives of hundreds of children in need. But her journey was certainly not an easy one. When she told her husband about her idea of coming up with this school, he did not approve of it. He vehemently asked her not to step out of the house and subjected her to torture. Shimanti could not endure this and finally got a divorce. She set out to turn her distant dream into reality. She chose Prince Anwar Shah Road for her school as it previously used to be a hub of various notorious and criminal activities. There were multiple primarily and secondary schools, but the area lacked a proper play school. The children living in slums used to loiter around throughout the day.
On the first death anniversary of her son Joyjeet, she opened the school on the pavement of Anwar Shah Road where she could only gather a few children. The local Bandhu Milan Club also provided her with their premises to run the school. Later, a Swiss couple, Marshall and Marie came forward, helping her with funding. The first batch of students was first generation learners, many of whose fathers have criminal records. They hardly understood the value of education. It was difficult for her to bring them to attend classes but Das would strive to make ends meet. She would go to different slums in search of children. She offered ration to the mothers and medicines to the grandfathers of the children to make sure that they send their children to her school.
The first year had only 24 students. The toddlers were given training for primary school. Evening classes were also held from 2005 to help children with homework. Today, the school has 113 students. The morning kindergarten shift runs from 9 am to 1 pm. The coaching centre for classes 1 to 6 takes place in the afternoon. The students in the evening are also offered tiffins.
Das even provides stipend of Rs 750- Rs 1000 to 25 students who are studying in secondary schools and colleges. The mothers of the students are offered vocational training courses like tailoring, costume jewellery making and others. Das aims to set up a building for her institute and has appealed to the government for a plot. She has also come up with Anandam to counsel mothers dwelling on the streets. Das might have lost her own son in the game of life and death, but as a mother and guardian angel of so many children residing on the streets of Kolkata, she has turned into a universal mother.