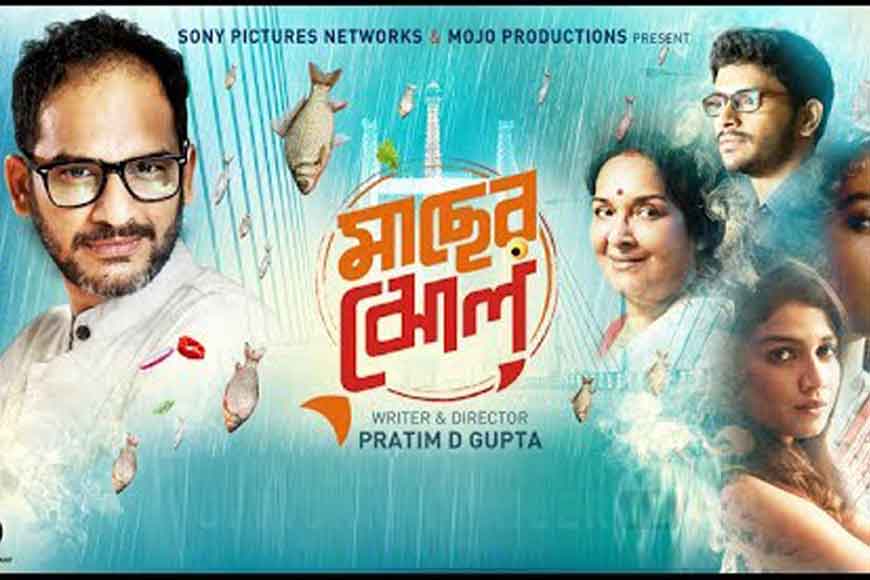 Director Pratim D.Gupta's Macher Jhol comes on your platter today. After Saheb Bibi Golaam, Pratim decided to explore various facets of Bangaliana, and what could be more fascinating and intriguing than to target a quintessential Bengali obsession revolving around maach (fish) and machher jhol (fish stew).
An out-and-out food movie, possibly the first of its kind in Bengali, and after a glimpse of the trailer, one can safely deduce it promises to be a visual treat. Music (set to tunes by Anupam Roy) and trailer launch of the movie on Youtube and Facebook hit the internet with myriad tastes and flavors and touched a whooping 250K views almost instantly, and the number is steadily rising.
Ritwick Chakraborty aka Dev, plays the protagonist, who leaves his home and family to pursue his dream abroad. After achieving phenomenal success as a world-renowned chef, he returns to his city. Gradually, he realizes his alienation from his surroundings, till his ailing mother reminds him of the macher jhol cooked to perfection. She requests him to re-create the magic of that dish once again. He is suddenly revived out of his stupor-like stateand gears up for the battlefield. His entire existence soaks in the aroma and flavours of machher jhol and as he cooks, he is transported into a magical, surreal world. In a recent interview Chakraborty said, "The film is not only about a mother-son relationship or a dish, it's about food memories we all have in our lives."
Machher Jhol is one such memory that stays on in the collective consciousness of all true-blue blood Bengalis. Last year, music director/composer/music producer/vocalist/ architect (all rolled in one!) Sawan Dutta created a track titled, Machher Jhol, transforming a working fish stew recipe into a song.
Reference to different varieties of fish and exotic cooking details can be found in abundance in Bengali folk music (mostly in Opaar Bangla that is, Bangladeshi songs). We are also introduced to culinary skills through songs like 'Ami Sri Sri Bhojohori Manna'(Prothom Kodom Phool), about a chef who has perfected his talent following visits to exotic lands like Istanbul, Japan and Kabul. But a Bengali's obsession with machher jhol is so special, so nostalgic and so wide that Pratim found it apt to explore. In fact, Chakraborty insists, he is not the centre of action. It is the fish stew that hogs all the limelight and is the actual protagonist of the film!
Bengalis all over the world have multiple ways of cooking a variety of fish and each can draw daggers to prove the authenticity of one's own cooking. But when it comes to machher jhol, all differences are put to rest and nostalgia grips our psyche. The simple machher jhol is served day after day in almost every Bengali household, and yet nobody complains! There are variations of the stew according to occasions. A person suffering from stomach upsetor acidity would be served Shingi(catfish)or Magur fish (walking catfish) stewinstead of jhol made with Rohu.
A typical machher jhol looks very easy to cook but herein lies the challenge. It is the quantity and quality of the spices, the time required to sauté or deep fry the ingredients, the exact amount of water added for the stew and the exact time required for the dish to be ready and taste perfect – light and tasty. Our mothers were initiated into cooking at an early age by our grandmothers and after marriage, their creativity flourished under the apprenticeship of their mothers-in-law. Finally, after years and years of dedication and practice, they perfected the art of cooking machher jhol. And now the timeless supremacy of this stew is once again established in contemporary Bengali homes across continents. Go watch Machher Jhol.