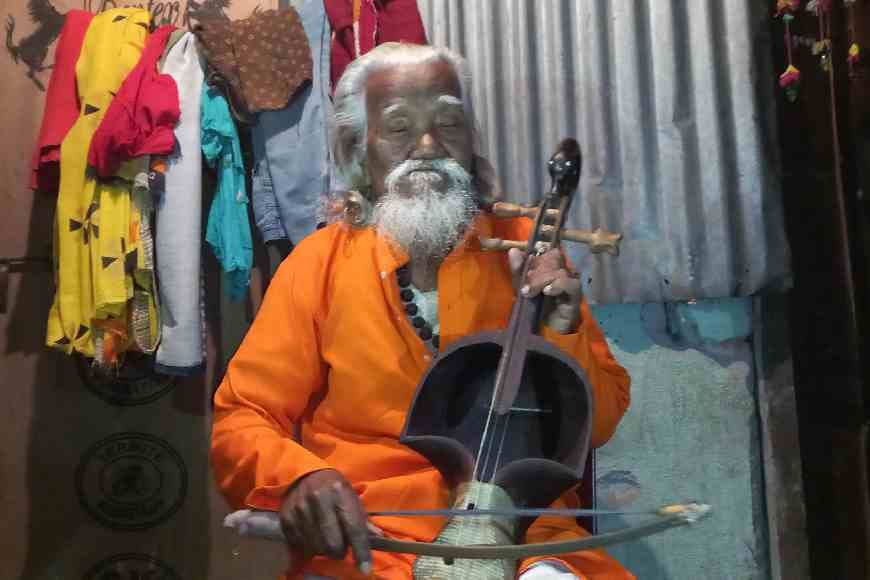 Indian classical music tradition has always been a respected and the most splendid work of art. The hymns, rhythms, melody, and principally, the sweet tunes of Indian instruments have always captivated every individual around the world. Some of the famous instruments are the tabla, sitar, sarod, tambura, flute, shehnai, and many more. The most interesting phenomenon is that each region of India has some unique instruments, indigenous to its culture or traditions. Some unique instruments have also been lost to the ever-changing world of music, and the constant change to seek better alternatives has driven many instruments toward extinction too.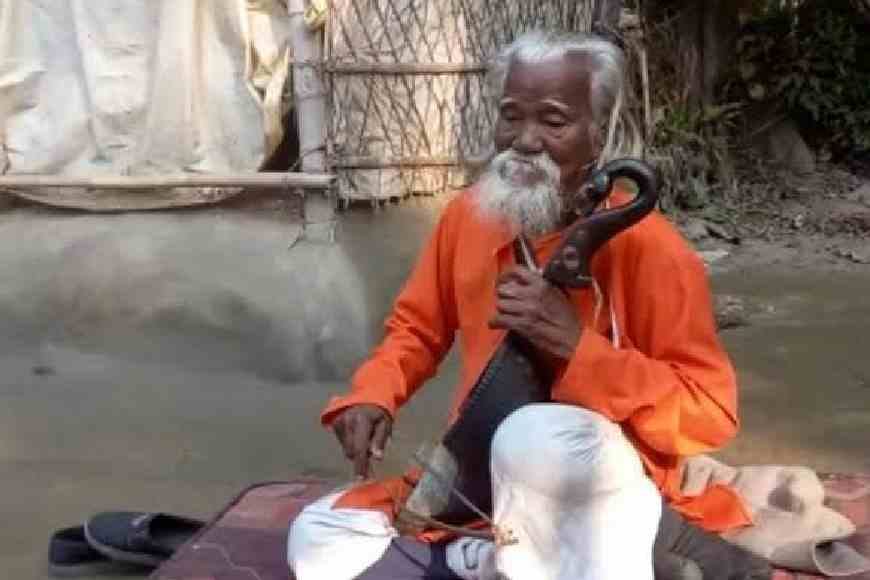 One such example of a dying traditional instrument is the Sarinda and the one man who has always tried to keep it alive is Mangala Kanti Ray, one of the oldest folk musicians of West Bengal. For his undying efforts, he has been nominated for the Padma Shri this year in the field of Art (Folk Music). He lives in the outskirts of the district of Jalpaiguri, in Dhoulaguri, a village situated in the Moynaguri block. This is his abode where he lives with his wife Champa Ray. Ray is an expert Sarinda player. Sarinda is a North Indian stringed folk musical instrument similar to lutes or fiddles. The instrument is said to be around 500 years old and has been quite popular among the Bauls of Bengal, who loved to travel around open spaces while singing soothing songs with deep spiritual meaning. The most spectacular thing about the Sarinda is that it is played with a bow and has between ten and thirty strings. It is played while sitting on the ground in a vertical orientation. Mangala Kanti is well-loved among the locals and they call him Mangala Gosai. Mangala has three sons and four daughters, yet he lives alone with his wife.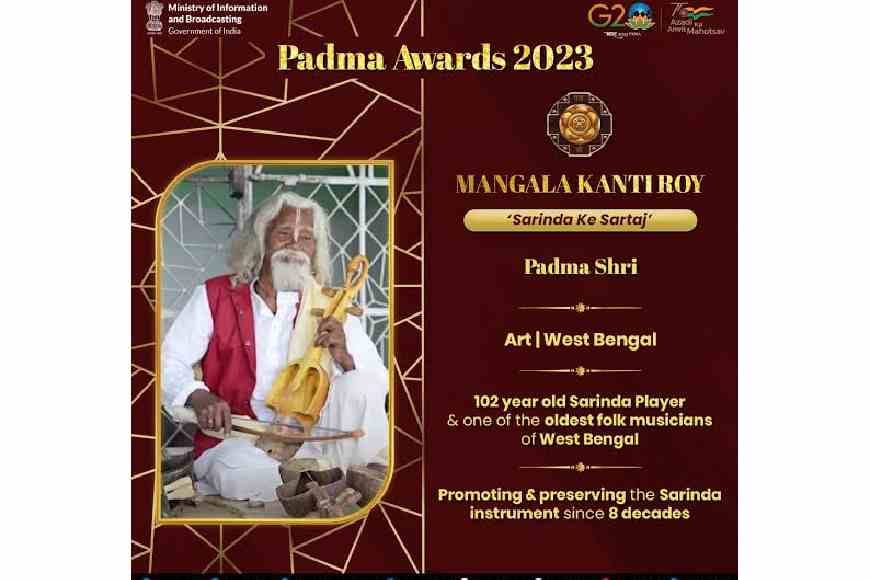 In modern times, Sarinda is going obsolete and being replaced by the Sarangi. The Sarangi is a bowed, short-necked string instrument played as part of traditional music from Bengal and other parts of India. Mangala has been playing the Sarinda since his childhood. He is also the winner of the Banga Bhushan award conferred by the West Bengal State Government. This recognition helped him a bit, as after that he performed in many functions and events and could support his family financially. But during the pandemic, hard times hit him. After that, he had no other option but to beg and somehow continue his life. Due to his age, he is also gradually losing his voice. It was difficult for him to earn by singing.
During the lockdown phase, Mangala and his wife had to face really hard times. Somehow, this news found its way to the people. He had informed that a part of his house had broken down yet he could not afford to renovate it. He had to cover it somehow with a plastic sheet. Even though he got the opportunity to perform in functions before the pandemic, he did not earn much from it, he was given just 1,000 rupees to perform. He did not get much help from even the villagers. Mangala got Sarinda lessons from a Bangladeshi artist Dhumakanto Ray, according to the locals. He bought a Sarinda from Dhumakanto Ray and started practising. Gradually, he mastered it. His voice was his partner, he sang along with the Sarinda. He has mastered the art through which Mangala can imitate the calls of different animals and birds with the help of his Sarinda. This became popular among the people as it is unique.
Mangala is happy to get the honour of Padma Shri, but he has not received much help from the authorities. He is a respected artist but mostly he does not get the proper limelight. Mangala loves to play the Sarinda. He values his skills and respects tradition. He has kept alive the Sarinda instrument for eight decades. He has preserved and promoted the instrument at every chance that he got. Mangala Kanti Ray is a deserving individual for his contribution to society by preserving our heritage and culture which is rapidly becoming obscure. Bengal is proud of such a personality.