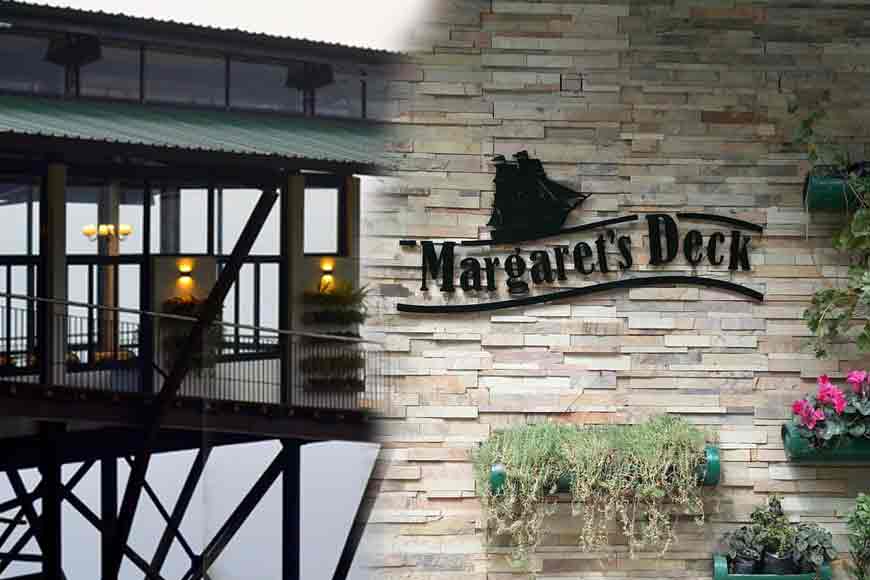 If you are heading to the Hills this summer, do not miss this innovative and happening tea lounge of Kurseong. For years, the small eateries and road-side shacks have served plates of steaming momos and bowls of thupkas to hungry tourists heading for Darjeeling. But now there is a difference, a tea garden with a tea lounge, serving the best of continental cuisine. Enter Margaret's Deck, an exclusive tea paradise, an initiative of Goodricke Tea Pot at the Margaret's Hope Tea Garden.
Located a few hundred yards north of the Tung Station on the famous Darjeeling Himalayan Railway route, Margaret's Deck is shaped like a ship's deck, offering a panoramic view of the rolling hills infront. Just sit on a leisurely afternoon and gaze at the blue horizon on a clear day. Even though you don't get a view of the famous Kanchenjungha, you will surely get to enjoy the hills and the breath-taking nature around. Enjoy a perfect continental breakfast with a cup of muscatel tea, that is a speciality of this garden. Even the tea mocktails are heavenly. As accompaniments, try out the cookies, cakes, croissants, quiches, grilled fish, scones, brownies and cheesecakes. For lunch and dinner,you have on offer a variety of soups such as the Mushroom Soup along with Shepherds Pie and Stuffed Chicken. Round it off with yummy desserts such as Soufflé and Caramel Custard.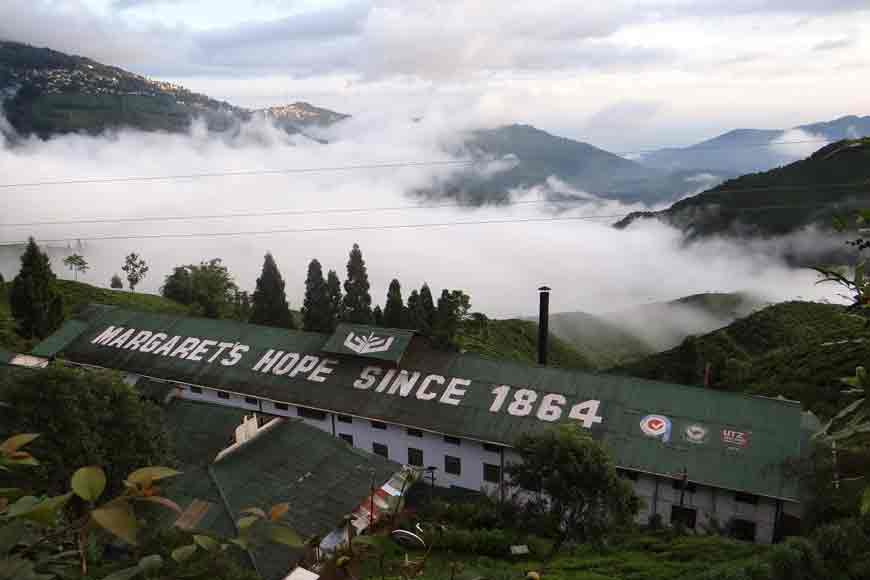 Margaret's Hope Tea Garden is also steeped in history. It dates back to 1862, when it was known as Chota Ringtong (some say Bada Ringtong). It was managed by Mr. Cruickshank whose daughter Margaret fell in love with the lush green hills and meandering avenues of the tea estate. Sadly, Margaret's love affair with the hills was short lived, as she had to return to England. She promised to come back, but her promise was never kept as a sudden illness grasped her on the voyage home and she passed away. A bereaved father christened the garden as Margaret's Hope and today the Margaret's Deck stands as a mute witness to the girl's eternal love for the amazing tea estate and for Kurseong.
The Margaret's Deck has a lobby and a restaurant with an open kitchen. You can also pick up packs of exotic tea from the lobby. At times tea tasting sessions are also held here. Even after 150 years, this garden continues to produce its renowned first flush (spring) tea, which has a flowery aroma and golden colour. Its second flush produces a mellow cup with a muscatel character and bronze colour. So, go and explore your favourite beverage with a twist of history.
Story Tag:
West Bengal Tourism, Kurseong, Margaret's Deck