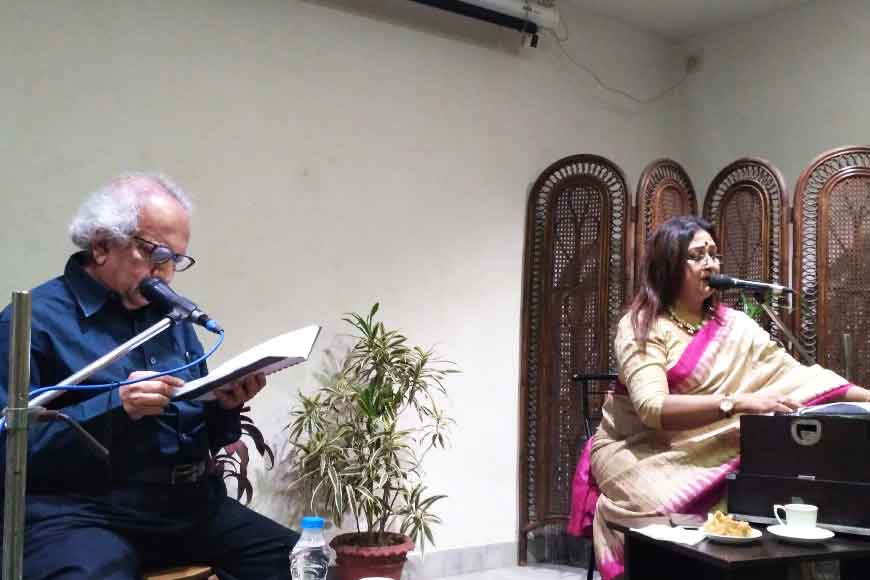 While we often hum to Rabindrasangeet and Nazrulgeeti, it seems we have forgotten stalwarts like Atul Prasad Sen and Rajanikanta Sen, who had penned down songs that touched the pensive soul and raised it to heights of spirituality. Though their songs have a niche audience, they had always been practiced in the rich land of Bengal. However, the younger generation seem to be far away from even knowing that such songs exist and how they can reach the soul to a different plane.
MAYA Art Space have always brought in vignettes of Bengal that have been otherwise forgotten. Be it the revival of crafts, art forms or even celebrating different forms of music. MAYA adda has always been inspiring in its content. Recently such an adda unveiled at MAYA through a brilliant script 'Pronoy o Birohe Atulprasad' by author and journalist Ranjan Bandopadhyay and his song renditions by Riddhi Bandopadhyay.
As Ranjan Bandopadhyay explained Atulprasad songs primarily deal with three subjects- devotion, patriotism and love. But the pathos of his songs have always brought out the opposing love and pain that reign our personal lives. Atulprasad's personal life was also torn by love, pain and loneliness that always got reflected in his songs. Be it his father's demise, mother getting remarried, his affair with his maternal-cousin Hemkusum, his unhappy marriage with her, lack of acceptance from the society, his son's death --- everything had an impact and the pain within gets reflected in his lyrics. 'Ekamorgaaner tori bhashiechilam noyonjole', 'Pagla monta re tui badh' all showcase the yearning and pathos of a man who lost so much in life.
Ranjan Bandopaddhyay and Riddhi Bandopadhyay both narrated the script while Riddhi sang the magnificent songs of Atulprasad.Ranjan Bandopadhyay said, "We often consider Rabindranath Tagoreas God. But when it comes to Atulprasad, the journey of love and agony seems to be more humane. We can connect and relate to it easily."