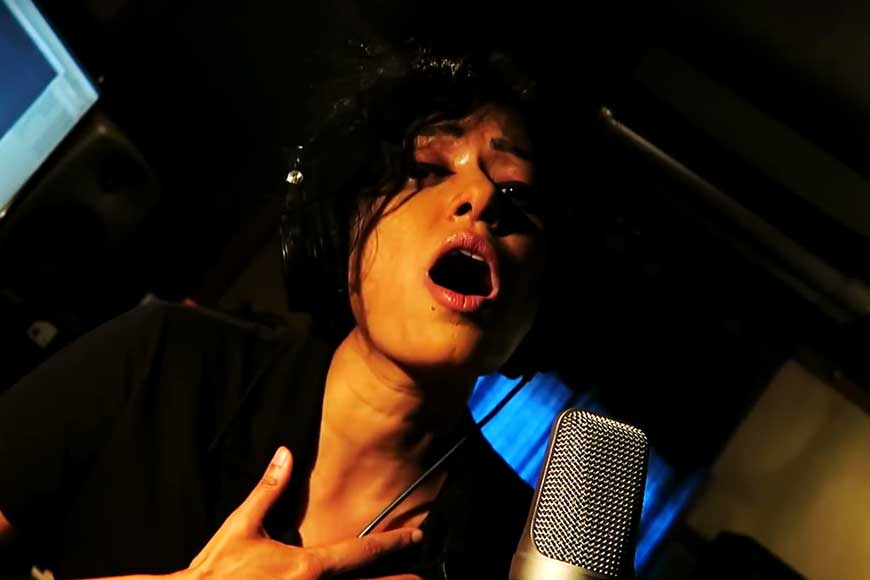 'Bengali Aunty/Metronome' famed Sawan Dutta speaks to Saheli Mitra on how she has created a sensation in the online music world with her exceptionally hilarious music videos that carry important messages
• You have been using songs that you write and sing yourself to spread important messages. How far do you think songs are an important medium to reach out to a bigger audience?
I think the human brain is designed to find songs/ music attractive – the use of melody, rhyming phrases, rhythm, the repetition of certain catch phrases – all of it forms an aural pattern that is easier for the brain to retain and recollect. Also, I try to simplify complex issues or processes into a structure that I can make a song about, and this simplification also goes a long way in helping people remember the core message. For example, I created a whole travel microvlog series around my recent travels to Scotland and England, where my experiences in every place are narrated through mini songs, which makes it a little more interesting than just writing down facts and figures about the place.
• Your 'Bengali Aunt' series is not just hilarious but reflects the Bengali psyche in the true sense. Why did you think of such a series?
I didn't really think of making a series on 'Bengali Aunty' or the Bengali psyche to begin with. All I had plans for was to make one single song about how Boroline is used by all Bengalis. And that one song and video – along with the Bengali Aunty character portrayed in that video – became so wildly popular, that people started asking me what Bengali Aunty was planning to do next. So, the decision to do one more video featuring Bengali Aunty, and another, and yet another was entirely a spontaneous and organic response to my audience's reactions and requests.
• Who/what inspires you to do such videos?
For the Bengali Aunty videos – don't really know – there is no one single person who comes to mind, so I'm guessing it must be a combination of all my Bengali relatives and acquaintances put together, from where I derive my ideas for the Bengali Aunty videos.
For my Recipe video songs, well I often borrow recipes from my own family, from my grandmother's recipe books, from things that my dad and my mom and sister cook at home, since everyone in my house loves to cook!
For the rest of The Metronome videos – I guess it is an inherent need to experiment with music and song-writing outside my professional work as music director / composer / producer, the need to explore subjects that my commercial clients would perhaps never ask me to delve into, the need to create something for my own satisfaction and pleasure, that inspires me to make those videos. At the end of the day, I make them because I enjoy the process of making them immensely.
• You have also arranged the music for the recent video with the Sarod players, Amjad Ali Khan and his sons. Please share your experience.
I've been arranging and producing music for Ustad Amjad Ali Khan Saheb and his sons for many years now. I arranged and produced "Reincarnation" - which was Amaan and Ayaan's first foray into World Music, in 2006. I have, since then, worked on eight or nine albums with them. A few years ago, Vande Mataram, from the album Remembering Mahatma Gandhi, a Saregama album I did with the three of them went viral on the net. So, this year, for Independence Day, Ustadji, Amaan and Ayaan decided to release a version of Jana Gana Mana, which I'd arranged and produced for them some years ago. As always, it's a wonderful experience working with them. Their music is steeped in Indian Classical music and my experience has been more of working with Western music. So, I thoroughly enjoyed creating harmonies for their sarod, and bringing a Western Classical Orchestral flavour into their very traditional Indian Classical playing style. The combination of the best of two worlds has resulted in something quite magical, I'm told.
• What are your future plans? Working on any new project?
Hahahaha…. I like surprising people with my content so subscribe to my YouTube Channel, and you'll find out. I'm definitely going to be posting more new recipe songs, and travel songs along with other subjects. I've been thinking of diversifying The Metronome in newer directions, to try and reach wider audiences and hopefully attract a wider range of brand partners and sponsors! Apart from The Metronome I have my usual commercial music projects – Season 10 for KBC is about to start – I've created the music for the last four seasons of KBC. Family Time with Kapil Sharma just ended – I'd created the theme music for that as well. So, my commercial projects will continue alongside The Metronome.
• Define yourself in one sentence.
I'm easy to bore, difficult to impress and terminally curious!