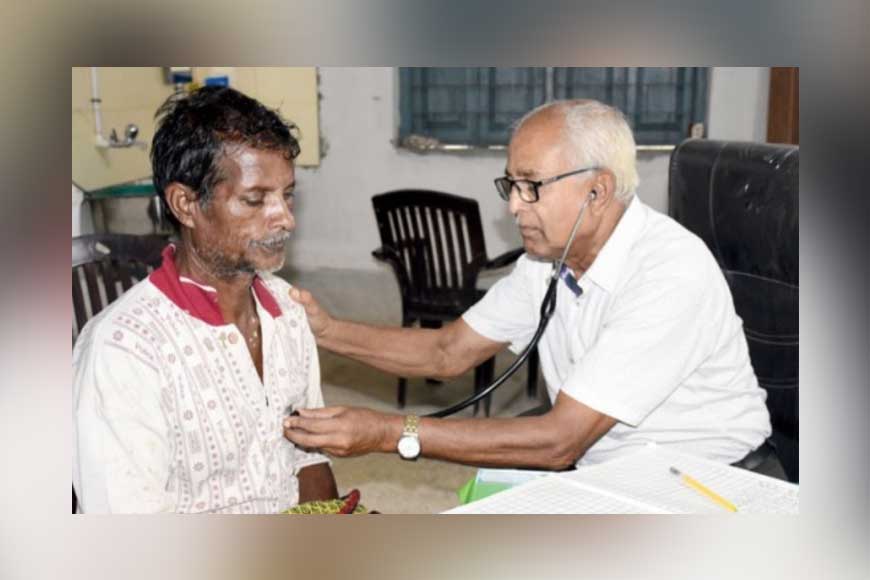 It is 9 am. A thick crowd gathers outside the state-run Beldanga Primary Health Centre OPD in Murshidabad. The congregation increases by the minute as more and more patients accompanied by their families trickle in. They are all waiting for the doctor to arrive. Just then a middle-aged gentleman in white shirt and black trousers walks in briskly. He adjusts his ebony coloured thick spectacles and then in a matter-of-fact way starts sweeping the health center floor with the broomstick held in his hand.
An impatient bystander asks him, "When will the doctor come?"
He continues sweeping while answering the man, "Just wait for a while. He will come soon."
Just then a patient standing next to the bystander says pointing to the sweeper, "Whom are you asking this? He is our doctor."
A little later, the gentleman makes his way through the crowd and enters the OPD room. This time a stethoscope dangles from his neck. He greets his patients with a congenial smile and begins his day's duty. He is Santosh Kumar Biswas, the only physician in charge of Ramnagar-Bachhra Primary Health Centre. He is the only government representative working in this primary health centre under Shaktipur police station. He doubles up as Class IV staff, sweeping, cleaning and washing the centre, does the job of a pharmacist, attends OPD and treats patients regularly.
Dr Biswas is a shining example of Swami Vivekananda's adage, 'Work is Worship.' He takes all impediments in his stride and firmly believes complaining to the authorities against the existing dystopia in the system cannot be a solution. One must do all that is possible for him/her to keep the system going as smoothly as possible. The health centre has been allotted three staff, including a doctor. The Class IV staff will be retiring soon and cannot make it to office frequently due to failing health conditions. The pharmacist's father is critically ill and he has gone on a long leave to take care of his ailing father. That leaves Dr Biswas to run the centre. Undaunted by the challenges, Dr Biswas takes the cudgel in his hands to keep the health centre running and provide medical service to all those ailing villagers who throng to the centre daily from far off places.
Hat's off to doctors like Biswas. They are the true messiahs of millions.