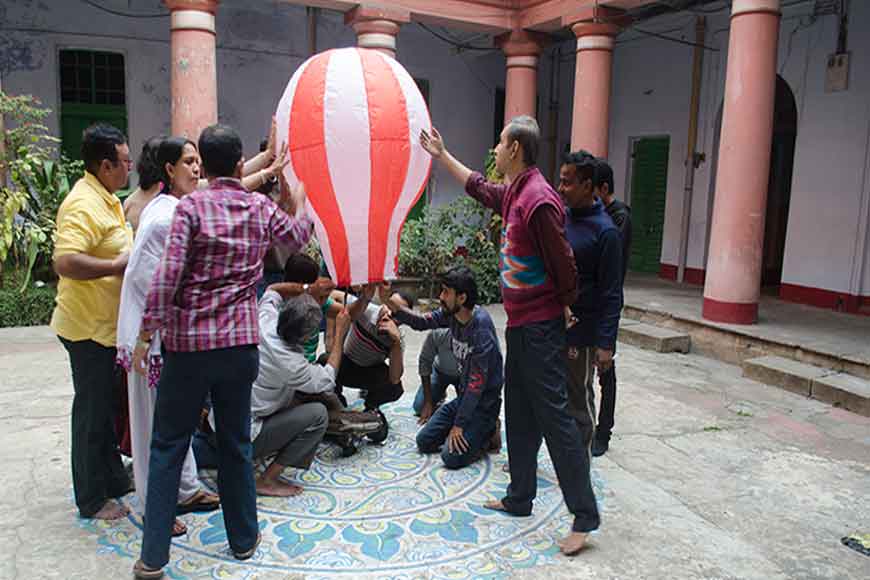 Bholanath Dham on Beadon Street is a well-known landmark in North Calcutta. Every year, curious tourists and devotees gravitate to this house to witness the Bonedi Barir Durga Pujo. The sprawling palatial building is the ancestral home of the Dutts. The family's fortune was amassed by Bholanath Dutt in early 20th century and he started Durga Puja in 1905 at Bholanath Ashram in Varanasi. Later, the venue shifted to Bholanath Dham on Beadon Street.
After the Pujas, this dalan becomes a beehive of activity as the octogenarian patriarch of the family, Ajoy Dutt paces from one end of the dalan to the other, shouting instructions, showing how to hold a cane structure or helping cut paper pieces and join the different ends and a group of young men and women follow his instructions dutifully. They are all fanoosh makers of Kolkata. Paper-made hot air balloons aka fanoosh was once an integral part of Kali Puja celebrations in North Calcutta.
Aristocrat families would vie with each other to make the most eye-catching fanoosh that would get appreciated and cheered by the masses. It was an expensive hobby that only the moneyed class could afford as a form of leisurely entertainment. Making a fanoosh was a difficult task, that required brilliant craftsmanship and superb aesthetic sense. Gradually, most rich bonedi families found other alternative forms of entertainment and gave up fanoosh altogether. But the Dutts of Bholanath Dham have kept the tradition alive since 1925. The family has also been instrumental in reviving the dying art of fanoosh making in the city.
In recent years, several fanoosh festivals have been organized in the city, where thousands of sky lanterns have been lit and it is quite a sight to see them soaring high up in the sky. Although the Chinese lanterns are making rapid inroads, along the Kolkata skyline, the indigenous fanoosh is trying hard to find a foothold. There is stiff competition and the scale seems to be moving in favour of the Chinese made cheap stuff. The traditional Bengali fanoosh differs from Chinese lanterns in shape size and colour. Fanoosh is made both in the conventional balloon shape, as well as other myriad shapes like pitchers, stars, football, ducks, kettles, clock and even the planet Saturn.
Fanoosh follows the same principle of operation as the hot air balloon. The air inside the fanoosh is heated by a rag ball (locally called luti) soaked in spirit. The luti is attached to the base of the fanoosh. Fanoosh in Calcutta wasprobably introduced by Gourishankar Dey of Darjipara in 1912. It soon caught the attention of the members of rich aristocrat families and they took to the sport. Flying fanoosh was a common ritual in the late afternoon on Kali Pujo in the localities of Darjipara, Shimla and Beadon Street. Over the years, commoners also picked up the art of fanoosh making and flying and it became an integral part Kali Pujo celebration.
Another fanoosh manush is Sachin Kumar Mukherjee, a spirited young man of 76 who is forever willing to join in with the local boys to make spectacular fanoosh. He sounds nostalgic when he talks about his childhood and how he got hooked to fanoosh making when he was a lad of 13.Hailing from Bhadreswar, this retired employee of West Bengal Health Service was born and brought up in north Calcutta's Belgachia. Mukherjee came to know about Gourishankar Dey, the man who introduced fanoosh in Calcutta and made a name for himself as a deft fanoosh artist. People would throng at his doorstep to learn from him.
Mukherjee, however, is a self-taught fanoosh artist. He learnt by observing meticulously Gouri Shankar De at work and was inspired to create beautiful masterpieces. Fanoosh making requires a lot of patience and alertness. It is a very time-consuming and intricate art and the process involved is very delicate and fragile. Everything is done to precision with bare hands and there is no scope for using machines and tools.Mukherjee manufactures fanoosh of myriad themes and colours. Only last year, he had made a cash-themed fanoosh that featured loads of Rs 1000 and Rs 500 notes which were scrapped following the Government's demonetization policy. He has even made a five feet tall fanoosh.

Mukherjee has even taken this art to Gujarat during Makar-sankranti kite festival a couple of years ago and mesmerized people there. In an effort to popularize and revive this century-old art form, fanoosh-making workshops are organised these days in different parts of the city. This is the beginning of an effort to revive the century-old art and once again revisit its glorious past.