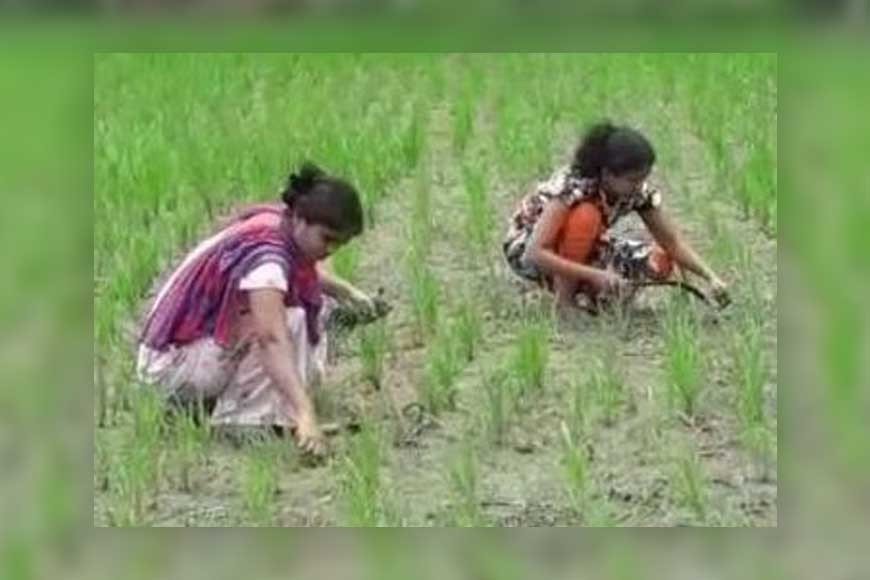 Deepa and Samapti Mondal are siblings from Ankhola village under Habra's Kumra gram panchayat. Both completed their graduation and were keen to take up government jobs. They had put their heart and soul to study and crack the competitive examinations required to get a government job, but fate had chalked a different plan for the duo. Four years ago, their father, Bholanath Mondal had died. He was a farmer and had lands. Instead of selling off these lands after their father's death, the sisters instead took up farming and themselves turned cultivators! Quite surprising for two females to get into a profession that is primarily male-dominated.
Not just that, agriculture is no more thought to be lucrative. The Arjun Sengupta Commission published a report in 2007 titled Findings on the Plight of Small Farmers. The report noted that, "Agriculture has become a relatively unrewarding profession due to generally unfavourable price regime and low value addition, causing abandoning of farming and increasing migration from rural areas." According to the 2011 census, India has 127.6 million cultivators for whom farming is the main occupation. They make up less than 10 per cent of the total population. At a time when the number of individuals taking up farming in India is gradually shrinking, the instance of two graduate sisters picking up the axe, sickle, scythe, pitchfork, spade, shovel, trowel, hoe, fork, and rake to earn their livelihood is inspiring indeed.
A farmer's job is a complex one that requires several intermediate steps between crop selection to harvesting. After selecting the crop, the land is prepared for sowing the seeds. Irrigating and fertilizing the soil are necessary requirements for healthy growth of the crop and finally, the crops are harvested from the field. All these require tremendous amount of hard work, discipline and an acumen for farming. Usually men handle these rough and tough tasks. But once the Mondal sisters decided to take up the cudgels, they have been doing everything with meticulous care and precision. Over a short time, they have not only become the talk of the town but have also been cited as inspiration for other youths.
Samapti, the youngest daughter of Bholanath and Anjali, often accompanied her parents to the fields and observed her father work. It was a learning experience for her as she picked up the basics way back then while watching her father toiling on the fields. She studied in a local school and cleared her secondary examination in 2013 and higher secondary examination in 2015. This year (2019) she completed her graduation from Habra College, majoring in Geography.
Her elder sister Deepa completed her graduation in 2014. The family owns four bighas of land and two bulls. They rotate crops and vegetables and the yield is quite high and rising gradually with experience and introduction of newer methods of farming. The sisters are not at all ashamed of their choice of profession and insist that they will continue farming even if they get a job later. They say their education is an added advantage and they can take decisions based on their knowledge and access myriad sources of information for better results. This knowledge enhances the quality of crops as well.
The story of the two sisters, both graduate-turned-farmers, stands out like a beacon of hope to young graduates who may want to consider agriculture as a career.