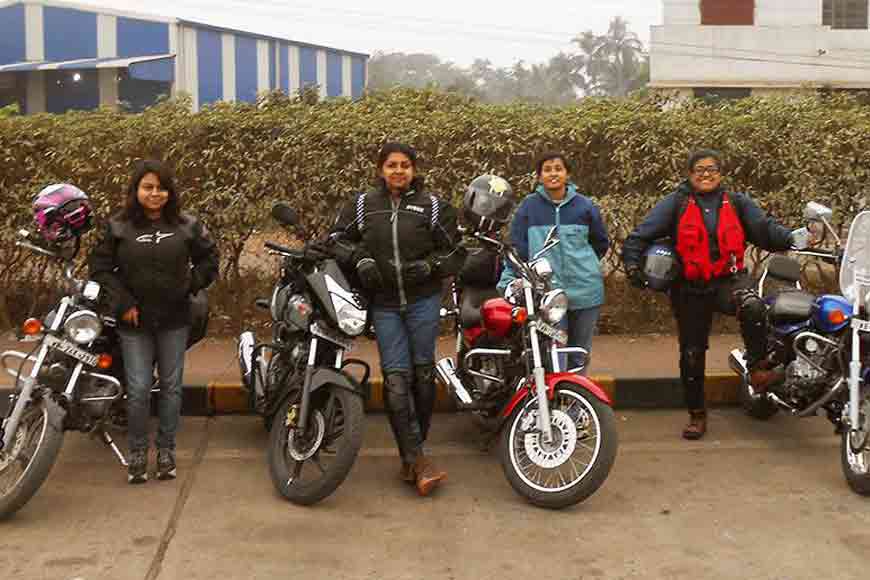 "Why should boys have all the fun?" Riding a bike is no more the monopolization of men. Gone are the days when women would impatiently wait for their husbands or boyfriends to take them out for a bike ride. With the passage of time, women have started opting for motorbikes as a convenient mode of transport without paying heed to the skeptical eye or misogynistic views. The macho quotient attached to bikes have now turned to a woman's forte.
The very sight of heavy bikes being maneuvered by women with utmost ease is truly empowering. The passion for heavy weight bikes among women is on the rise. And now we even have an all women biking community in Kolkata, called Lady Biker. It caters to all adventurous women with no inhibitions which gives a further push to their love for bikes. It is a community of women bike riders which will give you a real taste of freedom!
Lady Biker is the only female biker's club of Kolkata that offers unparalleled experiences and impeccable rush of bike riding to the women. This club was started by Raima Samui in 2011 along with Mohua Polley with the idea of bringing women riders together and creating a platform for exchange of travel experiences. The club has active members like Nilufer Yesmin, Mohua Polley and Pooja Koleker. The bikers of this club have one thing in common- their love for riding and bikes. Each biker of this club brings her own bike and hold meetings on the road. Lady Biker Club organizes daylong, weekend rides, adventure trips and safety rallies. This club has conducted about 50 trips around the country including Ladakh, Rameshwaram, Mandarmani, Orissa, Rain of Kutch and a lot more.
Lady Biker believes in offering a wild rush but emphasizes on road safety. They practice road-safety rules, offer road safety tips and completely eliminate the idea of road rage or irresponsible driving. They also organize workshops so that the bikers get to know their bikes better. So next time you see a group of all women biker team vrooming across the city streets, stop and say hi to the Lady Biker group.