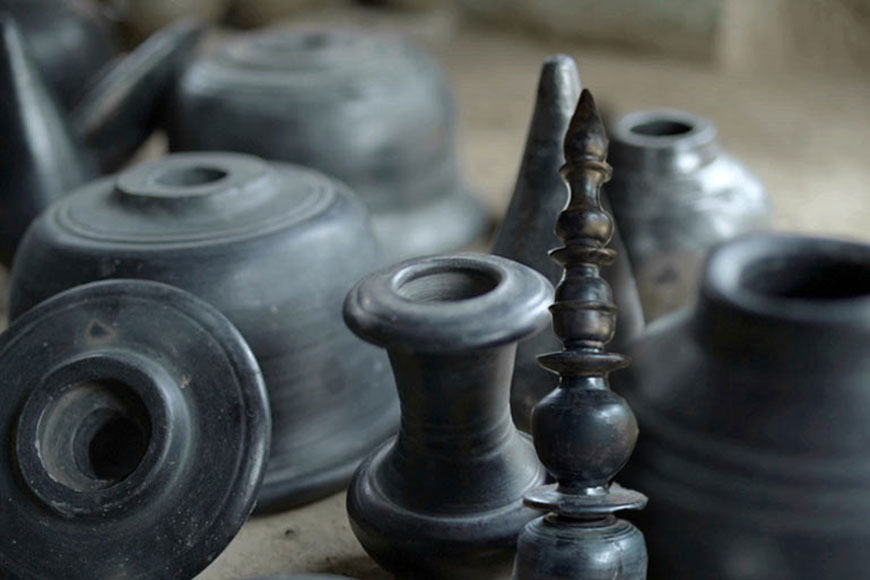 Kanthalia village in Murshidabad district is renowned for its clay dolls. The potter community of this locality has been making these dolls using centuries'-old traditional techniques which have been passed down for generations. The hand-crafted dolls mostly portray ordinary scenes from rural life like women engaged in household chores like a woman braiding her companion's long mane, milkmaid, women pounding paddy in a grindstone, women reaping paddy, a mother bathing her child as well as a man riding a horse, soldier, elephant et al. Kanthalia dolls have a distinctive style and the product can be recognized by its typical make. Facial features and striped decorations of the dolls are done using red and black colours which add up to their uniqueness. At present, artist Sadhan Pal and his family are engaged in making these dolls and preserving this folk art form from extinction.
But Kanthalia is also renowned for another variety of craftsmanship. Minarets are considered one of the most important and characteristic factors of Islamic architecture. Minaret, (Arabic: "beacon") in Islamic religious architecture is the tower from which the faithful are called to prayer five times each day by a muezzin, or crier. There are thousands of mosques spread across the length and breadth of the country and black clay minarets are attached atop these mosques. These minarets are crafted exclusively in the country by the potters of Kanthalia village.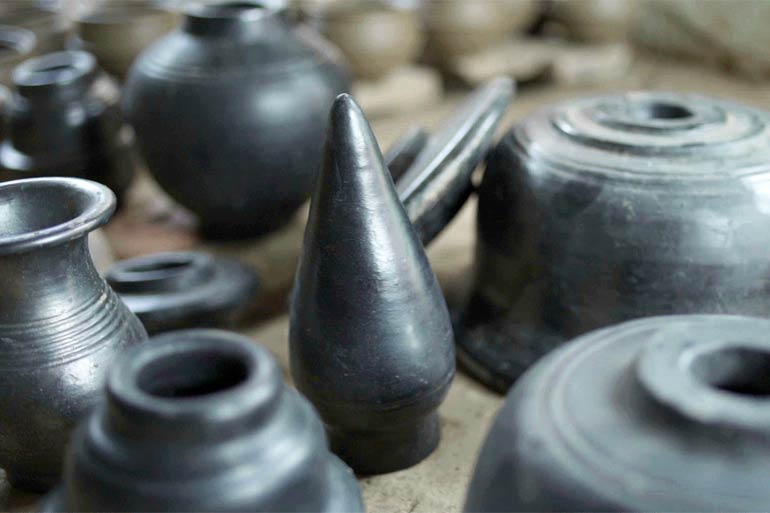 The most astonishing fact is that potters of this village have been crafting the minarets for mosques for thousands of years. Shashanka also referred to as Gaudeshwar Maharajadhiraj Shashanka Deva was the first sovereign Emperor of a unified polity in the Bengal region, called the Gauda Kingdom. His kingdom's capital, Karna-Suvarna was located close to Kanthalia village. The ruins of this ancient kingdom was excavated at a distance of 2.5 kilometers from Kanthalia. Archaeologists unearthed clay dolls as well as ancient minarets from the site. The similarity of style in the minarets which were made in the ancient times and those which are sculpted now bear striking similarities. At present around 400 potters from 185 families clustered in the Bajarpara and Palpara area are involved in making clay dolls and minarets. But not all of them make minarets. Only about 15 to 20 families create these minarets.

Fabricating minarets is a fairly complex process. After shaping a minaret from clay, it is roasted in open fire so that the structure turns jet black from soot. In fact, if a minaret is fragmented, its dark inner part becomes visible. This is a specialty of the artisans of Kanthalia. Some minarets are not treated with soot and they turn red. The same soil and water are used for manufacturing two distinct types of minarets. Alluvial soil from the banks of Ganga River is used to make the structure. After completion, the minarets emanate a deep somber sound akin to that of bronze when hit by a stick or rod. The minarets made here are usually between 2.5 feet to 6 feet high. The minarets age with time but there is no wear and tear of the structures which remain unaffected even by extreme climatic changes. When dirt and grime sit on the minarets after prolonged exposure, a simple wash with water is enough to make them squeaky clean.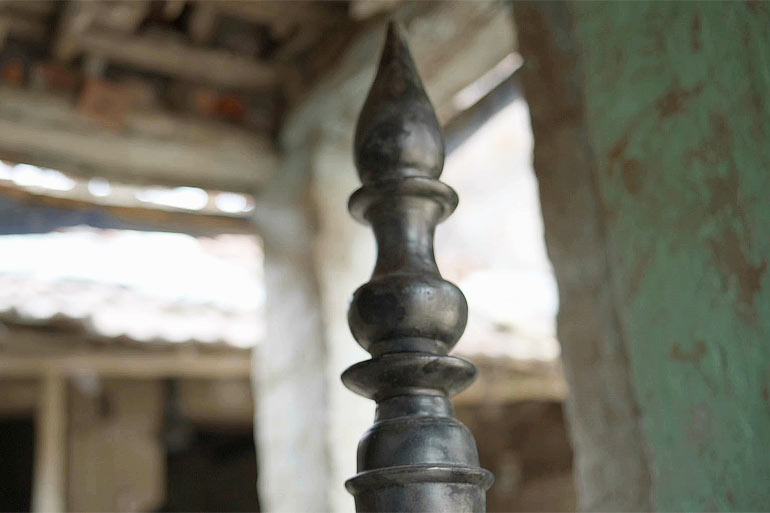 The minarets made at Kanthalia are installed at various mosques across the country and are also exported to Pakistan and Bangladesh. Potters outside Kanthalia have tried their hands at making these minarets but none of their ventures succeeded. So if you spot a black minaret atop any mosque located in any part of the country, be sure to know that it was made in Kanthalia. These minarets are also used at burial sites, madrasas (schools for Islamic instructions), Eidgah (site of Eid [observances) and as decorative pieces to embellish entrance gates to houses. These minarets are also used atop many Hindu temples. Tall, pencil minarets adorn on top of hemispherical shaped mosques. Red coloured minarets atop Hindu temples feature a 'Ghat' and a trident (Trishul) placed on top of the minaret. The colour of the temple minarets are often changed to golden or silver colours according to local preferences.
The artisans involved in minaret sculpting in Kanthalia are incidentally all Hindus. The local villagers believe that the ancestors of these sculptors hailed from Varanasi. They migrated to this region more than a thousand years ago and settled here. Their surname was Pandit then but now all the artisans of Kanthalia have Pal as their surname. Among the accomplished artisans, the names of Sadhan Pal, Jagannath Pal, Surajit Pal, Dulal Pal, Nripen Pal, Abhijit Pal, Khokon Pal and Sanjay Pal have gained wide familiarity and their finished products are in great demand in the market. There are a number of Muslim men who, along with their Hindu mates, dig alluvial soil from riverbanks and supply to the artisans of Kanthalia.