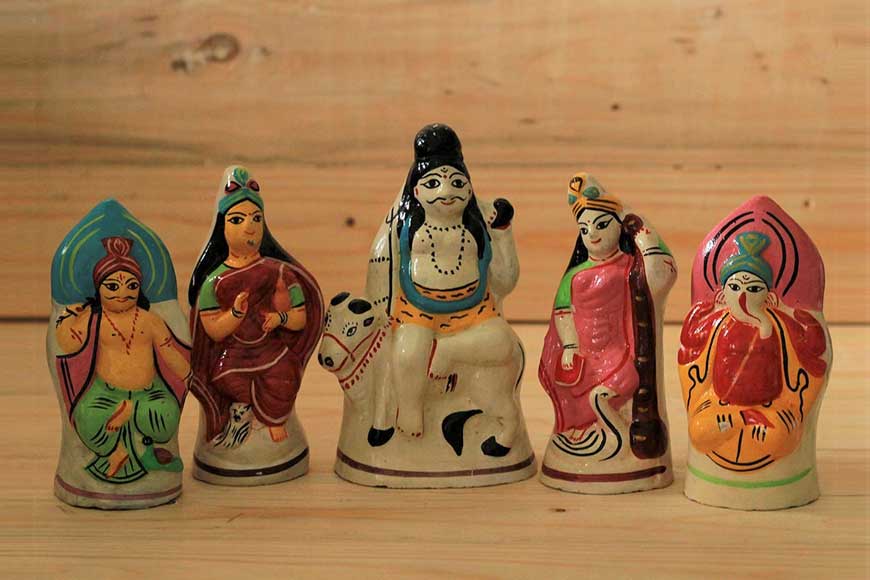 The ancient settlement of Jaynagar-Mojilpur stands at the gateway of the Adi Ganga in the Sunderbans. Most Bengalis know the twin towns for 'Joynagarer Moa', a seasonal sweet made of date-palm jaggery and Kanakchur 'khoi' (popped rice, akin to popcorn). That apart, Joynagar-Mojilpur is also famous for its ancient Dhanwantary Kali Temple, and its status as one of Bengal's ancient human settlements or 'janapadas', which came up along the old Bhagirathi channel until around the 16th century.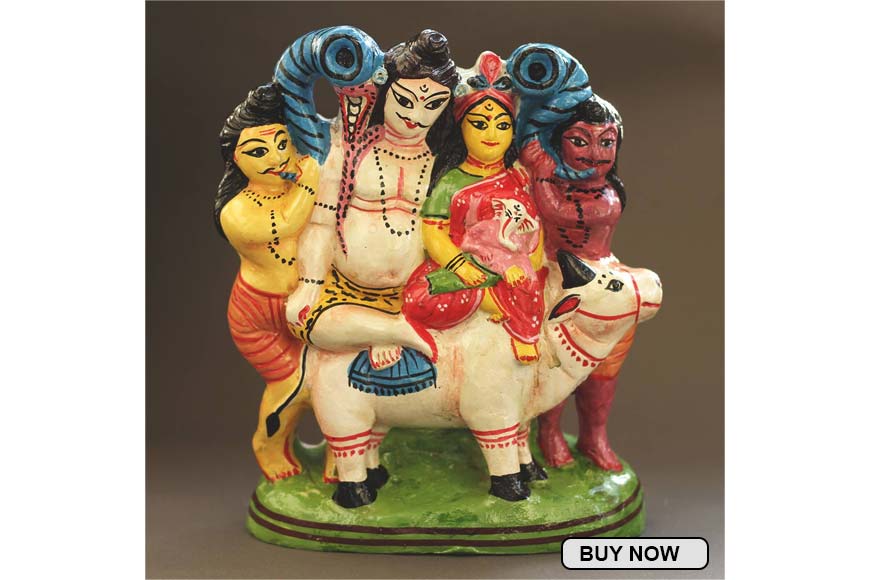 Mojilpur Shiva Parvati family
However, one other thing that this area ought to be famous for is its exquisitely crafted clay dolls. In many respects, the Mojilpur clay dolls, as they are called, differ from the fired-clay dolls made in other parts of Bengal. Inevitably, and sadly, not too many Mojilpur clay doll makers are to be found today. In fact, the number may soon be reduced to just one.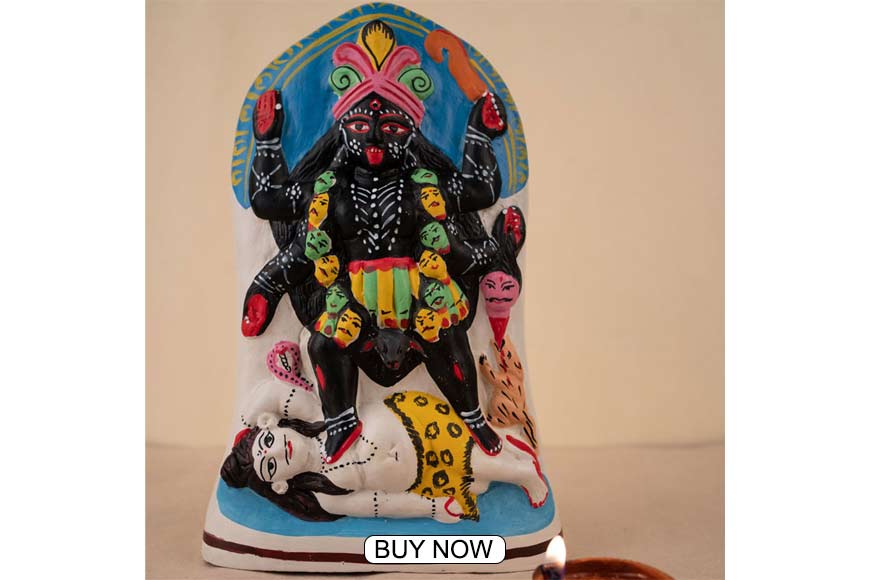 Mojilpur Goddess Kali (black)
Crafting clay dolls is one of Bengal's ancient art forms, and over the centuries, different parts of the state have come up with their own unique variations of the art. Krishnanagar in Nadia district, for instance, produces dolls that are remarkable for their realism and perfect finish, with their subjects coming from everyday life, work, moods and characters - farmers, weavers, rag pickers, basket makers, and umbrella makers. In Medinipur, we find Patua, Shilet, Hingli, Musk, and Jhumjhumi dolls, all of which are indigenous forms. So are the Tasu and Goalini dolls from Malda and Murshidabad districts. The Heemputul or Hingul dolls of Bishnupur in Bankura district represent yet another very popular variation of the art.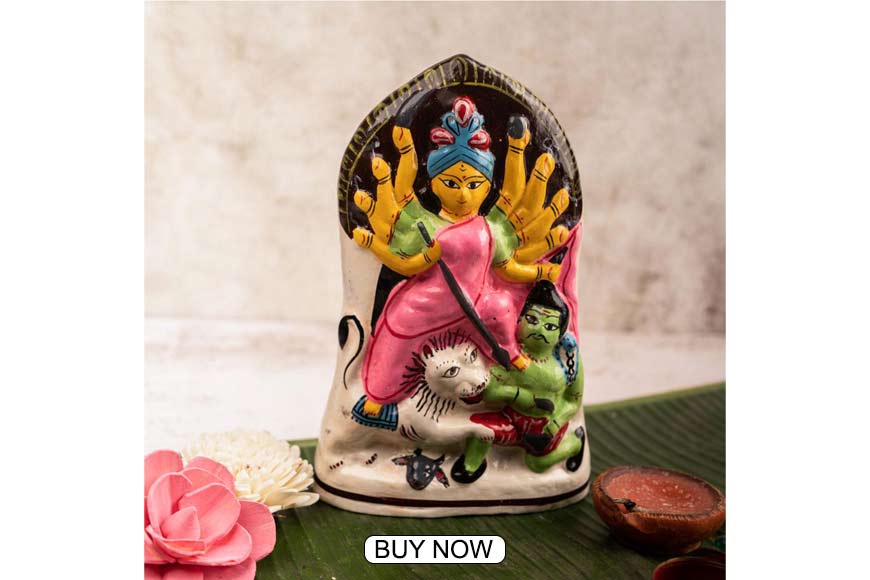 Mojilpur Durga Idol

However, the method of crafting Mojilpur dolls is different from all the aforementioned varieties. To begin with, their insides are hollow, with two parts of a doll being joined together. The idols of gods and goddesses which are used to offer puja are not fired. Instead, they are dried in the sun and then painted. Other dolls, however, go through the usual firing process. The figures are rounded, painted with vibrant colours and coated with Gurjan (balsam) oil to enhance their lustre. Brushstrokes similar to those found in Kalighat 'pata's also give Mojilpur dolls their unique identity.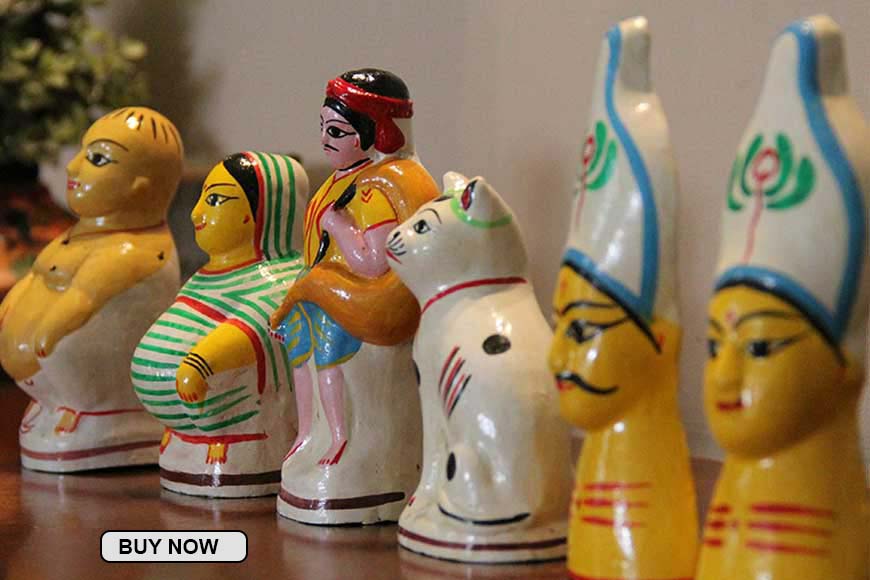 Mojilpur doll set
In his lifetime, legendary artisan Manmatha Das created more than 105 moulds, including divine figures such as Narayan, an intoxicated Shiva, Kali, Nandi-Bhringi, Radha-Krishna, Saraswati, Krishna-Kali, Vishnu's Varaha avatar, Jagannath, Balaram and Subhadra, Ganesh, Jagaddhatri, Durga as little Ganesh's mother, Krishna's mother Yashoda, and Krishna annihilating Kaliya Naag. He also created numerous moulds of ordinary people from everyday life. Even animals and birds were part of his vast repertoire of moulds. His nephew Panchugopal Das was the epitome of a born artist, who would even craft large Durga idols in his inimitable style. Panchugopal had no formal training in doll making, but learnt from watching his legendary uncle at work.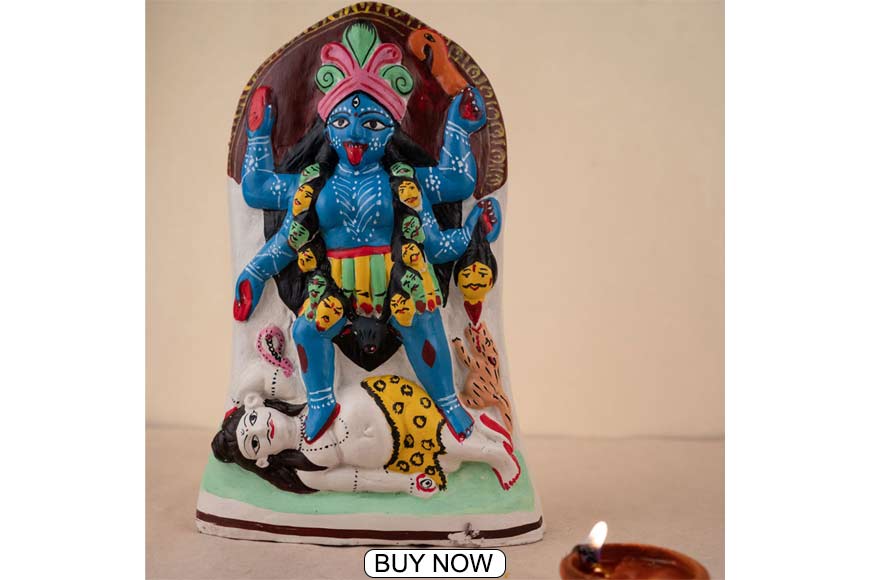 Mojilpur Goddess Kali (Blue)
Majilpur dolls available at www.thebengalstore.com Click here
A distinct trait of Mojilpur dolls is the crafting of folk deities specific to the Sundarbans, such as Dakshin Rai, Bonbibi, Narayani Ateshwar, Panchanand, Baro Khan Ghazi, Basanta Roy, Peer Gorachand, Jhola Bibi, Shitala, and Kalu Rai. These deities are still worshipped in local villages and the demand for these dolls has not waned.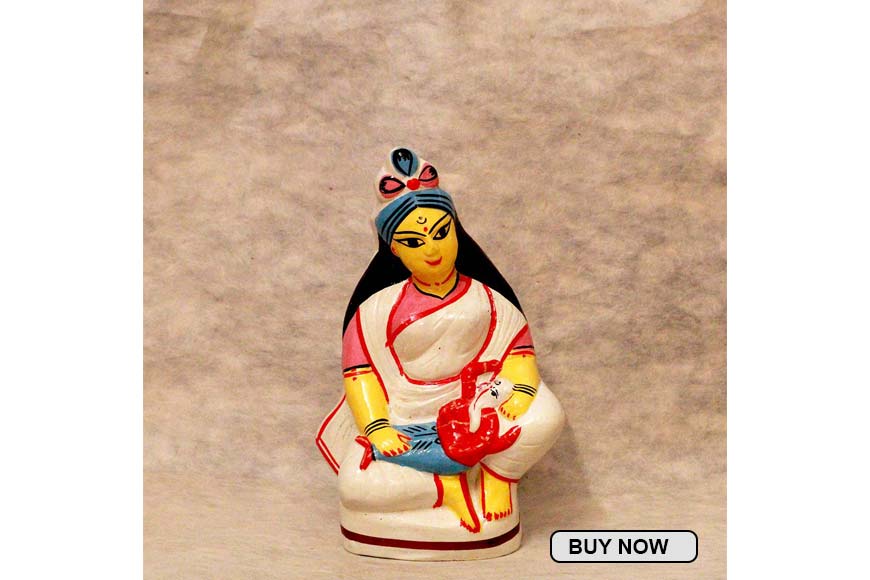 Mojilpur Ganesh Janani
One very attractive feature of these dolls is their eyes, which are drawn differently. Traditionally, the clay models of Bengal depict large, wide, elongated eyes that look similar to bamboo or neem leaves and are referred to as 'potol-chera chokh'. It was Panchugopal's grandfather Haranath Das, a brilliant artisan once again, who deviated from the norm and created eyes that resemble those found in Kalighat 'pata's, which Haranath would often create with a single brushstroke.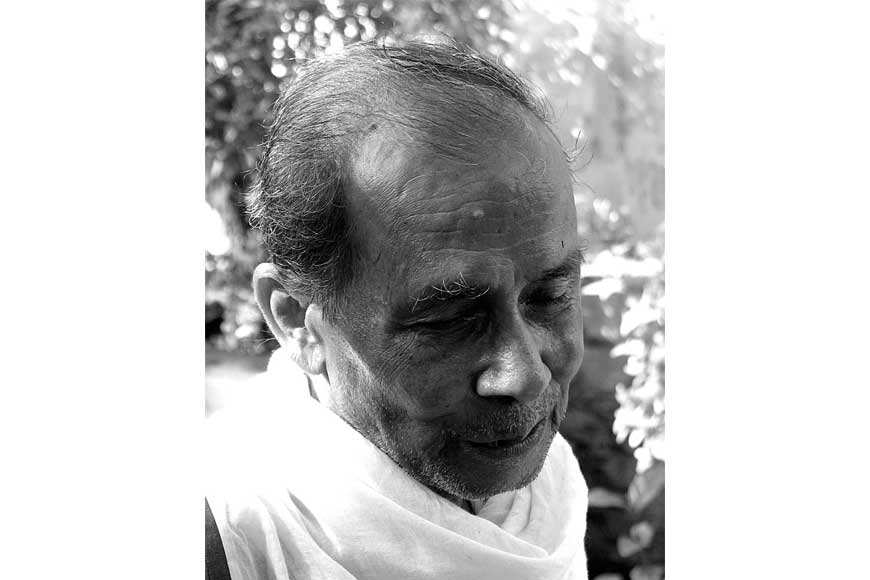 Panchugopal Das
Unfortunately, with the demise of such master craftsmen as Manmatha and Panchugopal, this unique art form is almost on the verge of extinction. Today, these unique clay dolls are manufactured single-handedly by Manmatha's grandson Sambhu Das. The ancestors of the Das family had migrated to Bengal from Jessore (a district in south-west Bangladesh) several decades ago. Shambhu is currently the only artist in Bengal who still makes these beautiful dolls by hand, and is struggling to keep this superb art from going extinct.