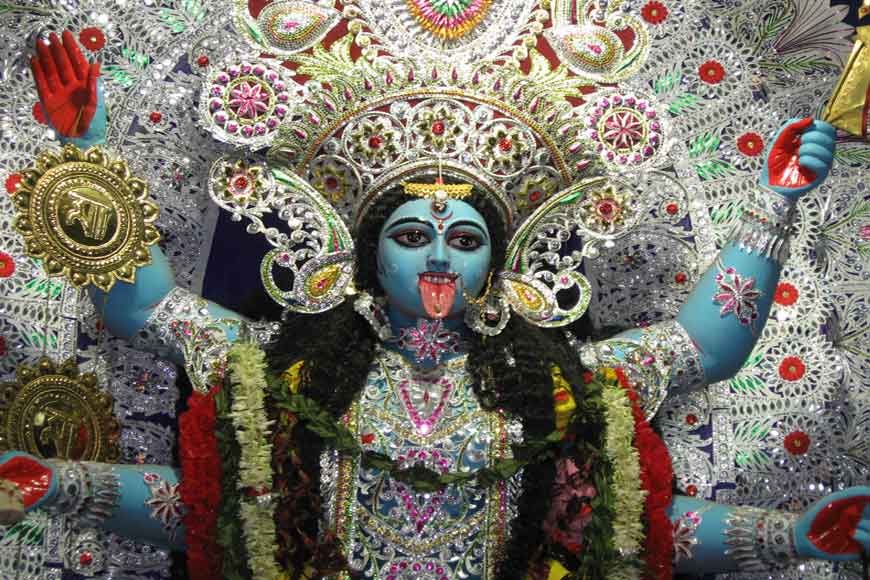 The Mathurapur- Laksmikantapur railway tracks penetrate through South 24 Parganas, leaving on its trail many quaint, sleepy stations. One such station is Baharu. On its west flank lies Baru village, on its east is Moida. After a short walk, one stumbles upon a shallow canal that happens to be the remnant of a parched river. Once upon a time this river was the lifeline of this area and nearby villages throbbed with life. But all that is lost in the annals of history. Moida is now akin to a patient on its deathbed, gasping for survival.
Today, Moida lies in a dilapidated state on the banks of the arid river. In ancient times, this was a prosperous hamlet. There is an antique Kali temple, which may not be as famous as the temple at Kalighat but none the less, it has anenriched history. Shipwrecks have been discovered at Moida during excavation and this suggests that it was a port town and ships plying on Adi Ganga anchored here. Documents written during the rule of Jessore-Raj Pratapaditya, mentions ships moving across Adi Ganga. Lore has it that the door of the Kali temple is built with the wood dismantled from a ship.
Occupants of Moida's neighbouring villages, Banshtola, Bottola, Kalinagar and Gangapur, belong to a community of fishermen, washermen, barbers or farmers. However, majority of residents of Moida are upper-caste Hindus, including Basu Chowdhury, Ghosh and Bandopadhyay. Their descendants have been living in the village for more than 250 years! This gives an impression that these upper-caste Hindus had migrated from other parts of the country and after they settled at Moida, their socio-cultural identity evolved and enriched the place and its surroundings. The upper echelons of the society were mostly Shaiva (worshipper of Shiva) or Shakta (follower of Goddess Kali). Perhaps a devout Shakta from among them established the idol of Goddess Kali in the village.
The idol of Goddess Kali, the presiding deity of the village, is certainly an ancient one but how old it is cannot be ascertained. Perhaps the idol was established in the earlier part of 19th century. It is generally believed that Sabarna Roychowdhury of Barisha, who funded the construction of the Kali temple at Kalighat, also bore the cost of building the temple at Moida. The Goddess here is etched in stone and she is in the form of four-armed Dakshina Kalika.
(Source: Paschim Bonger Kali O Kalikshetra)