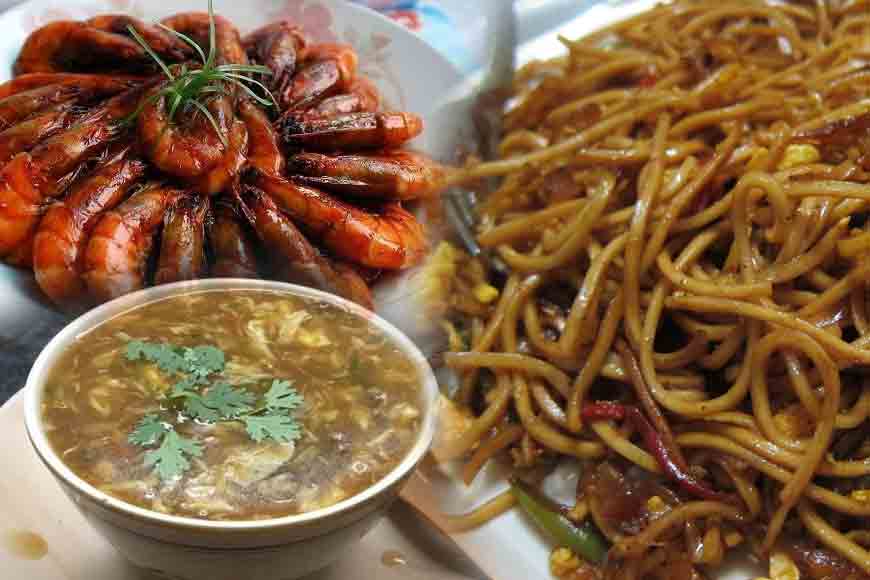 Want some Shangong, Pakchoy and Cuptai? Well, Chinese gourmet is not just about Hakka noodles or Fried rice!Ask any Chinese foodie and they will rattle names of a couple of Chinese eateries of the city, where you get the best authentic fare. Ajung's is a gourmet destination that serves authentic Chinese dishes, names of which probably you have never even heard before!
Ajung's doesn't even have a signboard or a name – everyone simply refers to it by the name of its owner.An unassuming eatery tucked in one of those narrow lanes of Tangra, it requires a lot of patience and sense of direction to locate the eating house. The shop is a popular destination for the Chinese of Kolkata too. They frequent this eatery with family and friends and even host lunch/dinner for their guests. Sunday afternoons are especially crowded and the sight of Chinese youngsters huddling together over a pile of yam noodlesis quite common. Lunch timings are pretty early and quite often the eatery runs out of food by 2 pm. Hamchoy, pakchoy, shangkong, cuptai(a traditional soup made with offcuts of meat) are some of their specialities that one seldom findsanywhere else in the city.
Ajung's hand-make their own noodles. Besides the yam noodles they also offer brown chow (a slightly sweet chow caramelised to give it a brown colour, a favourite with the kids) and the traditional Hakka noodles, that taste quite different from the ones we usually have. Their wontons are equally tantalizing: fried momos topped with crunchy, fresh winter vegetables and the steaming prawns which come on a sizzler plate served with button mushrooms. The quintessentially Chinese dish, chilli chicken, is just fabulous and out of this world here.
Lemony, spicy, tangy and perfectly crispy, this is one dish to die for.The restaurant is pretty much self-service. Customers usually open the fridge and help themselves tosoft drinks of their choice and collect the cutlery from the table by the door. The décor is ordinary and the surrounding is even less impressive. But the food? You need to visit the place to believe. The portions are generous and it is also easy on the pockets. So, why delay? Ajung's food beckons and this could very well be your next weekend destination.