For most of us, Upendrakishore Ray Chowdhury is a name we think of only in connection to his famous son, or even more famous grandson. But is it enough to think of him simply as the father of Sukumar Ray and grandfather of Satyajit Ray? Why not as the author of 'Tuntunir Boi', still regarded as a milestone in Bengali children's literature, whose characters have literally become proverbial? Or as the original creator of Goopy and Bagha, whose screen versions became legends in themselves? Or why not as a violinist skilled enough to write books about music?
Born on May 12, 1863 in what is today Kishoreganj district of Bangladesh, Upendrakishore was a contemporary of Rabindranath Tagore (b. 1861), and in many ways, his contribution to Bengal's cultural life has been no less important. While Tagore is justifiably renowned internationally as a polymath (essentially, a person who knows a lot, about a lot of things), Upendrakishore was perhaps only slightly less gifted. Certainly when it comes to technological innovations, Upendrakishore's knowledge and inventiveness had made him a global figure by the end of the 19th century.
So we have a children's author, painter, amateur scientist, printer and publisher, and musician, all in one. Can we not call him a polymath too? 'Chheleder Ramayan', his first book for children, featured his own beautiful illustrations, unfortunately ruined by the underdeveloped printing techniques of the time. That led to one of Upendrakishore's great inventions, which we will come to later.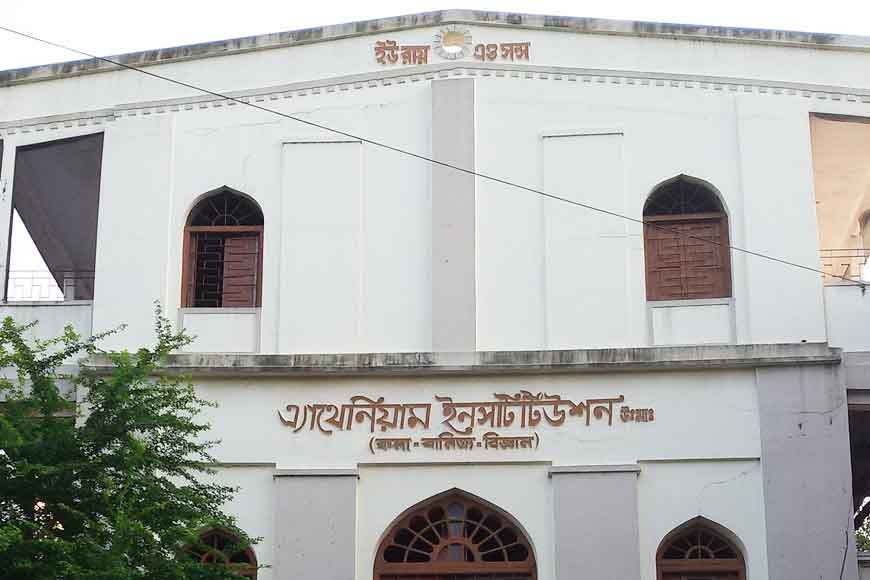 He also wrote numerous articles on science for children, and published two outstanding books on popular science, which became classics in Bengali. While 'Sekaler Katha' described the geological history of the earth and ancient animals such as dinosaurs, 'Aakasher Katha' was an easy-to-understand account of astronomy. Not unusual, perhaps, for a man who counted scientists such as Jagadish Chandra Bose and Prafulla Chandra Ray among his close friends. The three men even lived and worked close to each other in North Kolkata's Garpar area.
Oh and by the way, Upendrakishore also wrote two Bengali books on music – 'Sahaj Behala Shikkha', about learning to play the violin, and 'Shikshak Byatireke Harmonium', about learning to play the harmonium. The latter held added interest for him, since Dwarakanath Ghose was credited with the invention of the hand-held harmonium, which has become such an integral part of Indian music. Dwarakanath's music company was called Dwarkin & Son, a name Upendrakishore had suggested in 1875, when he was just 12.

Now for Upendrakishore the technological genius. How many of us know that he was the first to introduce modern block-making, including half-tone and colour block-making, in South Asia? Without going into technicalities, suffice it to say that he revolutionised the art of printing to the extent that his articles featured regularly in the famed 'Penrose Annual' volumes, the Bible for printers, published from Britain.
Prompted by poor woodcut reproductions of his illustrations for 'Chheleder Ramayan', Upendrakishore imported books, chemicals and equipment from Britain to learn the technology of block-making. In 1895, he set up the block-making business U. Ray & Sons, at 7, Shibnarayan Lane, which also became his residence. He also continued to experiment with block-making, and such was his impact that a leading foreign printing expert of the time said that Upendrakishore's contribution was far more original than his peers in Europe and America, "which is all the more surprising when we consider how far he is from hub-centres of process work".
In 1914, he founded what was probably the finest printing press in South Asia at U. Ray and Sons, by now having shifted to 100, Garpar Road. He rapidly earned recognition in India and abroad for his new methods of printing both black and white and colour photographs with faithful accuracy.
Among the techniques he invented was half-tone block-making, of which a 'screen-adjusting machine' for the automatic focussing of process cameras was assembled in England following his design. Which is why we perhaps ought to end with this fine tribute from the Penrose Annual, Volume X, 1904-05: "Mr. Ray is evidently possessed of a mathematical quality of mind and he has reasoned out for himself the problems of half-tone work in a remarkably successful manner ... (His printing developments) enable the operator to do uniform work with the fullest graduation and detail in it and with the minimum amount of manipulative skill in the negative-making and etching."