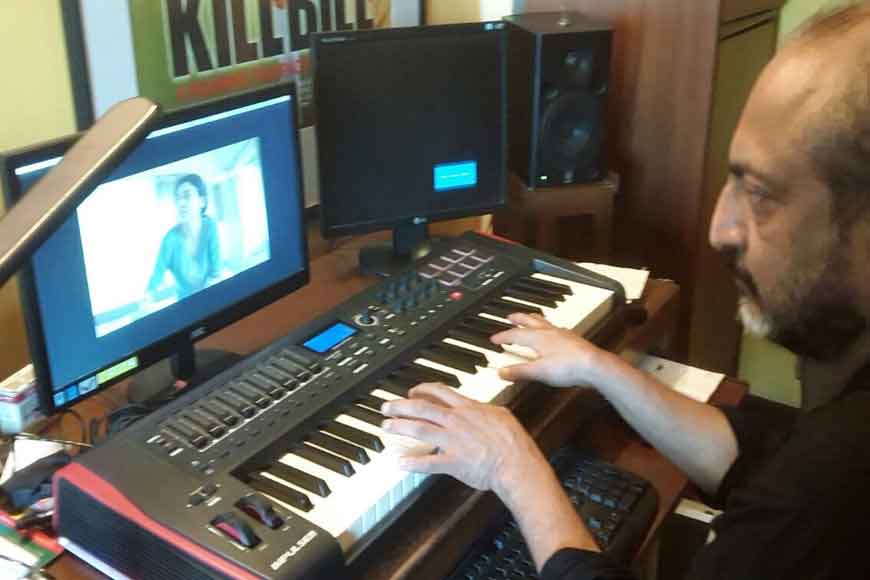 Indrajit Sen speaks to celebrated Music Director, Filmfare Award winner Prabuddha Banerjee on the background score of short-film Bhalobashar Shohor.
1. How did you work out the soundscape of Bhalobashar Shohor (BBS)? Did you and director Indranil work together, just like you did on previous projects, or he gave you a free hand?
Indranil (aka Kobi) and I have a long association. We have worked in many commercials and four movies so far (two telefilms, Phoring and BBS). He is a sharp and sensitive director and with years of experience, developed a gut feeling as to what can make things work. He does not spend days together with the music director. His style is to discuss and lock the basic feel of the audio board at the very onset and then give a free hand. At least that has been the case with me for all the work we have done together. Once the music and/or sound has been done to an appreciable level, he reviews the same jointly with me.
For example, in Phoring, we agreed upon the basic nature of music and decided it would be very elementary. While the idea was intrinsically simple music to match the lyrical narrative of the movie, we knew the composition had to be mature enough to communicate the complicacies of adolescence that Phoring faces. In case of BBS, the interaction was slightly different. Since I was doing the sound design for the movie, Kobi spent more time in discussing the nature of sound effects and design thereof.
However, he gave inputs in terms of how the feel of Rongila Rongila Re should be. In fact, deconstructing such an iconic song (Jasimuddin and SD Burman combo) was quite a challenge. The challenge was not only in terms of arrangement, but in working out the appropriate rendition in the context of the film and in identifying the right kind of voice who could sing it to perfection. I heard Titas at an album release function. Her rustic and unusual voice stayed in my mind. I got samples of her voice through a common friend and sent them to Kobi for BBS. He immediately approved and things fell in place. Kobi wanted a minimalistic background score to enhance the starkness of the movie.
2. Would you have chosen Rongila Rongila Re, if it did not come as part of the script?
Without this song, the script would have been different in the first place and may be, there would not have been any song at all!
3. You have used just three instruments. How did you select them and why didn't you go beyond them?
When I compose for a film, the first thing I do, is to work out a basic tune. Often, I hum or whistle it, or lightly pluck or strum the guitar. I don't have any specific instrument in mind during the white canvas stage. Selection of instrument(s) comes later and is based on what tonal feel a particular instrument or collective sound of several instruments can create and how well that output gels with the mood of the film. For BBS, after the basic tune was composed, I was trying it out on the ukulele by plucking instead of strumming (which is the usual way to play this instrument). What evolved was an interesting palate of note combinations creating a music which is more basic and emoting than representing a country or culture. The sound was rudimentary and basic. Despite high treble ringing quality of the instrument, it did not take away the dark feel of BBS. Rather it helped in portraying and furthering Annapurna's traumatic journey more effectively.
Once the basic fabric was woven with the ukulele, I felt the necessity of topping it with some blatantly dark low frequency tones. Satyaki Banerjee, a talented musician helped me use the oud and rawab to blurt out expressions, rather than definite melody lines. The oud and rawab were primarily selected for their tonality and not because of the Syrian connect of the script.
For the song, I used a bit of heavily processed electronic pads, to get rid of the sophistication and blended it with the ambient ground noise. Coupled with that, came the uncanny drone of Tibetan bowls, layered with guitar tremolos. This limited ensemble was good enough to create the desired effect and did not necessitate expanding the gamut of instruments.
4. You also did the sound design for BBS. Share your experience
The sound design was more critical in terms of setting the mood. We planned to keep it realistic, stark and relevant. We deployed a sound recordist to go to various locations and record ambient and specific sounds. The ambience of school bus, children playing, hospital, orphans having biriyani in the yetimkhana with Quran being read out in the background, were recorded in locations by a young talented sound recordist, Prithwish Basu.
For some scenes, specific sound effects were created, such as sound of Bengali radio news which was scripted and read by a very talented voice artist Saugata Paul. The film starts with news being read in Arabic which was organized by Kobi from Dubai. In the beauty parlour, we hear a Hindi song being played on some FM Channel. This song was specifically composed for this sequence, even though it is in a barely audible level, just adding on to the ambience. The song was written and sung by Dibyendu Mukherjee.
5. Any challenges faced?
Yes. Such as not getting the right kind of sound of the metro train wheezing by, when Annapurna gets to hear the news of her husband's death over telephone. We had locational recordings, but the sound was mixed with other extraneous elements. Finally, I had to layer the recordings with different train sounds to get the desired effect. Then the sound of the road-washing truck was not feasible to obtain as it meant getting permission from the Kolkata Corporation, run the vehicle with sprinklers on in the wee hours of morning or at the dead of night. So, we layered the sound of a large vehicle with pattering of rain on a porch to get the desired effect.
Kobi critically reviewed various stages of sound design and nature of sound. It was his idea to use the sound of wireless blabber to intensify the alienation and isolation of Annapurna, after she learns of her husband's death.
6. Did you do both music and sound design as the director had budget constraints?
Well while it is partially true, I don't think it is the main consideration. Even if you do something free of cost, you must be capable of doing it. This is not the first time I am doing sound design for a film. A few years back, I had done sound design along with background score for a silent film Carnival that was selected in the International Film Festival, Rotterdam where budget was not an issue.
I guess Kobi perceived the sound design for this film in terms of a background score and knowing my interest and experience in sound design, he approached me to do the sound design as well.