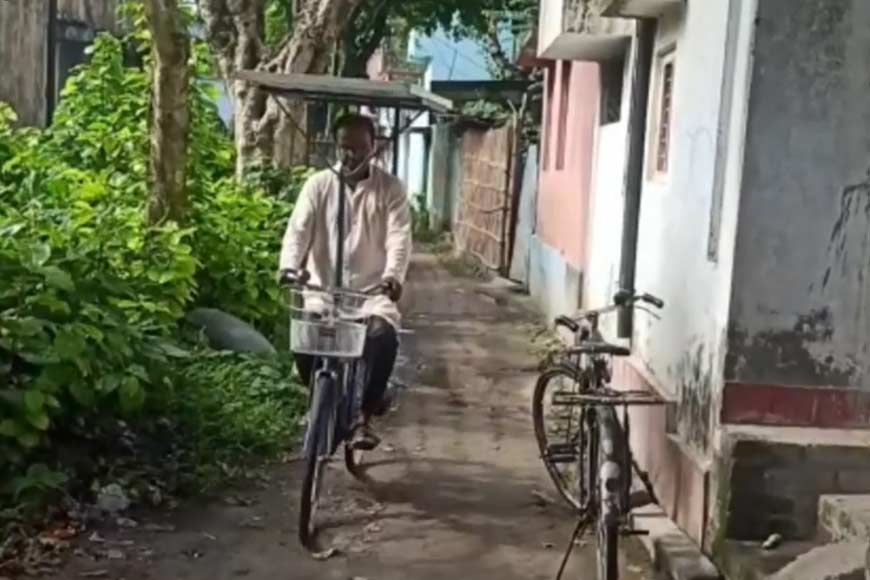 "Necessity is the mother of invention" – goes the saying and it has been proved right once again by Chandan Biswas of Karimpur, Kechuadanga who initially contemplated manufacturing a solar bicycle to reduce his travelling expenses.
Biswas had to paddle 10 kilometers daily to reach his office from his residence at Karimpur in Nadia district. The journey was extremely exhausting and time-consuming as well. Hence, he explored alternative modes of transport that would not be burning a hole in his pocket. This gave birth to the prototype of a solar powered bicycle that involves no running or charging cost and reduces the traveller's carbon footprint. His innovation has been highly appreciated by not only his family and friends but also by neighbours and local administration officials.
Modern life relies entirely on energy and everything from our transport system, heating/cooling and powering our houses, building infrastructure, and all industries run on primarily fossil energy sources like oil, coal and gas. The negative impact of fossil energy on our environment is twofold. On the one hand, the burning of fossil resources releases enormous amounts of greenhouse gases, such as carbon dioxide, CO2, into our environment. In the long run, fossil energy is not only exploiting the soil and polluting our air, but it is also non-renewable, hence time-limited. As a result, the pressing priority of the moment is to stop climate change and switch to renewable and sustainable energy sources as soon as possible. Scientists are working on increasing the amount of renewable energy production and in this context, solar energy is a major alternative source that can contribute substantially in decarbonizing the planet.
Researchers and scientists have been focusing on ways to reduce air pollution due to vehicular emissions in the country and electric bicycles (motorized bicycle with an integrated electric motor used to assist propulsion) are the new rage everywhere. It is an eco-friendly alternative to two-wheeler motor vehicles but is not pocket-friendly at all and is way beyond a common man's spending capacity. Trials are on to manufacture solar-assisted bicycles commercially. Biswas desperately needed a substitute mode of transport and when he came across the information about using solar power as an alternative source of energy, he started tinkering with his timeworn bicycle during his free time, planning to give it a makeover. His determination gave him the confidence to go ahead with his project. He made changes in his bicycle, enabling it to switch between the solar energy powered motor and the pedals.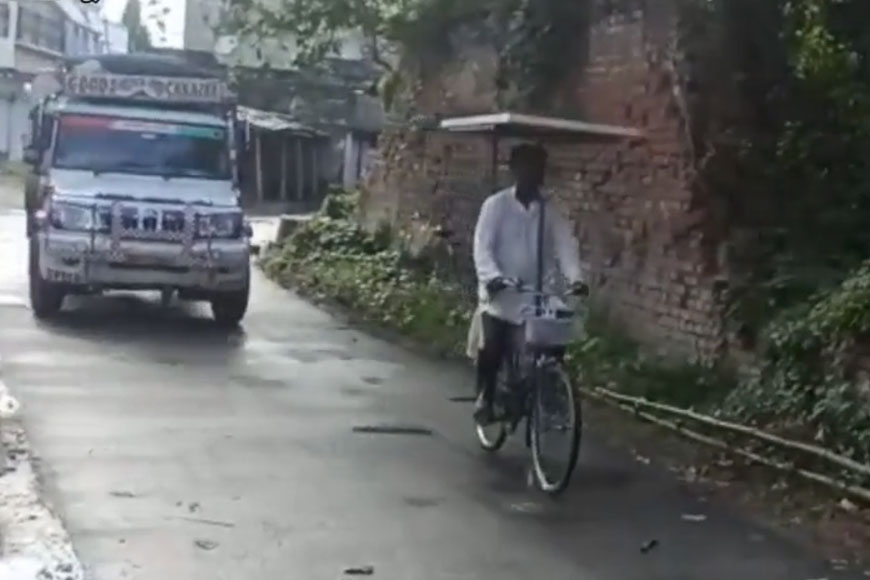 Biswas is a professional deed writer (a Deed Writer prepares documents, that is, doing the work of conveyancing, including investigation of title, preparation of draft-deeds and engrossing the deed on stamp paper for registration and holds a government license) and has to visit the Registrar's office every day. Previously, he had to paddle all the way to his office on his bicycle. However, after upgrading his old bicycle, his journey has become more hassle-free and less strenuous. Driven by his own success, he is now enthusiastic to manufacture solar bicycles commercially. He shelled out Rs 1 lakh 10 thousand to remodel his bicycle. He is confident of reducing the manufacturing cost substantially if he gets a sponsor who will be willing to pump in the cash. He says mass scale production of solar bicycle will bring down the cost considerably and it will come down to Rs 30,000 per cycle.
Every time Biswas rides his bicycle, wide-eyed onlookers throng around him. Shopkeepers leave their stalls to get a closer look at the 'magical' bicycle. Biswas initially installed solar batteries in the bicycle but they had to be charged at regular intervals. To avoid that unnecessary hassle, he installed a solar panel atop his cycle. During the long journey, the solar panel charges the batteries so there is no need to charge the batteries separately. The average speed of the bicycle is 35 kilometers per hour and if the batteries are fully charged, the bicycle can run for 60 kilometers at a stretch. Biswas' wife, Pranati is proud of her husband's unique bicycle. His colleagues are also very happy.