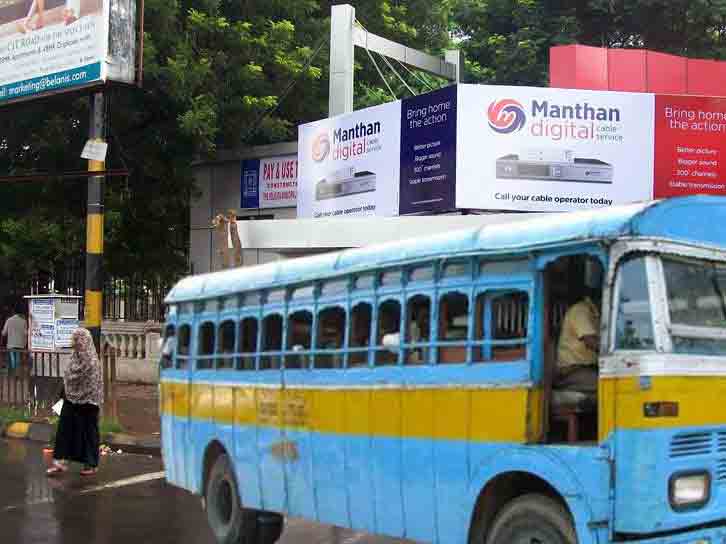 If you travel by buses in Kolkata, then you might have experienced the following. When you are already late for office, the buses fail to take up speed. But when it comes to picking up passengers from bus-stops, they seem to be rushing at break-neck speed, engaging in road rage, competing with one another, leading to accidents.
But now 'Bus Boxes' might reduce accidents and resist unhealthy bus racing and overtaking. Soon, there will boxes demarcating specific places where buses are supposed to stand while picking up passengers from bus-stops at every city corner and crossings. The buses will have to stop within those coloured boxes marked on the streets. The next bus will have to stand behind but will not be able to overtake. If the buses violate this rule, the driver will be heavily fined.
According to a report made by a professional research organization, it has been found that 28% of the deadly accidents of Kolkata are caused by mini-buses. While overtaking each other during picking up passengers from bus-stands, the buses often end up injuring the passengers standing on the footboard. Accidents also occur because the passengers rush to get up on the buses. The report also says that the conductors, drivers and a section of passengers are also responsible for these fatal accidents.
There are already many bus-bays in different parts of the city but many buses do not adhere to rules of these bays and often violate lines. Now traffic guards have been instructed to ensure that the buses follow the rules of the Bus Boxes. The concept of bus boxes has been prevalent in some other cities. Initially, these boxes will be introduced in a few places of the city on trial. Later, it will be all over Kolkata. Hope they will reduce road accidents.