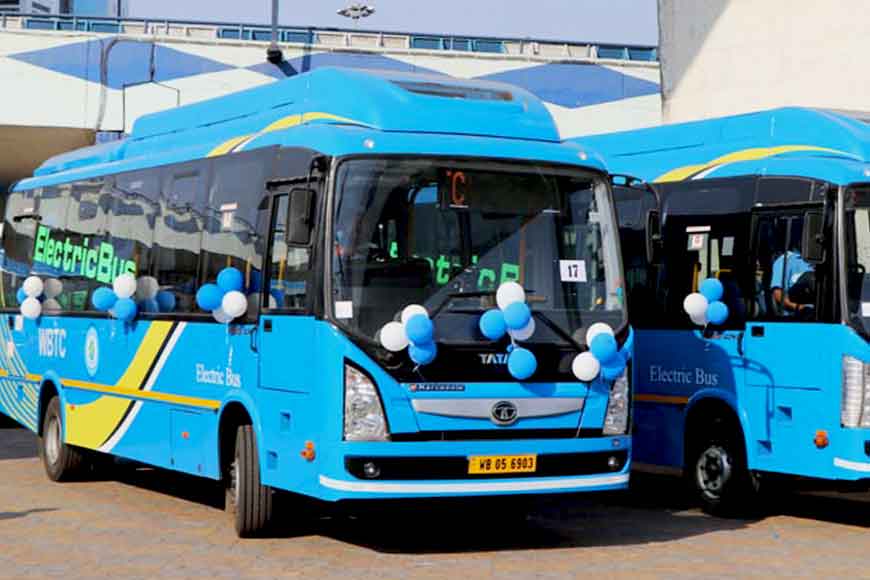 The Centre for Science and Environment, New Delhi has recently lauded West Bengal government for its newly introduced electric bus programme in Kolkata. They believe it can act as a game changer for the city's clean air agenda. The new lot of electric buses flagged off in February this year was a big leap towards zero emissions pathway. But a sustained planning of charging infrastructure, route planning, deployment strategy and service delivery for effective impact is now needed with more buses on several routes.
Strong public transport culture and short travel distances in Kolkata are an opportunity for scaling up of electric mobility and achieving zero emissions to reduce toxic and harmful exposure to air pollution. Almost 22 per cent of daily travel trips in Kolkata are already electric and zero-emissions; if buses, autos and taxis are electrified as well, Kolkata can lead the zero emission pathway in the country.
While highlighting the importance of this initiative Anumita Roychowdhury, Executive Director, Research and Advocacy, CSE said, "Kolkata has a much bigger opportunity than most other metro cities in India to phase in zero emissions mobility quicker because of its inherent advantages of very strong public transport culture and short average travel distances – this makes the city most suitable for electric vehicles."
It is important to note that as Kolkata has already implemented the Metro, Tram, and Suburban and Circular rail systems, as much as 22 per cent of the daily travel trips are already electric and zero-emissions. If the bus electrification is also taken forward, this can have a significant impact. All public and private buses, mini-buses and chartered buses together carry 56 per cent of the daily travel trips in Kolkata. If this programme is further complemented by electrification of auto and taxi segments that carry another 17 per cent of the daily travel trips, Kolkata can lead the zero-emission pathway in the country.
This strategy needs serious attention and support as Kolkata is experiencing very high pollution and exposure levels, especially during winters. Vehicles are one of the major contributors to air pollution in the city. As Kolkata does not have easy access to other clean fuels for transport like Delhi has to CNG, its dependence on toxic diesel is high – leading to serious public health consequences.
Even though Bharat Stage VI emissions standards will be introduced in Kolkata next year, managing real world emissions from the diesel fleet will continue to remain a challenge. In contrast, electric vehicles are easier to operate and maintain and have substantially lower running costs.
CSE proposes certain measures to reduce the pollution in Kolkata
• Plan bus route clusters for electrification and deployment of buses.
• Provide charging infrastructure in depots and opportunity charging as needed.
• Set up a battery management system.
• Set up systems for monitoring of performance of buses for feedback and further improvement.
• Integrate buses and electric feeders with other public transport systems.
• Introduce technical capacity building programmes for operating the electric bus fleet.
• Simultaneously, plan and implement a larger plan for charging infrastructure, and fiscal incentives to target other vehicle segments as well.
(Source: CSE report)