Happy days are here again for tourists who have been counting months and days on their fingertips, waiting for governments to lift regulations imposed to contain the Covid-19 pandemic since last year, and tear up the miles once again. The tourism sector in North Bengal contributes to the majority of tourist inflow to the state of West Bengal. Over the years, tourism emerged as an important segment of daily life of the local people, strengthening their economy and generating supplementary income for the populace in rural as well as urban areas of Bengal.
The state government has made a significant move and the state forest department has recently announced its decision to offer online tickets for Elephant Safari at Gorumara, thus making it accessible to more tourists who want to avail the trip. For every wildlife enthusiast, jungle safari in Gorumara National Park is a must activity. The beauty of the undulating terrain, lush green forests and sprawling grasslands fascinate ever tourist, while the joy of spotting wildlife amplifies the fascination manifold. In 1949, Gorumara was declared a wildlife sanctuary and in 1992, it was given the status of a National Park. In 2009, the Ministry of Environment and Forests declared Gorumara National Park as best among the protected areas of India.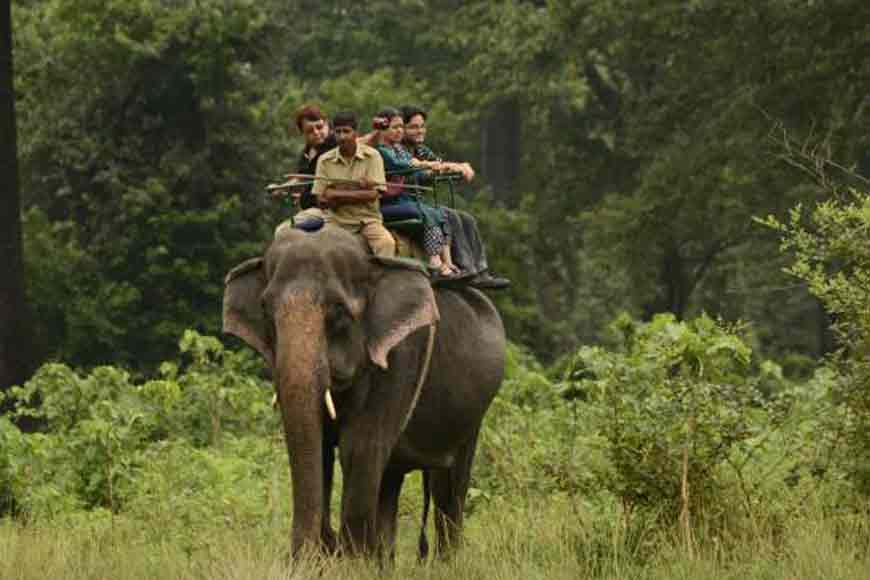 Gorumara National Park is famous for its population of Great Indian one-horned rhinoceros. Apart from this, it has a variety of wildlife like elephant, bison, leopard, jungle cat, barking deer, sloth bear, wild boar, hog deer. Leopard and Indian wolves are also spotted occasionally. The national park is the home to a few species of poisonous snakes as well, like Paithon and King Cobra. Almost 300 plus species of birds are spotted at Gorumara National Park. Most common ones include Asian paradise flycatchers, scarlet minivet, Indian hornbill, woodpeckers, pea-fowls, pheasants and endangered Brahminy duck etc.

Gorumara National Park offers a wide range of facilities for tourists and they have the option of availing car safaris and climb watchtowers to spot wild animals in their natural habitat. However, Elephant Safari has always remained the top attraction. Elephant safari in the core area of the jungle is a thrilling way of spotting wildlife. In fact, this is one of the best ways of sighting animals because elephants have a sense of animal presence and go deep inside the forests.
This much sought-after elephant safari was discontinued when Lockdown was imposed last year. West Bengal government's decision to resume elephant safari at Gorumara is welcome. As a cherry topping, there's more good news for both tourists and private tour operators.
"In the pre-pandemic times, tickets for the elephant safari could only be bought at a designated office at Lataguri and were available to only the lucky few sightseers who could get accommodation at the cottages maintained by the state forest department at Gorumara Eco Village at Kalipur, Gorumara Rhino Camp at Ramsai and Gorumara Elephant Camp at Dhupjora. Now the state forest department has decided to offer online tickets for the elephant safari at Gorumara, thus making the safari accessible to adventurers who are not necessarily staying in the forest department's camps, yet are keen to avail the trip," said Paresh Maity, who runs his tourism company Trident Tourists from Siliguri.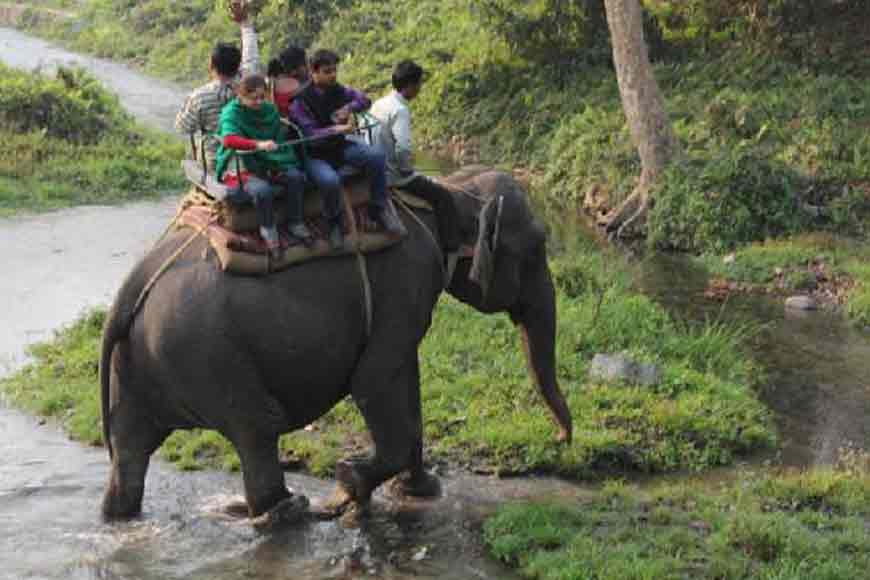 After the tickets are booked online from the West Bengal Forest department's website, tourists will have to report at Dhupjora or Kalipur for the one-hour-long rides. Two elephants will be used for the safari each time and each elephant will carry two visitors. Two slots have been earmarked at Dhupjora for the safari—between 7 am and 8 am and again in the evening, between 3.30 pm and 4.30 pm. Similarly, at Kalipur, there are two slots, between 7 am and 8 am and again between 8 am and 9 am. "An extremely welcome move for tourists. We are booked to visit the park in January next year and plan to avail of this online ride," said Krishna Chatterjee of Behala who will be on North Bengal visit in January with her family.
The park's entry fee is Rs 120 per head and the elephant ride will cost Rs 900 each. In other words, the entire cost of the trip comes to Rs 1020 per person per ride. The Gorumara Tourism Welfare Association (GTWA), a consortium of hotel and lodge owners, had earlier proposed this idea to the government to augment tourism in the area. This decision has naturally been welcomed and Gorumara is anxiously awaiting the arrival of visitors in large numbers to boost the local economy.