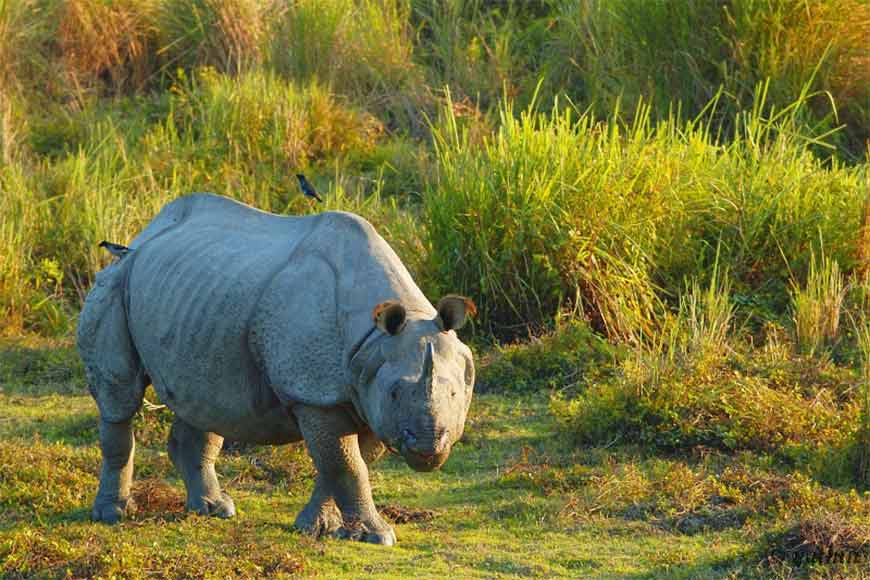 Rhinos — with their awe-inducing presence and unique appearance — are some of the most fascinating animals on the planet. They're massive and look prehistoric, almost like looking at a dinosaur in real time. And sadly, their fate is bordering on that of the dino, as they are one of the most threatened species on the planet. In fact, all the five species of rhino, namely black rhinos and white rhinos of sub-Saharan Africa, the greater one-horned rhinos of India, Sumatran rhinos found on the Indonesian islands of Sumatra and Borneo, and the most critically endangered rhino of them all, the Javan rhino, found in Ujung Kulon National Park in Java, Indonesia, are on the edge of extinction because of poaching, destruction of natural habitat and climate change.
The World Wildlife Fund (WWF) South Africa first announced World Rhino Day in 2010. The following year, World Rhino Day grew into an international success, encompassing both African and Asian rhino species. This year heralds the 10th anniversary of World Rhino Day.
The Indian rhinoceros, also called the Indian rhino, greater one-horned rhinoceros or great Indian rhinoceros, is a rhinoceros species native to the Indian subcontinent. It is listed as Vulnerable on the International Union for Conservation of Nature (IUCN) Red List, as populations are fragmented and restricted to less than 20,000 km. In India, rhinos can now be found in parts of Uttar Pradesh, West Bengal and Assam. In West Bengal, Jaldapara National Park is the largest habitat of one-horned rhinos followed by Gorumara National Park.
Rajendra Jakhar, Chief Conservator of Forests (CCF) Wildlife, North Bengal speaks to GB on how West Bengal successfully increased the number of Rhinos in the wild.
• The theme for this year's World Rhino Day is 'Five Rhino Species Forever' that aims to bring forth the noble cause of spreading awareness about the need to protect rhinos from life threats. How is West Bengal doing it?
Although a number of restrictions had to be imposed from last year to curb the spread of Covid pandemic, the World Rhino Day celebration is being held today in the two National Parks at Jaldapara and Gorumara. We usually organize staff meetings to motivate them and discuss the requirements of the rhino population, conduct awareness programmes to sensitize them about the dangers of poaching and talk over necessary measures to safeguard the interest of the rhino population. We also organize meetings with Joint Forest Management Committee (JFMC) members to reiterate the vulnerability of rhinos and seek their views on ways to improve the living conditions of these mammoth mammals.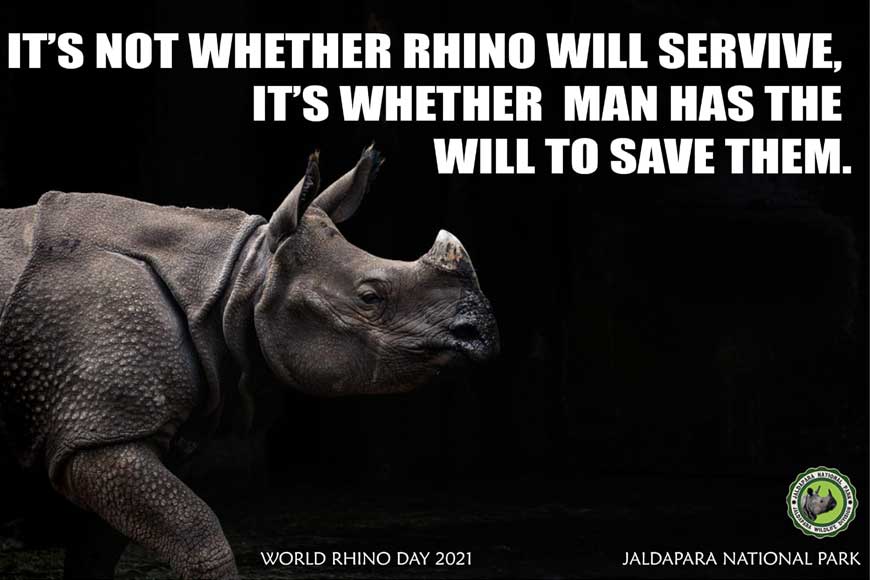 • Anything special today?
Yes, on special days like September 22, World Rhino Day, we put up banners and templates and share our concern about saving this endangered species with the public. It is a continuing process but not all these programmes can be held regularly owing to practical reasons. But on species-specific days like World Tiger Day or World Elephant Day, we make it a point to organize our meetings and discussions focusing on the status of that particular species.
• How robust is the Rhino population of Bengal?
Once widespread, the greater one-horned rhinos have disappeared from much of its range, largely due to poaching for its horns and destruction of its habitat. But in recent years, there has been a significant increase in the rhino population across the two National Parks in West Bengal - Jaldapara and Gorumara. A slow-breeding species, the increase in number signifies a drastic improvement in rhino conservation policies. A survey in 2015 found that the state's rhino population increased from 20 individuals in 1990 to 250 animals in 2015. Jaldapara is home to nearly 200 of these threatened animals and has the second-highest population of rhinos in India. Gorumara, located about 60 miles from Jaldapara, hosts some 50 rhinos. The rhino numbers in the two parks are far more than the carrying capacity of both parks and this has necessitated shifting of some rhinos to newer areas to ease the pressure.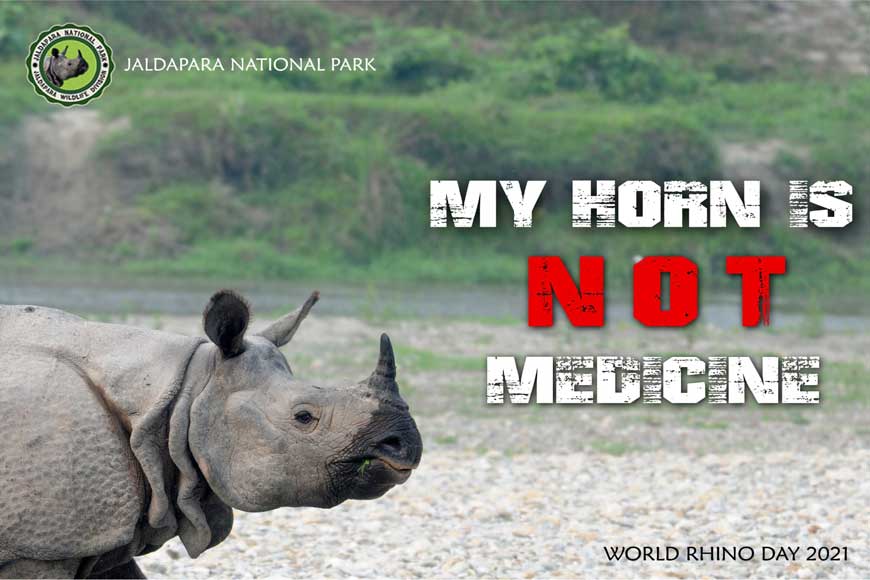 • How about relocating the Rhino population to new sites?
At a meeting held at Jaldapara National Park in November last year, the Asian Rhino Specialist Group under the International Union for Conservation of Nature urged governments and conservation groups to find new sites that could absorb the increasing rhino population. Earlier, it was decided to relocate rhinos at Patlakhawa which is a good patch. We had started plantation to create a suitable habitation for rhinos but in the midst of the process, we realized that the area is densely populated and open from all sides making the habitat really vulnerable for rhinos. There was this feasibility factor as well since there was no continuation of the forest land and that would restrict the movement of the rhinos. The relocation process has not been completed yet. No proposal has been taken to relocate rhinos to Buxa Tiger Forest yet. If that has to be done, the proposal has to be initiated by the authorities at Buxa. It is true that the need to find new habitat for the growing population of rhinos is imminent. We are considering the area close to the National Highway and Jaldapara railway track. We are on the lookout for new patches with grasslands and other requirement suitable for relocating the excess population.

• At present the distribution of rhinos remain highly restricted. The genetic quality is likely to go down in a small and closed population. Conservationists have also felt the need for increasing the genetic diversity of the rhino populations in Jaldapara and Gorumara National Parks and suggested to spread out rhino population, give them enough space or connectivity, so they can have a healthy gene pool. They have suggested possibility of exchanging rhinos from other rhino bearing sites. What steps are these parks taking in that direction?
In West Bengal, the forest administration is quite strong. Monitoring is done well. The political will to support conservation is very positive. A handsome budget allocation has ensured regular patrolling on foot, elephant back, vehicle and speed boats, improved and strengthened communication network (long distance RT network), supply of improved weapons to the wildlife guards, wildlife squads, intelligence gathering including strengthening of information network, installation of watchtower at strategic points etc. inside the National Parks and sanctuaries as well as in the areas important for wildlife conservation. Since poaching is always associated with inter-state and/or international smuggling, a regular coordination between various enforcement agencies like BSF, Railway Police, Customs, Director of Revenue Intelligence, Police etc. is a must to control poaching and illegal trade of wildlife products. For this purpose, two coordinating bodies comprising forest officers, and representatives of various enforcement agencies have been constituted in North Bengal and South Bengal.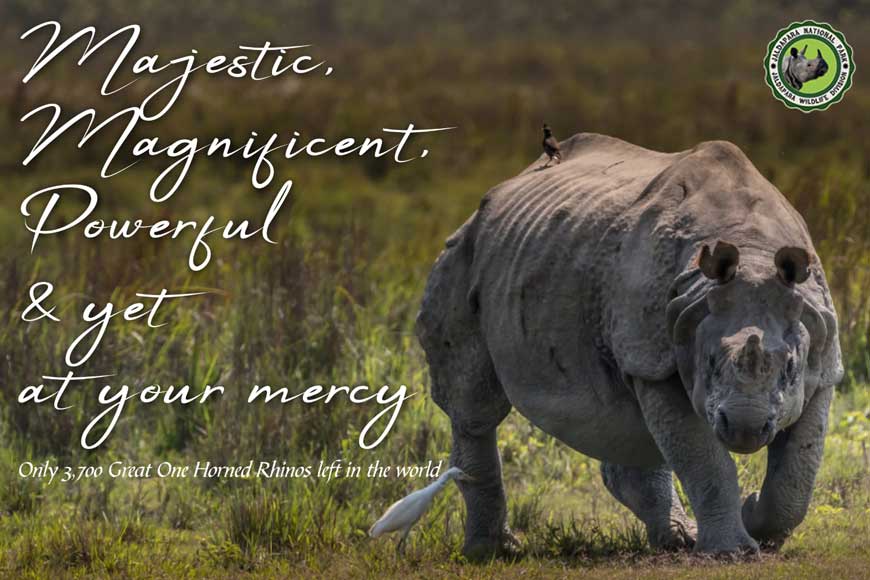 • Have you taken any steps to improve the Habitat?
Yes, habitat improvement programmes have been undertaken. Development of water holes and wetland development through soil moisture conservation works have been implemented on top priority basis. Grassland management is one of the major activities in the Terai and Dooars Forests. Plantation of indigenous grasses is regularly done to increase the fodder base of herbivores. Awareness generation programmes on wildlife conservation in the forest fringe areas has been taken up to seek co-operation of local people in combating animal depredation. Community by and large is supportive of the conservation measures and since they don't have the profiteering tendency, incidents of poaching is almost nil.
• How are you balancing the male-female Rhino ratio?
Although poaching is not a major headache for the administration, infighting among rhinos is certainly one. If we look at the statistics, we will find there is imbalance in the male-female ratio of rhinos. The male rhinos often become extremely aggressive and deaths occur due to infighting among bulls and forced mating. So, this is a real problem. As of now, the ratio is almost equal which is considered not right. Rhinos need more space, so the size of the grasslands need to be increased. But just creating grassland is not adequate. Other infrastructure like woodland, grassland, water body etc. have to be created. Since the animals require more space, we are considering other options like creating a corridor and going upwards to get natural surroundings suitable for rhinos.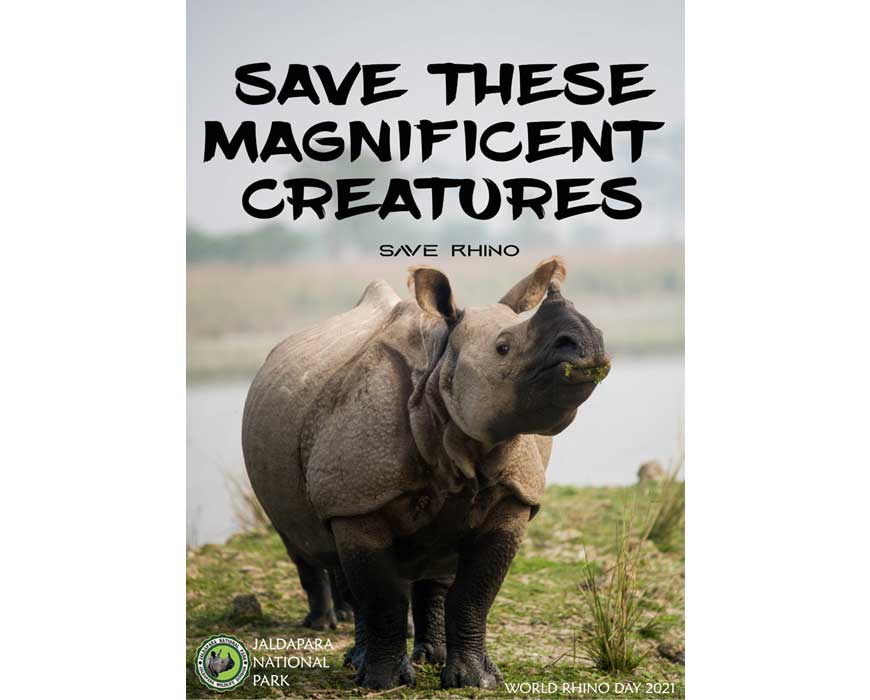 • Any future roadmap?
There is always scope for improvement. But the resources that are currently available to us – manpower, training programmes, weapons are satisfactory. Proposals have been sent for bettering the existing infrastructure like provide small weapons and provide more towers in the north which will help us to work better to save rhinos.