'Nostalgia'– Germany's Bangla Band all set to sing Rabindrasangeet in German this Pujo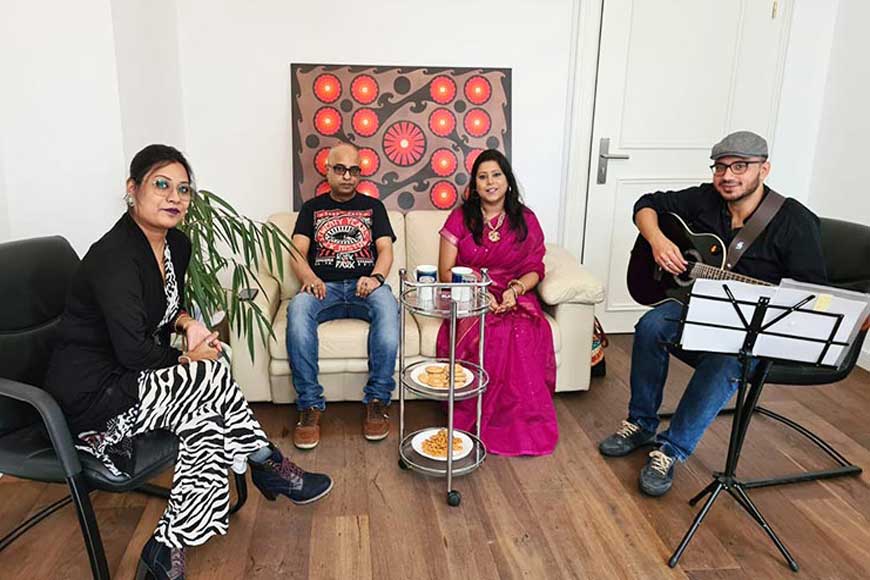 Rock culture is not new to India. When the world was listening to The Beatles and The Rolling Stones, Simon & Garfunkel in the 1960s, Indian Rock rolled into the picture with the Raga Rock; a style of music which involves the fusion of western with Indian music. Back in the day, bands that played rock music in India were known as beat groups. In the 60s and early 70s, bands like the Thunderbirds, Mystiks, Beat-X and Flintstone made their mark in this genre.
This is when Mohiner Ghoraguli, an independent Bengali band from Kolkata, started up and dared the tune of full-fledged rock. This kicked off a cultural movement that continues to inspire youths to this day. Bangla band mesmerized generations of listeners from both sides of the border and the rocking magic continues. Kolkata boy Arnab Guha grew up on a steady diet of rock music from across the globe and is a die-hard Bengali rock band fan. Although owing to his professional commitment as a banker, he had to relocate to another continent, his heart still beats for Kolkata and he is still hopelessly in love with Bangla band music. His high-profile job with Deutsche Bank leaves him with little or no spare time but whenever he gets a breather, he devotes it to music. It is his passion for Bangla band that inspired Guha to get together musicians and form a Bangla band in Frankfurt, aptly named Nostalgia.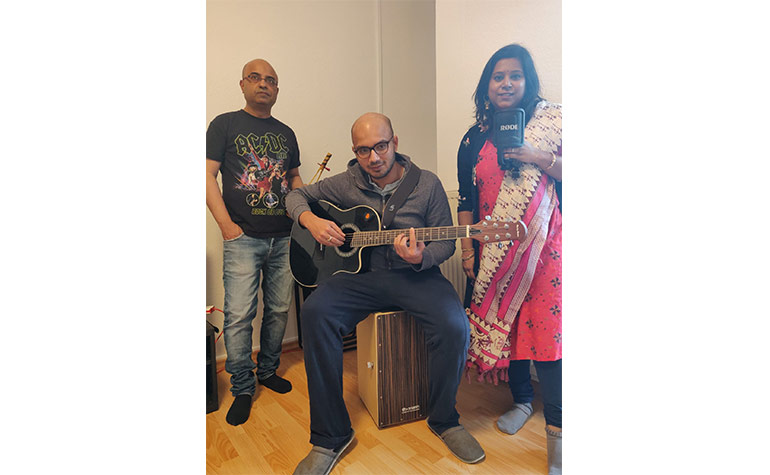 Guha was in Kolkata recently and he longingly reminisced about his childhood and youth, living with his parents in Phalguni Housing Estate, Salt Lake. Like any other Bengali middle-class boy, he fondly remembers his mother singing or humming when doing household chores, him taking tabla lessons or practicing the 'bols' at home and ardently listening to Bangla bands including Mohiner Ghoraguli, Poroshpathor, Lokkhichhara, Chandrabindu, Miles, Fossils and many more. He participated in music gigs at 'Para' functions and annual programmes in school and dreamt of forming his own band someday.

After settling down in Germany, Guha's passion for forming his band was rekindled when he met Piyali Bhowmick and Indraneel Roy. His wife, Sonali Nath Guha also supported his venture and Nostalgia was formed. Guha knows the pulse of his NRI audience. He says, "Bengalis everywhere feel deeply connected to folk 'Baul' music and a fusion of jazz, rock and Baul is a heady concoction for listeners abroad. The 'Jeebon-mukhi' genre is also very popular. Anjan Dutta has a loyal fan base and people like to listen to his songs. A potpourri of classic Bengali and Hindi film songs and Rabindrasangeet are perennial hits anywhere. We want to intersperse music with a bit of informal conversation with our audience and escort them on a nostalgic tour."
Guha has plans to translate and sing Rabindrasangeet in German language. He also plans to experiment with musical arrangements and use guitar to invoke the essence of band music and present Rabindrasangeet in a modern format to broaden the spectrum of the genre and outreach.

"We have to build out brand, our distinct identity and for that, we have to start with well-known, time-tested hit numbers. The classic songs are catchy and people already know what to expect so they will be able to identify and sing along with the peppy numbers." Once they gain recognition, the next step would be to present original tracks.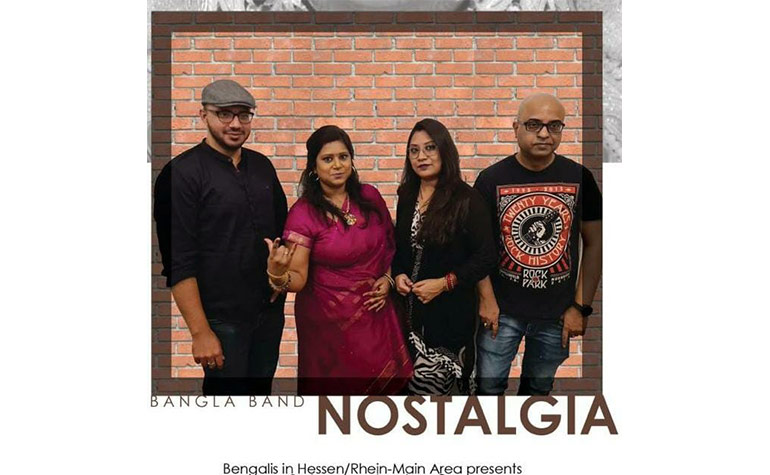 Germany has a thriving band culture but the groups perform either in English or German language. This is where Nostalgia plans to make inroads and dish out Bengali band hits for Bengalis who have migrated either from West Bengal or Bangladesh and living in different parts of Germany. Nostalgia is all set to start from the point their predecessors left. Guha claims theirs is the first vernacular band abroad. For Bengalis living in Germany, band music is not simply cult songs like 'Prithibi' (Mohiner Ghoraguli) or 'Ratri' (Morudyan) but chartbusters from Bangladesh including songs like Ayub Bachchu's 'Shei tumi' (LRB aka Love Runs Blind band), 'Moushumi Kare Bhalobasho Tumi' (Feedback), Phiriye Dao' (Miles) and many more that bring back memories of those idyllic times.
Durga Puja abroad is big time and offers a golden opportunity for networking and getting acquainted with fellow Bengalis. So don't be surprised to bump into a musical soiree by Nostalgia at a puja venue in Frankfurt or Berlin. The familiar lyrics will resonate and bring back fond memories of one's motherland in Germany.