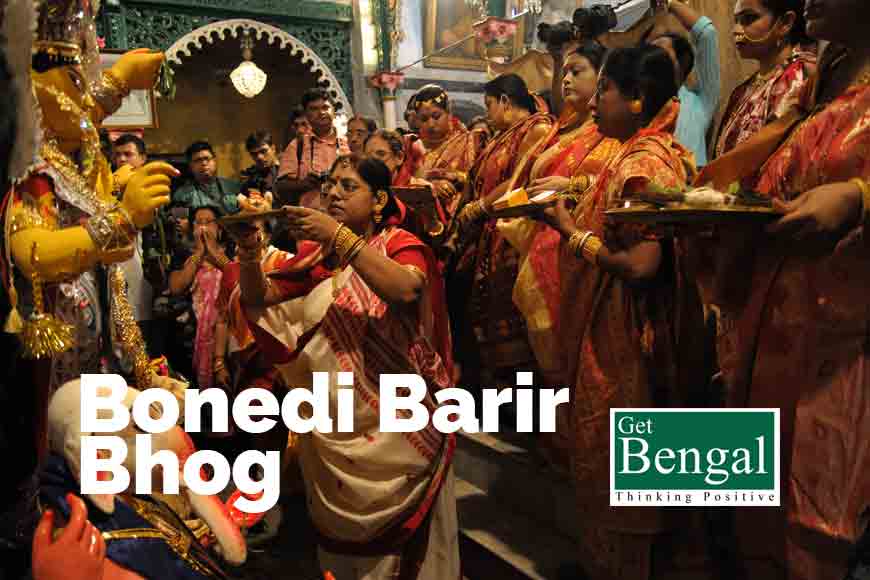 It seems like Kolkata celebrates some festival every two days. After all, her people luxuriate in "bhuri bhojon", and a holiday every other day seems like the perfect opportunity to nurture our well-oiled tummies!
But the mother-of-all festivities is Durga Puja, the largest street festival of the world! From making of astounding idols to intricate details and long remembered traditions, one of which includes taking soil from a prostitute's doorway, Durga Puja is also about nostalgia. No wonder, we give so much importance every year to the innumerable 'Bonedi Bari'-r Puja --- it is not just a remembrance of the past; it is an emotion for the whole family and of course a sense of homecoming.
One such Bonedi Bari which celebrates Durga puja privately is the Janbazar residence, better known as Rani Rashmoni's Durga Puja. Rani Rashmoni, the founder of Dakshineshwar Kali Temple, had four daughters. After her death in 1861, her daughters and sons-in-law continued the celebration in their premises. Originally started by her father-in-law Babu Pritaram Marh, it is at the courtyard of this house where Sri Ramkrishna Paramahansa Dev used to conduct Durga Puja.
Visiting pandals with friends and family is fun, but bonedi barir pujos has a charm of its own. The nostalgia, the invisible presence of great icons, who stood in the same courtyard and celebrated the festival in another lifetime, ages ago, is a magnificent feeling that can never be replicated. Visit Rani Rashmoni's Durga Puja this year, and be a part of the old world, where the rising and deepening slokas and festivities will seemingly transport you in another era of yore.