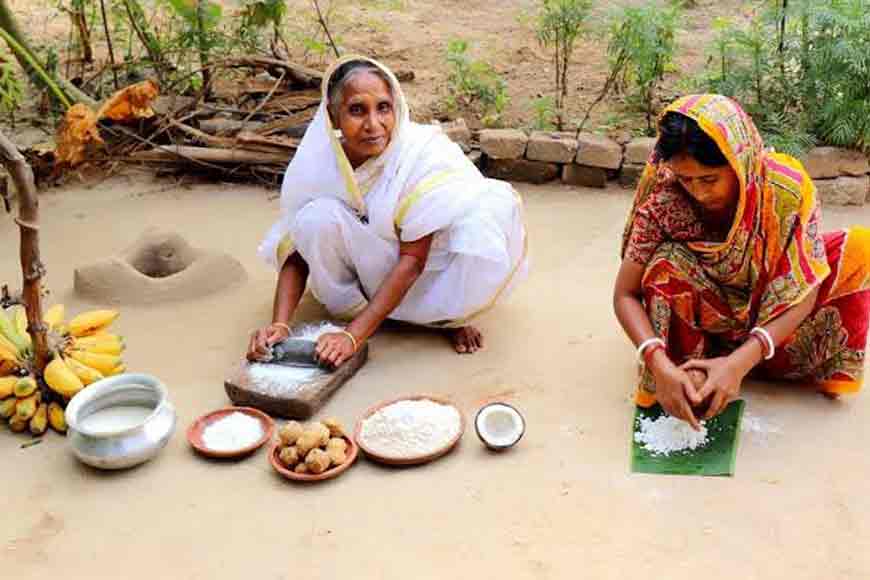 Rural cooking videos have picked up in recent years and the familiar frame of frail, aged women seated in their mud-plastered courtyards or farm fields with traditional earthen cookwares, Shil-nora or Sil-batta (grinding stone) and mortar and pestle, ready at hand and cooking up a storm on earthen stoves (unoon or chulha). The ambiance of a rural kitchen emerges in the video. Social media is flooded with such videos where grandmas rustle up delicious recipes and let in viewers to have a peek at their sanctum sanctorum where they spent their lives cooking and feeding the family. These grand dames cook lesser-known traditional recipes, many of which are on the verge of extinction now.
Ilambazar is located 22 kilometers away from Santiniketan and it is densely forested area. On the fringe of the jungles lies a small non-descript village named Bonvilla, the abode of the YouTube superstar Pushparani Sarkar. She is an adorable grandma going strong at 83. Sarkar is the quintessential Bengali 'Kitchen Queen' who makes delectable dishes from locally sourced vegetables, fish and poultry. There is a kitchen garden spread across a sizeable area and her hay roofed kitchen is set in the midst of this greenery.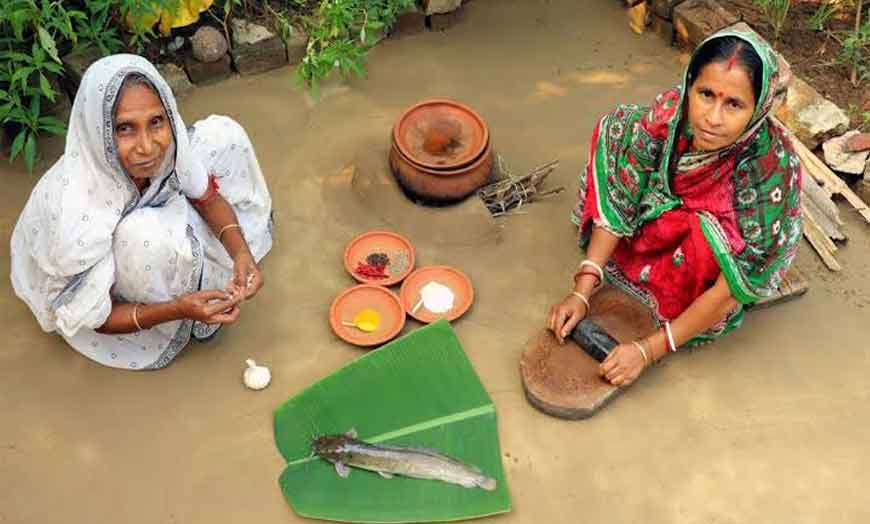 For the urbanites, her show is not just a gastronomical journey but also a feast for the eyes. The videos capture the vast green expanse beautifully. Each episode begins with Thamma (grandma) Pushparani sauntering amid the greenery, checking out the foliage, sometimes plucking a couple of chilies from a plant, fondly patting a ripe tomato, picking up a few berries lying on the ground and setting out to collect the vegetable she plans to cook for that particular episode. It can be something as simple as Kumro phooler bora (pumpkin flower fritters) or nearly-forgotten dishes like fig curry (dumurer ghanto) , banana flowers (Mocha), esculent root or arum (Kochu), water spinach (kolmi shaak), Amaranthus tricolor (Laal shaak) etc. Incidentally, Villfood channel was launched in July 2017 with Sarkar frying pumpkin flower fritters in the very first episode.
In each episode, she procures the raw vegetable from her garden, cleans, washes and dices the vegetables into various shapes and gets them ready for cooking. The family has a pond within the campus and fish farming is done on a small scale for home consumption. Sarkar is equally adept at cooking fish, mutton and poultry and her two grandsons help her with the fresh catch. Her daughter-in-law Kobita and her sprightly young granddaughter-in-law are always close at hand to help her with the preparations. After getting everything ready, spices are ground and the firewood is torched. As the fire begins to glow, she places clay pots on the mud stove, pours oil and hey presto! Pushparani's face lights up as her deft hands set to work to create magic with a spatula!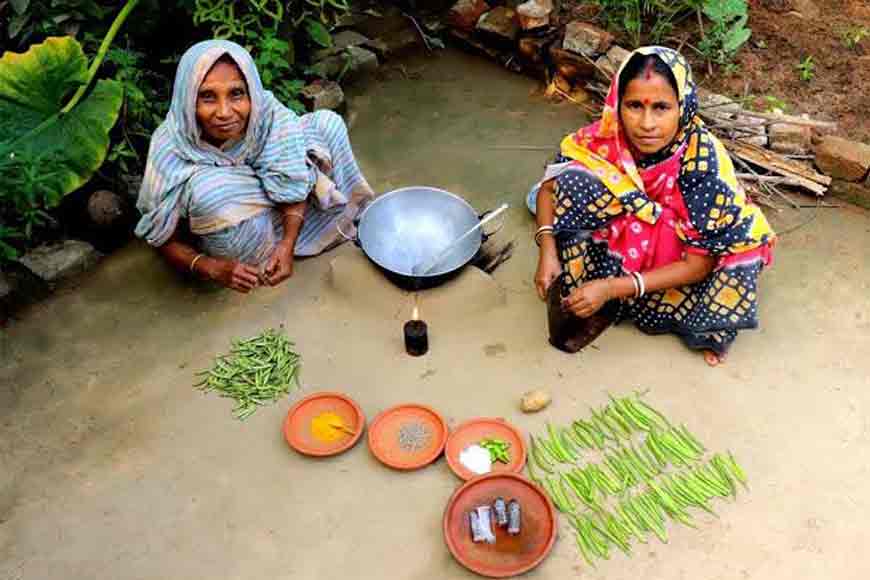 Pushparani's channel now boasts of 1.47 million subscribers and she is a You Tube Millionaire! Millions of casual viewers check out her videos. She is very popular abroad as well but it certainly comes as a surprise to know that China has 46,000 subscribers of the Villfood blog. Her fans and subscribers include people from Bangladesh, Japan, Pakistan, Africa, Turkey, England and America. As soon as a new video is uploaded, it reaches one lakh viewership within 24 hours.

There is a specific 'Villfood' page on Facebook where her grandson Kajal Sarkar has shared his email ID and the page has already got more than four lakh 'Likes'. Grandma earns a whooping 8 to 10 lakhs per annum from the videos. In 2020, the Villfood Blog was honoured with the Gold Play Award. The Sarkar family is active on philanthropic pursuits and with the money earned from You Tube, Villfood Kitchen was started to feed poor Adivasi families daily who live in the nearby villages.
But how did this venture start? Her grandsons, Sudip and Kajol both grew up literally eating from their grandma's hand. They relish everything she cooks and are discerning foodies themselves. They love watching cookery shows and realized the traditional recipes Pushparani cooked was not available anywhere else, including in restaurants at Kolkata. The siblings saw the opportunity in showcasing their grandma's culinary skills. Thus was born the Villfood YouTube channel.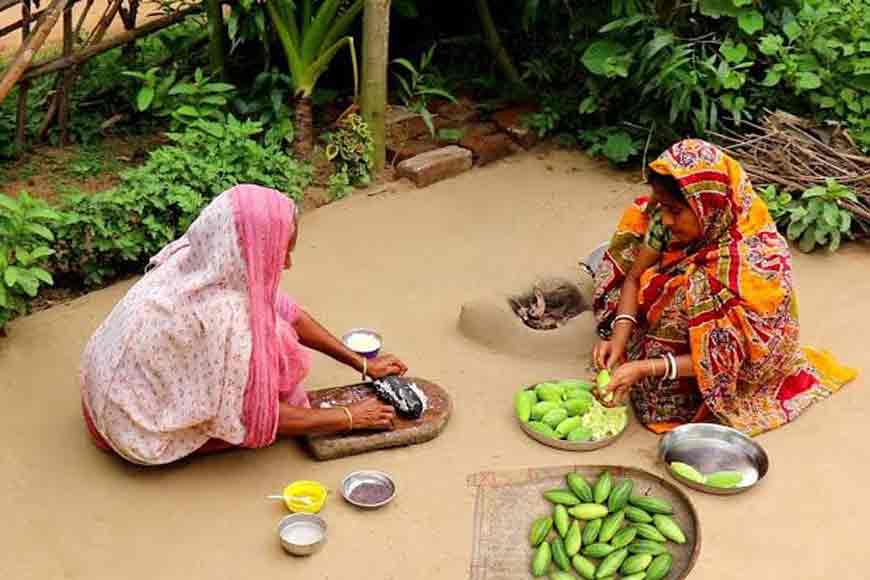 Pushparani is now a celebrity but she remains unaffected by the newfound attention. Her routine is just as before. Her day begins at 5 in the morning with a visit to the cowshed adjacent to her home. After tending to the cows, she goes across the courtyard to the chicken coop to feed her birds. She then heads to the farm around her house from where she picks up bottle gourds, cucumber, chilies, radish, carrots, cauliflower, onions and other greens. The day's produce decides what she will cook. And that will be the new video for her million-plus subscribers on Villfood.
Video credit: YouTube/Villfood