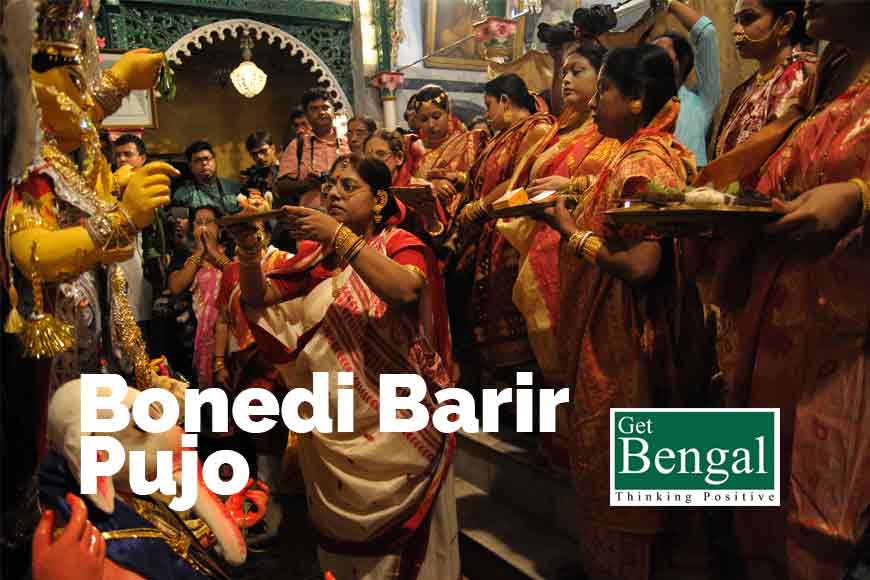 Our colonisers have left the country long back, but India's colonial hangover remains as strong as ever, and is a discourse in itself. However, that is not the case with the Durga idol worshipped by the De family of Bhowanipore. How? Well, their Mahishasura just so happens to wear a coat and a pair of pants!
How did that come about? Well, that's an interesting piece of history in itself. The Durga Puja of the De Family started in the year 1870. The story goes that the head of the family, Ramlal De, found a mother with her two daughters and two sons one fine morning, waiting in front of the main door of the house. On enquiring about their purpose of visit, the family did not answer the question. Instead, the mother, along with her children, entered the house. After that, no trace was found of the family -- they had vanished into thin air. Later one night, Ramlal De had a dream where Goddess Durga came to him and commanded his family to worship her. Since then, Durga Puja is observed every year in the family, and this year the festival completes 150 years of celebration.
The vanquished demon, Mahishasura, is depicted as a coat-and-pant draped fellow, complete with silvery blond hair, instead of his signature dark locks. Although no one in the family can say why this came to be, it certainly paints more than a tinge of revolt against our British colonisers -- Durga, an icon of Mother India, triumphs over the demon, whose attire represents the English enemy. Bit on the nose, eh?
The women of the family decorate the goddess on Chaturthi, three days before the festival officially begins. They make the sweets together, including mouth-watering coconut balls. At least a hundred visitors and relatives are present to worship the Goddess at all times of the days, alongside the five family members. The tradition of the house dictates that the structure which holds the idol should be retained, and not immersed along with the idol on Dashami. The structure, called kathamo, has a puja of its own, kathamo puja, and is worshipped on Rath. Work begins on the special idol from Janmashthami itself.
There are peaceful yet powerful ways to dissent against oppressive regimes, and nobody does it better than the De family of Bhowanipore!