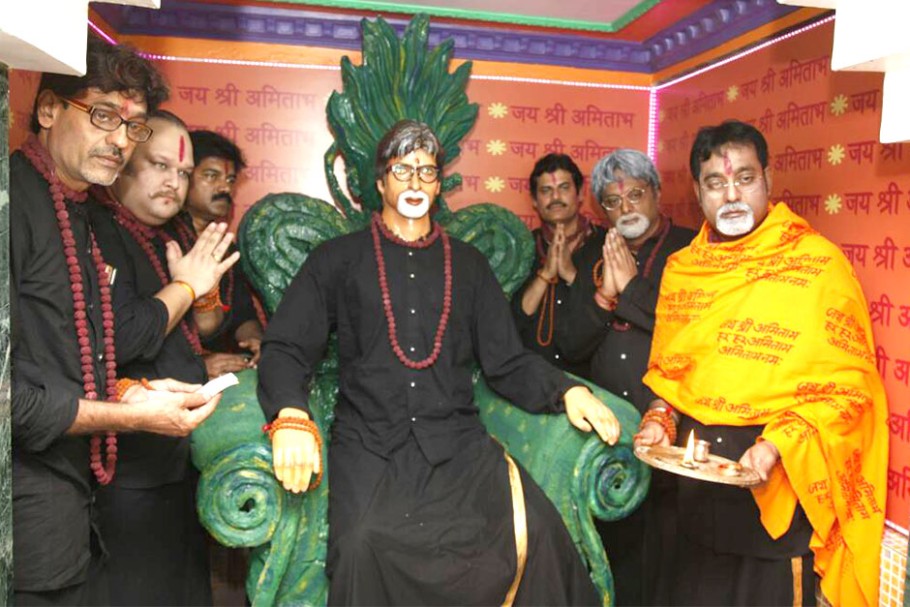 Have you ever been to a temple dedicated to a matinee idol where he is worshipped as the residing deity! Have you ever heard chalisa being chanted in the name of a human instead of the usual Hanuman chalisa, in honour of Lord Hanuman? A temple,where instead of devotees, we find fans offering puja to the idol of their Bollywood hero!
Well, if you find time, visit 'Big B' temple of Kolkata,that will literally turn your head on Amitabh Bachchan's 75th birthday! And if you are a great fan of this Bollywood super hero why not join in his worship too. Amitabh Bachchan's fan-club who have made this temple in the garage of one of the fans, have also hired a priest to sing Amitabh chalisa, instead of Hanuman chalisa! And what are the exact words of that chalisa? They are as follows: Hey Harivansh Gyan Gun Sagar/ Apse Hue Ek Avtar Ujagar/ Hariputra Atulit Baldhama/ Tejputra Amitabh Hai Nama!
Isn't that exciting and surprising? Not just worshipping, social initiatives have also been taken up by Bachchan's Kolkata fans. They have organized a sit-and draw competition for children of an orphanage and they will all get Bachchan T-shirts as prizes. The club is also set to donate clothes to an NGO. At least, in the name of a Bollywood hero, some social responsibilities will be performed for sure!