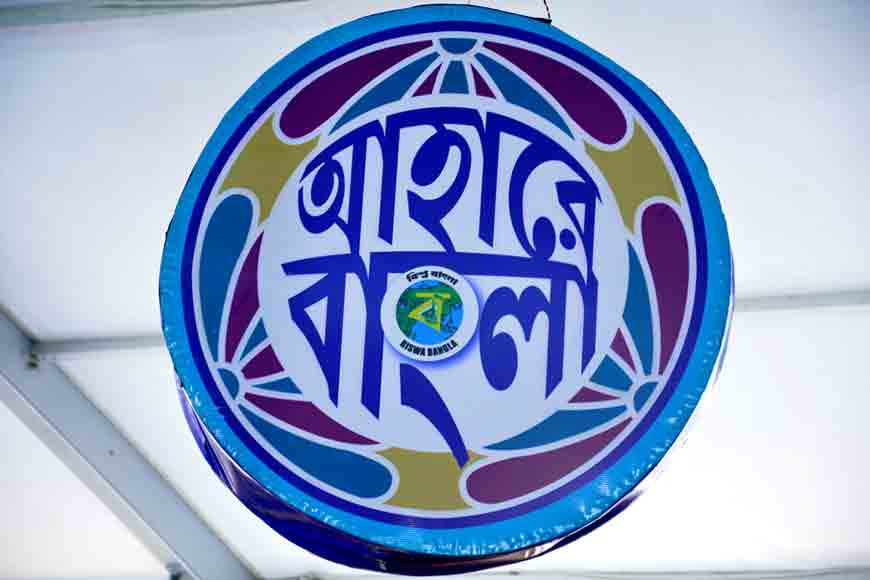 My first visit to a unique food carnival of Kolkata, Ahaare Bangla was indeed an exciting eye-opener! The venue at New Town Mela grounds was divided into 3 sections - Veg, non-veg, Tea - snacks and the Sweet Section called 'Mishti Bangla.' Initially, I thought it's just the common sweets we see in our day-to-day life, but I was taken aback at the varieties! Most shops were from the districts, such as Burdwan, Hooghly, Berhampur, Chandannagar etc, but a few known names from Kolkata were Hindustan Sweets, Nalin Chandra Das & Sons, K C Das etc.
Come winter, and Nabanna or Bengal's Poush Parban festival reminds us of the new harvest. So, no wonder, 'Pithe' or crepes mainly stuffed with coconut were on display as a mouth-watering delicacy. The stalls had innovative names --- like 'Pithe Bilashi' with an array of Pati Shapta, selling like hot cakes. There were various flavors like Chocolate, Mango, Coconut & Khir stuffed into them. Their menu card also had Pati shapta with non-veg fillings, like chicken, fish etc.
Next interesting stop was some series of shops from Bardhaman (that's how they spelled it) with their signature sweets 'Sitabhog', 'Mihidana', Langcha and Paneer Khirer Pantuya (Golap jamun). Interestingly, Mihidana and Sitabhog are recognised as heritage sweets of India. They have even mentioned the history of these sweets. During 1904, Viceroy Lord Corson visited Burdwan to confer the title of Maharaja on the then king Vijaychanda. To mark the occasion, a local sweet-maker, Bhairav Chandra Nag, created a delight called Mihidana. Sitabhog was one of the favourite sweets of Mata Sita, that's why the name.
My next interesting stop was Jalbhara Surya Kumar Modak of Chandannagar. It is a very renowned sweet shop since 1818. Jalbhara Talshaser Sandesh, Khirpully Sandesh, Channar Payesh, Aam Sandesh were at the counter. It was really mouthwatering and temping for the sweet lovers. Another shop, which I found interesting, was stall of Jagu Moira, Ranaghat, with their specialty Choco Rossogula, Ricotta Pulao. Manjushree Sweets of Berhampur was selling Channar bora, Monohora etc. If you are a Sandesh lover, then you must visit the stall of Nalin Chandra Das. They are very famous for various kinds of Sandesh like butterscotch, black forest, Gur scotch, green mango etc since 1850. And oh! yes, the Tulsi Rosogolla! How can you miss it? Sweet that had medicinal properties of Tulsi!