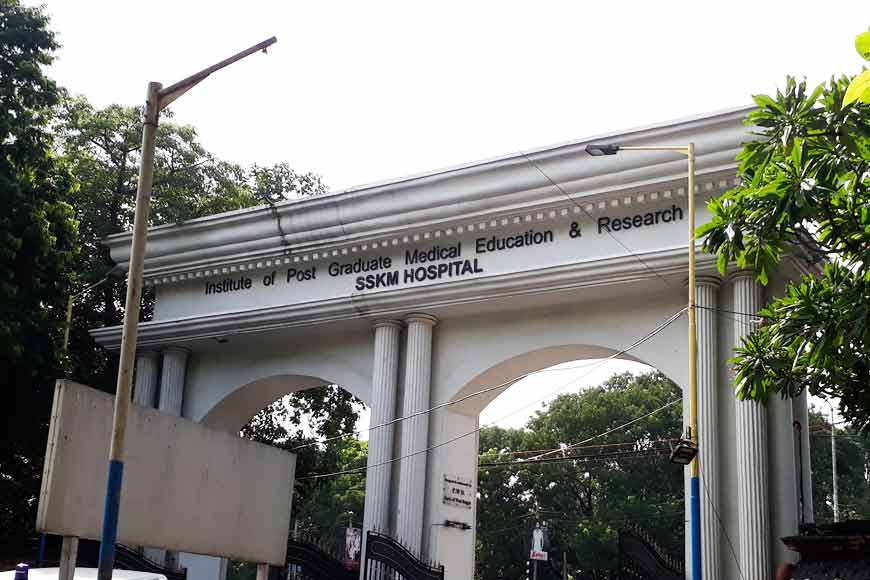 In 2013 Hollywood superstar Angelina Jolie created quite a stir when she announced her decision to undergo a prophylactic double mastectomy. It means she had both of her breasts removed even though she hadn't been diagnosed with breast cancer. She said did this because she carries a faulty gene, called BRCA1, that significantly increases the odds of developing breast or ovarian cancer. Her mother battled against cancer for a decade before she succumbed to the malady at the age of 56. Jolie announced her decision to raise public awareness on a vital health issue that affects a large number of women globally.
This time it was a woman who was diagnosed with breast cancer and was undergoing treatment at the state-run SSKM Hospital, consented to opt for double mastectomy surgery that reduces the risk of transmission of cancer to other vital organs. In this case, both her breasts and ovaries were removed to decrease the risk of developing breast cancer and ovarian cancer later. In a first of its kind, a team of oncologists at the state-run SSKM Hospital successfully conducted the entire operation and also completed the implant procedure, thus reducing the recovery time.
The two genes BRCA1 and BRCA2 (breast cancer one and two) were the first two majorly breast cancer pre-disposing genes that were identified and are also linked to an increased risk of ovarian cancer. Currently, women facing a strong likelihood of developing breast cancer have only two real options - to have both of their breasts removed (a double mastectomy) or hope that it will never actually happen. When Jolie decided to undergo the treatment, the entire nine weeks of complex surgery required to have a double mastectomy, followed by reconstruction of the breasts with implants.

On July 1, this year, celebrated as National Doctors' Day, a team of three surgeons – SSKM Hospital breast cancer unit head, Dr Diptendra Sarkar, Dr Sumohan Chatterjee from Manchester and Dr Amit Agarwal from Cambridge performed the complex double mastectomy and reconstruction surgery at the same time. This procedure is called immediate reconstruction. Immediate reconstruction offers the benefit of eliminating at least one surgery and allows the patient to get back to life as usual more quickly.
The lady who underwent the operation was detected with cancer in one of her breasts. When Dr Sarkar explained how mastectomy reduces the risk of recurring breast cancer by 90 to 95 per cent and also reduces the chances of ovarian cancer in women at high risk of the disease, she agreed to go for it. During the operation, both her breasts and ovaries were removed and using Acellular Dermal Matrix (ADM), a type of surgical mesh, the reconstruction surgery was also completed at one go. Acellular Dermal Matrix is developed from human skin (such as FlexHD, AlloMax, AlloDerm) or animal skin (such as SurgiMend), in which the cells are removed and the support structure is left in place. This is the first time in India and the entire subcontinent that ADM has been successfully used for reconstruction surgery.
The ADM reconstruction surgery has been in vogue in the West since 2010 but in India this permission was granted by the Drug Controller General of India (DGCI) only recently.
Mastectomy in patients with breast cancer can severely affect their body esteem. It also changes their emotions and attitudes toward their body and causes psychological reactions such as depression, anxiety, and stress. When the decision to operate the patient was taken, these factors were also taken into account by the surgeons and they did a commendable job to help the patient tide over the critical period with full support.
Dr Sarkar says a double mastectomy aka bilateral mastectomy is a huge leap in the treatment of breast cancer and can help save life and prevent the spread of the disease. He says it is recommended for women who are at a very high risk of breast cancer. For example, those who have tested positive for a breast cancer (BRCA) gene change are at very high risk. He urges all women to get a test done to find out if they have the BRCA 1 and 2 genes that make them prone to breast and ovarian cancer.