An all girls' school was set up in Calcutta's 'King Parish' just a year before India achieved independence. What was interesting about the school is that it was named after the Queen. And today, it celebrates 75 years of education and social engagement.
Our Lady Queen of the Missions School at Park Circus was under the Archdiocese of Calcutta in 1946, with five Sisters coming in from Chittagong (now in Bangladesh) as part of the international Missionary Congregation, named Sisters of Our Lady of the Missions.
In 1950, the Sisters opened the Little Flower charitable dispensary to reach out to the poor and marginalized in the area and the all girls' school became a seat of philanthropic activity. In 1952, one of the outstanding nuns of the order, Mother Marie Aime Hoffstetter, took charge of the dispensary, reaching out across Bengal and involving students of the school in the mission. For her outstanding social work and service to humanity, she received the National Award from President S. Radhakrishnan. In 1968, an afternoon Hindi-medium free school was started to cater to children from the adjoining slums.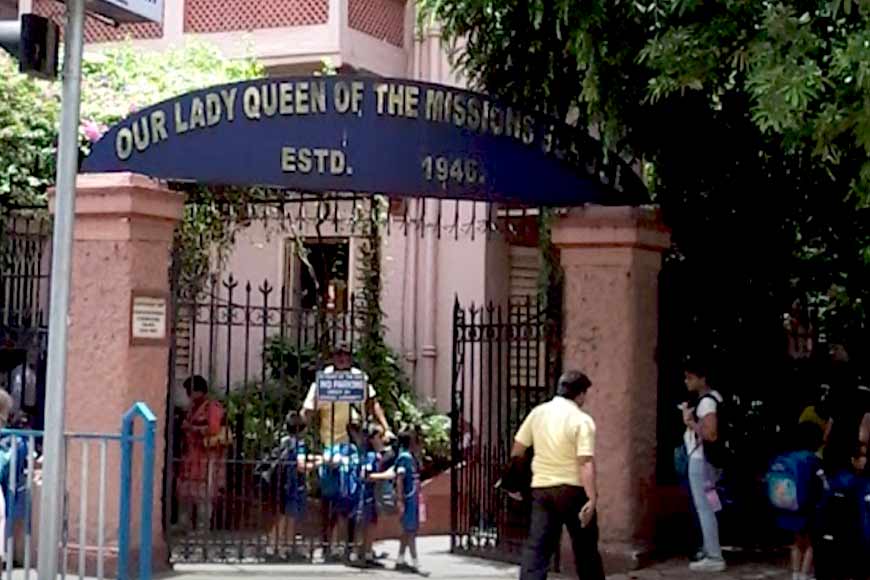 During the Bangladesh War of Independence, there was a huge refugee crisis in 1971. The area around the school was flooded with Bangladeshi refugees fleeing the atrocities of the Pakistan Army. It was then that the nuns living in the school picked up 12 unwanted babies from refugee camps and set up an orphanage in Kalyanpur on the outskirts of Calcutta in Baruipur diocese in North 24 Parganas. This was an extension of the Our Lady Queen of the Missions' philanthropic venture, where students joined too.

It was in 1972 that the school community became the provincial headquarters of Sisters of Our Lady of the Missions catering to India, Bangladesh and Myanmar. Today the school has flourished and increased in size. The second campus was opened in 2000 at Salt Lake to cater to classes 11 and 12, fetching Sister Joicy Madassery the coveted Telegraph Education Foundation award for the best principal of the Year in 2003.
In 2006, the school again received The Telegraph Award – certificate of merit for social service and excellent maintenance. In 2021, the school was awarded the Innovative and Creative Literary Award by the National Level Education Excellence Conclave supported by the Ministry of Education, Ministry of AYUSH, FIT India, Digital India, National Skills Development Corporation and others.
On the occasion of its 75th anniversary, the school has been recognized for moving ahead with the changing times of education, and promoting innovation in literacy by introducing experiential learning through the integrated STEAM system of education. STEAM is an educational approach to learning that uses Science, Technology, Engineering, the Arts and Mathematics aligned to the National Education Policy of India 2020.