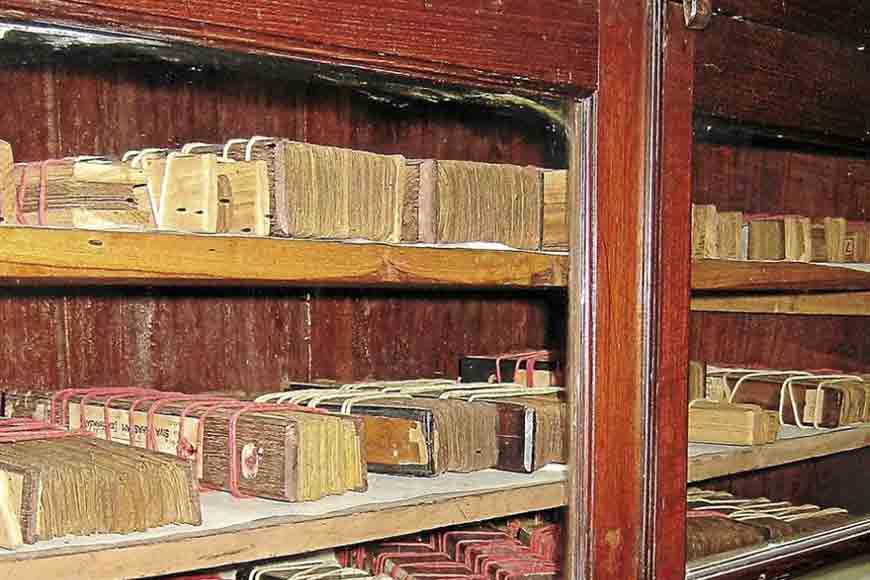 He is better known as the 'manuscript seeker of Bengal.' He also had a rare meet with Rabindranath Tagore on the very first day of his arrival at Visva Bharati. Panchanan Mondal, handed over an ancient coin to Tagore then. Tagore was so impressed with this gesture, that he blessed him and said he would one day become a scholar-researcher. And that's what Panchanan Mondal turned out to be.
A renowned scholar and researcher, who was a pioneer in the methodical research of ancient Bengali manuscripts. His collection of essays titled Rabindra Sahitye Mrityuroop O Jeebonbaad was published duringTagore's lifetime and the poet himself was full of praise for Panchanan. This year marks Mondal's birth centenary and the Ashramik(residential) students of Santiniketan haveplanned a series of programmes, to highlight the scholar's life and his invaluable contribution to literature.
A project was also undertaken by Visva Bharati to assess the importance of his volumes of published works. A team of 42 distinguished professors,were assigned to evaluate all the 23 books written by Mondal and they submitted their individual opinions. Their writings were compiled and published in a book form. Anima Mukhopadhyay, one of the distinguished editors of this collection says, 'Panchanan Mondal worked tirelessly to set up the ancient Bengali manuscripts/ scrolls library at Visva Bharati. He travelled extensively, penetrating deep inside the village hinterland, knocking at every door to look for and collect ancient manuscripts and scrolls. After collecting all material, he painstakingly listed the contentof the scripts.'
Mondal was born in Chhoto Bainan, a village in Burdwan district. His education began in the local municipal school and he moved on to Benaras Hindi University (BHU) to complete his IA. In 1936, he went to Santiniketan Ashram Vidyalaya to study for his BA degree. Professor Sumitra Kundu says in 1936, Mondal was asked to start a department in Visva Bharati, where rare manuscripts would be collected and preserved. He also founded the Rarh Gobeshana Parishad(Rarh Research Forum). Mondal not only wrote 23 research-based books, but also penned more than 500 essays. Of the 23 books, five volumes contain detailed study of the manuscripts and three volumes of letters, that portray life and times during Mondal's tenure. Panchanan Mondal's dogged perseverance and hard-work paved the way for building a valuable treasure-trove of rare Bengali manuscripts at Visva Bharati.
The Vice Chancellor Dr Swapan Kumar Dutta says the University is immensely indebted to Mondal for his dedication and painstaking research for setting up the manuscript library which is a goldmine of information and a boon for researchers and scholars. Mondal was honoured with the Sudha Basu Memorial Award by Calcutta University for his research work.