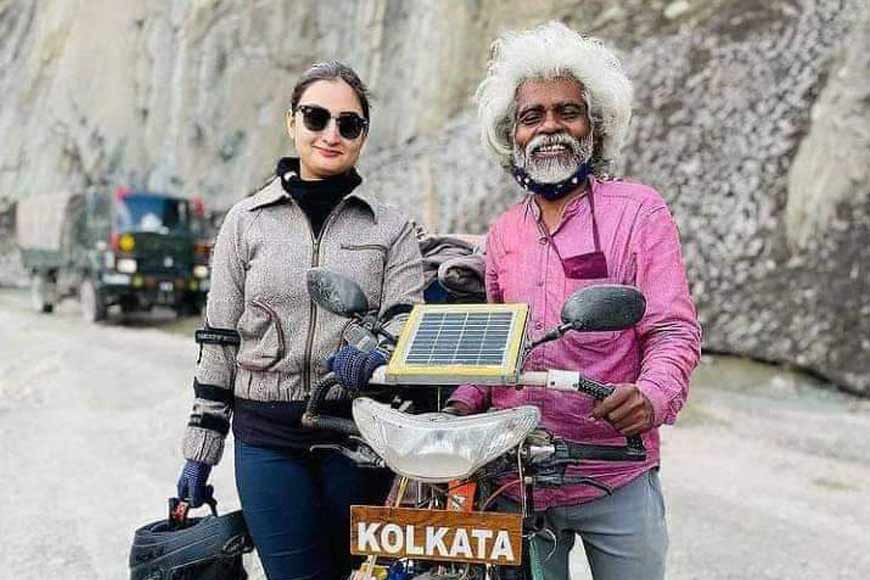 "A bicycle ride around the world begins with a single pedal stroke." (Scott Stoll)
What happens when one is bitten by the travel bug? Kolkata's Parimal Kanji would know. A man in his mid-50s, Kanji is an adventurer with a burning desire to travel and he began his journey to travel across the borders of India on a bicycle! A time when the fear of Covid-19 pandemic had gripped the world forcing mankind to seek safe refuge behind closed doors, in the confines of hearth and home. Lockdown had been imposed and people were smitten by fear and uncertainty. But Kanji's indomitable spirit was vying to go, and he did what he desired. He left the city on his trusted bicycle to quench his thirst for travel. At his age, people generally turn more cautious and take life seriously. They try to figure out complex equations about future savings and spending and think twice before taking risks, but Kanji was different. He is a middle-aged man possessed by the spirit of youth.
A resident of Chetla in Kolkata, Kanji runs a small shop repairing stoves, gas ovens and pressure cookers and he is not even financially stable but the call of the wild was something he could not resist. He had his backpack ready with a few clothing, some dry fruits and snacks and some cash his friend gave him and he was set to go. On January 1 this year he bade goodbye to his hometown and left on his solo trip to explore the diversity of the country.

He crossed Odisha, Andhra Pradesh, Tamil Nadu, Kerala, Karnataka, Goa, Maharashtra, Gujarat, Rajasthan, Punjab, Jammu, and Kashmir, Ladakh, Himachal Pradesh, Uttarakhand, Nepal and then headed to the North-eastern part of India riding on his trusted friend, his bicycle. On his way, he decided to include the slogan, 'Plant tree, save nature, save water' as part of his tour. But why did he decide to propagate the idea? While touring different states, Kanji noticed the unequal distribution of natural resources in the country. "We in Kolkata have perpetual access to water since we live on the banks of the Hooghly River. Unfortunately, we often misuse and waste water, but there are places in this country where scarcity of water is a much-dreaded reality." Similarly, while travelling through polluted cities, he realized the gift that Nature has bestowed upon us but again we are destroying this gift. Conservation of nature is the foremost task for us and only by planting more trees we can make our future secure and habitable. So he decided to make this the theme of his expedition.
Being penniless, Kanji said he was grateful to Almighty who feeds him and provides him with shelter during nights. He said he did not have to go to bed in empty stomach. Local people came to him and offered him food and shelter. He has even been gifted a sleeping bag, solar panel, and help from different states.
In the last leg of his tour, he stopped at Raigunj on his way back to Kolkata via Nepal. He was given a warm welcome by the residents of the town. Members of the Himalayan Mountaineers Association came to greet him. He was commended for his willpower and hailed as the new icon of Bengal and an inspiration for all. He has proved that age is just a number and money is no issue. If one has the determination to step out of one's comfort zone and achieve something, 'the stars conspire' to make the dream come true and achieve one's goal.
For Kanji, this is just the beginning of fulfilling his life-long dream. Once back in Kolkata after completion of this trip, he plans to take a short break and then embark on his next cycling trip. He is connected with people on social media and his admirers and adventure lovers commend him for his grit. Kanji feels happy and says, 'Life is all about these.'