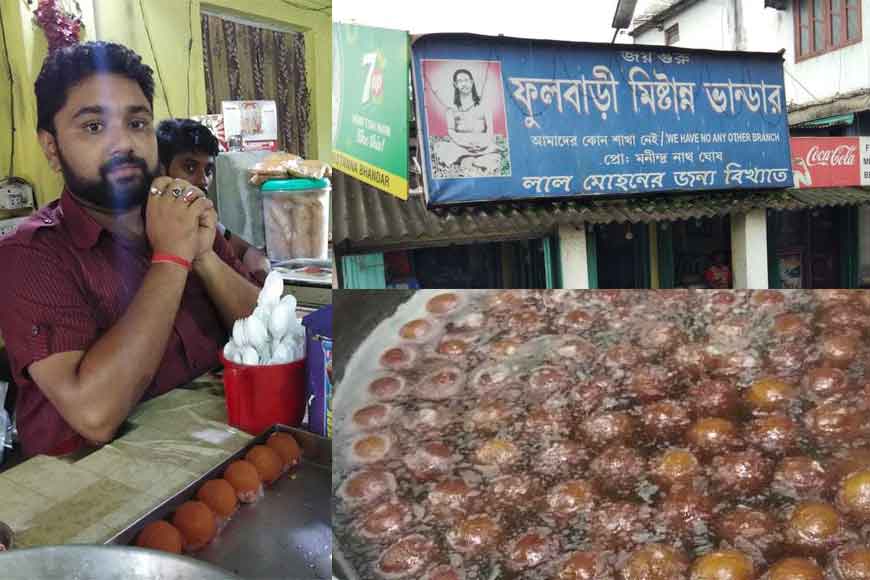 Phulbari is a small village located just beside Siliguri which has undergone a lot of change over the years. It can today give strong competition to Siliguri as far as development is concerned. However, what has remained constant over the years in Phulbari is its very own 'Laalmohan'. Well, this is not Satyajit Ray's Laalmohan Ganguly and the comic relief he provided in the Feluda series. Rather, it is a mouth-watering sweet which is very similar to Golapjam or Pantua that simply melts into our mouth with a heavenly taste.
Manindranath Ghosh had introduced Laalmohan to Phulbari, a sweet that was famous in Bangladesh. After the Partition of Bengal, Manindranath came down from Myemensingha and settled in Phulbari. He was an ardent admirer of the juicy and spongy red Laalmohan. It reminded him of the wondrous melodies of Krishna or Mohan's flute. Nobody dared to call it Pantua, Ledikeni or Golapjamun. Laalmohan had a special place and played an indispensable role in Manindranath Ghosh's Phulbari Mishtanno Bhandar.
Today, Manindranath's son, Ratan Ghosh is in charge of the shop. As soon as the day starts, people start gathering to lay their hands upon Phulbari Mishtanno Bhandar's special Laalmohan. There is an inexplicable kind of craze. The shop has a fixed clientele, while some give pre-orders, some carry these sweets in dozens. They are in great demand during Bhaiphota, Poila Baishakh, Jamaishoshti, Bijoya Dashami. The bigger pieces cost around Rs 12 while the smaller ones cost around Rs 8.
Eminent personalities like Hemanta Mukherjee, Kishore Kumar, Manna De, Ranjit Mullick, Usha Uthup, Amit Kumar, Mithun Chakraborty, Sabyasachi Chakraborty and several others were hooked to Laalmohan. People even come down from Bangladesh to have a taste. Now a general demand has been raised in Phulbari to make their favourite Laalmohan get a GI tag. Why not? Laalmohan is no less than Bengal's iconic rosogolla!